Elections
Here's what we know about Doug Mastriano's ambitious election audit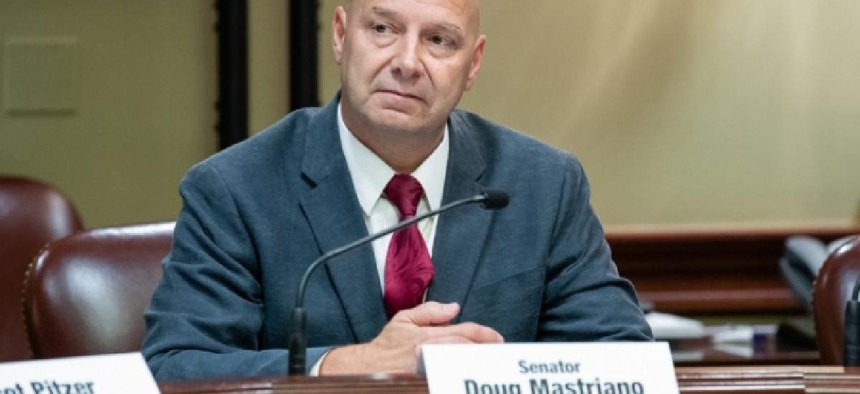 Pennsylvania is the latest state in the crosshairs of GOP officials looking to investigate results of the 2020 general election. Spurred on by conspiracy theories from former President Donald Trump alleging that the election was fraudulent and stolen, Republican lawmakers in multiple states are now seeking to review election results. 
The GOP-led "forensic investigation" is in its infancy, but the plan is already being met with questions, concerns and outright anger. So, what exactly would Pennsylvania's investigation look like? We answer some of the most pressing questions about the proposed review below. 

Who's looking to conduct the investigation?
State Sen. Doug Mastriano, an ally of former President Donald Trump and a potential GOP gubernatorial candidate in 2022, announced in an op-ed on July 7 that he was taking steps to begin a "forensic investigation" of Pennsylvania's 2020 general election results, as well as the 2021 primary results. Mastriano said the review "will go a long way to restore trust in our system."
Mastriano chairs the state Senate Intergovernmental Operations Committee and has developed a devoted following of supporters during the pandemic through rallies hosted at the state Capitol and frequent Facebook Live events. He aroused controversy earlier this year when he organized a bus trip to Washington, D.C. on the day of the Capitol insurrection. Mastriano was present on the Capitol grounds but has stated he left after things were no longer peaceful. 
Mastriano hosted an informational legislative hearing last year in Gettysburg, where former New York City Mayor Rudy Giuliani and Trump made false claims about the 2020 election being stolen. He also visited Arizona in June to oversee the state's GOP-led review of its own 2020 election results. 
The Senate Intergovernmental Operations Committee also includes six other Republican members, as well as three Democrats, though Senate Democrats have objected to Mastriano's plan to use the committee to conduct the review.

What does the review entail?
According to reports from multiple media outlets, Mastriano is seeking to review election results from three counties: Tioga, York and Philadelphia. 
In a letter sent to Philadelphia election officials obtained by City & State, Mastriano requested a trove of documents and data. His request included access to ballots, voting machines and tabulation equipment, as well as software, computer logs, security tokens and thumb drives. 
Mastriano said the review of the state's election results would help to restore confidence in the state's elections.

"A forensic investigation of election results and processes for the 2020 General Election and 2021 Primary will go a long way toward restoring trust and support in our system," Mastriano wrote in his letter to county officials. "Voting is the bedrock of American virtue and the most fundamental right of all citizens. We should continually look for ways to improve the voting process to ensure our elections are secure and accurate."
Mastriano also added that if counties don't comply with his requests by the end of July, they could be met with subpoenas from the Senate Intergovernmental Operations Committee. 

Can the Senate Intergovernmental Operations Committee conduct an investigation?
In his letter to the three counties, Mastriano argues that the Intergovernmental Operations Committee has broad authority to investigate interactions and activities between two or more government entities in the state, "including the administration of elections." 
He also pointed to Senate rules, which give standing committees the ability to "inspect and investigate the books, records, papers, documents, data, operation and physical plant of any public agency in this Commonwealth," which includes the ability to issue subpoenas. 
Democrats have questioned Mastriano's ability to use the committee as a means to investigate elections. 
Senate Democratic Leader Jay Costa, who is a member of the Intergovernmental Operations Committee, urged Senate GOP leaders to shut down the investigation, arguing that elections fall under the purview of the Senate State Government Committee, not Mastriano's committee. 
"He attempts to usurp the authority of not only the State Government Committee, but the Local Government Committee, as well. Should you allow this to continue, Senator Mastriano will have built a Frankenstein creation of a committee with limitless power, frighteningly controlled by a Senator intent on tainting every level of our government," Costa wrote. "It is your duty as officers of this body to put a stop to this."
Costa and members of the committee also sent leaders to each county commissioners chair asking them to refuse to comply with Mastriano's requests. 

How has Gov. Tom Wolf's administration reacted?
Gov. Tom Wolf already fended off a GOP attempt to rewrite the state's election laws this summer, and now his administration has switched their focus to thwarting Mastriano's investigation of the 2020 election results. 
In a statement released earlier this month, the Pennsylvania Department of State ripped into Mastriano's efforts to investigate the election results, calling his plan a "sham."

"The Department of State encourages counties to refuse to participate in any sham review of past elections that would require counties to violate the trust of their voters and ignore their statutory duty to protect the chain of custody of their ballots and voting equipment," the department said in a statement. "The Department stands ready to assist counties in upholding their statutory duty to protect the security and integrity of their election machines and systems. Further, we will direct the counties that, if they turn over voting machines or scanners, they should be prepared to replace that brand-new, expensive equipment before any future elections."
Acting Secretary of State Veronica Degraffenreid went on to issue a directive on July 8, stating that if counties allowed access to their voting machines for the purposes of Mastriano's review, the department would withdraw certification for those machines, forcing counties to buy new voting machines. 
The department also said that any third party access to the machines "jeopardizes the security and integrity of those systems and will negate the ability of electronic voting system vendors to affirmatively state that such systems continue to meet Commonwealth security standards."
Senate President Pro Tempore Jake Corman, a Republican, condemned the directive issued by the Wolf administration, calling it an "attack on the General Assembly's power to review, investigate and legislate in matters within its legislative authority, which includes Pennsylvania's election system."
 
Are counties complying with Mastriano's request?
The state directive threatening to decertify voting machines appears to have already caused counties to hesitate handing over ballots, machines and data for Mastriano's investigation.

One of the three counties that received letters from Mastriano has already rejected the state senator's request. Tioga County Solicitor Christopher Gabriel told Reuters and the Associated Press that Tioga County – which is led by an all-Republican board of commissioners – would not be complying with Mastriano's request after learning of the directive. 
"We can't be in a position where we don't have the election machines, because we have to run the next election, these are extremely expensive machines and our position is we need to follow the direction that [Degraffenreid] has given us," Gabriel told the AP. 
In a letter to Mastriano, York County's majority-GOP board of commissioners also objected to his request, questioning his authority and expressing concerns about the potential decertification of their voting machines if they do comply, according to the AP. Philadelphia election officials said in a statement that they are reviewing Mastriano's request, but declined to comment further. However, Philadelphia City Commissioners who run the city's elections said Mastriano's letter repeats claims about the presidential election that have been debunked. 

"Senator Mastriano's letter reiterates claims about the November 2020 election that have been resoundingly rejected by courts," Commissioner Al Schmidt said in a statement. "The repetition of baseless claims by election officials poses a real challenge to our Democratic process."