Education
The battle over masks continues as lawmakers reject statewide mandate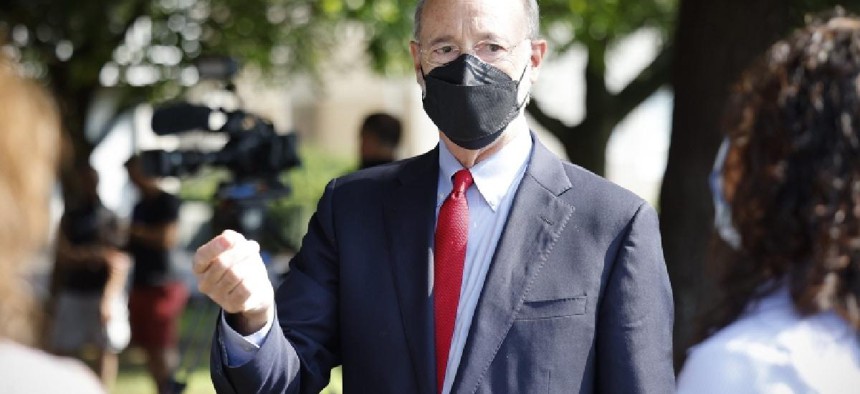 The political fight over mask mandates in Pennsylvania is intensifying. 
As the COVID-19 delta variant prompts a surge in new cases across the Commonwealth, political leaders are clashing over whether masks should be mandated in schools as students prepare to return to the classroom for in-person learning. 
Gov. Tom Wolf urged lawmakers this week to return to Harrisburg to approve a statewide requirement for masks to be worn in schools. In a letter to the General Assembly's Republican leaders, Wolf said that with a majority of school districts not requiring masks, the state needs to step in.
"Despite the Centers for Disease Control and Prevention's recommendation that all K-12 schools should require masks, strikingly, as of July 30, only 59 school districts out of the 474 that submitted health and safety plans to the Department of Education have implemented mandatory masking policies," the governor wrote. "It is clear that action is needed to ensure children are safe as they return to school."
Wolf's request came after he previously said he would leave the issue of mask restrictions up to school boards and other local government entities. His letter to lawmakers, sent Aug. 25, was lauded by the Pennsylvania Chapter of the American Academy of Pediatrics, as well as the Pennsylvania State Education Association, a union representing 178,000 educators and school staff and that has been a close political ally of Wolf's. 
"PSEA has been strongly encouraging school districts to require universal masking in all K-12 school buildings. We know that masking up in our schools is essential to keeping kids learning in person in the classroom all year, especially with the surging Delta variant that affects young people more aggressively than the original strain of the virus," PSEA president Rich Askey said in a statement. "This is so important that we believe policymakers should explore all possible avenues to ensuring our schools remain safe, including legislative action, if that is the best way to achieve this."
Wolf's request was met with pushback from GOP leaders. 
Senate President Pro Tempore Jake Corman and House Speaker Bryan Cutler, the legislature's top-ranking officials, told Wolf on Thursday that lawmakers will not make an early return to Harrisburg to grant Wolf's request. 
Corman and Cutler said they believe COVID-19-related decisions should be left to local officials, and that any additional state mandates could upend efforts already made at the local level. 
"At this late date, in many of our communities, local leaders have already made important decisions they believe are in the best interest of their residents and are prepared to adjust those decisions as challenges evolve," they wrote. "We believe that the current approach – allowing local officials to manage and respond as needed – makes the most sense and should be continued."
The GOP leaders also stressed the importance of getting the COVID-19 vaccine. 
"One of the most effective ways we can all mitigate COVID-19, is to continue to urge those who can get vaccinated to do so in the interest of their own health, and the health of their neighbors and community members."
The public back-and-forth over masks comes as many schools across the state take their own steps to require masks in schools. 
In Allegheny County, 30 schools have decided to impose their own mask restrictions, according to the Pittsburgh Post-Gazette, while on the other side of the state, the School District of Philadelphia has also mandated masks for all students and staff, as well as vaccines for teachers and staff. The Archdiocese of Philadelphia is also requiring all students and staff to wear masks. 
Earlier this month, the CDC recommended that all schools implement universal indoor masking requirements for all students age 2 and older, as well as for teachers, staff and visitors. 
The American Academy of Pediatrics has also endorsed the CDC's guidance, recommending that all students age 2 and up wear masks unless a medical condition or developmental factor prevents mask-wearing.