Elections
Senate lawmakers are seeking a bipartisan approach to election reforms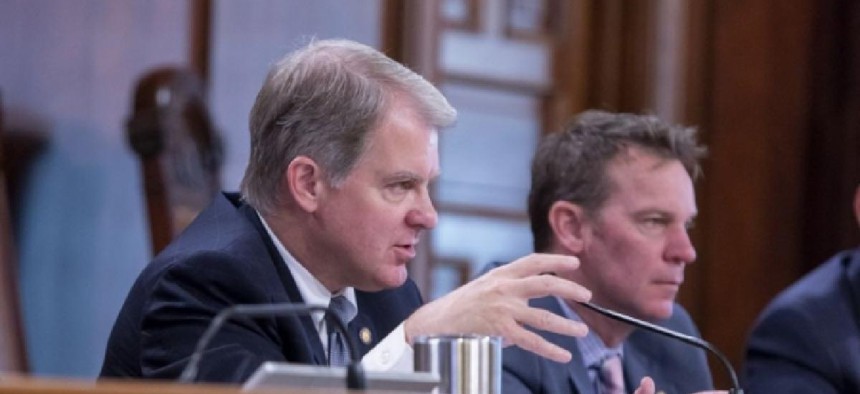 After Gov. Tom Wolf vetoed a doomed election reform bill crafted by House Republicans earlier this summer, lawmakers in the state Senate are now taking a different approach as they prepare to introduce legislation that leaves out some of the more controversial provisions that sank the original bill. 
The proposal, which is being introduced by state Sens. David Argall, a Republican, and Sharif Street, a Democrat, would do away with the voter ID and signature-matching requirements sought by House Republicans. Instead, it would expand the amount of time county officials have to pre-canvass mail ballots, bolster security measures for ballot drop boxes and shorten the window for voters to apply for mail-in ballots. 
The proposed Election Code changes are based on recommendations from the Senate's Special Committee on Election Integrity and Reform, which was convened to review how the 2020 general election was administered in the state. 
The bill sponsors said in a memo to colleagues that measures like voter ID were left out since they are already being proposed in separate legislation. "While more controversial recommendations like voter ID requirements have been addressed by other pieces of legislation, we plan on introducing a bill to implement some of the other recommendations that have broader bi-partisan support," they wrote. 
The bill has yet to formally be introduced, but the memo circulated by Argall and Street outlined the proposed election reforms, which include: 
Expanding the amount of time counties have to pre-canvass mail and absentee ballots, allowing them to begin three days before Election Day.
Creating a barcode system that allows voters to track their mail and absentee ballots.
Requiring the counting of mail-in ballots to be livestreamed for the public.
Moving the mail-in ballot application deadline back to two weeks prior to Election Day, though voters would still be able to request a ballot in-person up to one week prior to the election.
Eliminating the permanent mail-in ballot voter list.
Establishing "real-time" reporting of deceased voters in order to update county voter rolls.
Requiring that ballot collection drop boxes be stationary and subject to 24-hour video surveillance.
Developing training requirements for poll workers, including on how to handle those observing the ballot counting process. 
Argall, who chairs the Senate State Government Committee, a panel with authority over the state's election laws, told City & State that the proposal was developed with the intent of earning bipartisan support. 
"Sharif and I – Lisa Boscola, as well – have agreed that we should try to at least pass some very basic election reforms on a step-by step-basis," he said. "We understand that if both sides come in with long lists of demands, it's likely that we'll end up with zero accomplished. So, I think what you're seeing is an incremental, step-by-step approach to try to get something on the governor's desk this fall."
In June, the state's GOP-led legislature sent a sweeping election reform bill to Wolf's desk, which would have, among other things, required voters to show proof of ID at the polls and mandated county election workers to verify signatures on mail and absentee ballots.

Wolf vetoed the bill, arguing that the voter ID and signature-matching requirements would have made voting more difficult. He later expressed an openness to tougher voter ID restrictions after lawmakers had left Harrisburg for their summer break. 
But Republican lawmakers already have set in motion a plan to establish voter ID requirements without the need for Wolf's signature in the form of a proposed constitutional amendment that was approved by the Senate in June. 
Public polling has indicated that a majority of Pennsylvania voters support strengthened voter ID requirements. A Franklin & Marshall poll released in June found that 74% percent of voters think that people should be required to show ID at the polls. Argall said if lawmakers approve the measure this session, as well as next session, triggering a ballot referendum, he believes that voters will approve it. 
"I'm very confident that once it's placed on the ballot, if we can get a fair wording out of the department of state, the voters will certainly approve it," he said. 
In the meantime, however, Argall's goal is to find bipartisan agreement on most of the recommendations made by the special committee and advance the bill this fall. He stressed that lawmakers need to, at the very least, extend the time counties have to pre-canvass ballots and give them more time to process mail ballot applications. He added that he and Street, who stand on different sides of the aisle, work quite well together.

"We understand that in order to get anything done in Harrisburg, there needs to be a bipartisan approach, and so we're giving this our very best effort," Argall said.

A spokesperson for Wolf said that despite his veto of the GOP voting reform bill earlier this summer, the governor is keeping the door open for potential election law changes.

"The governor has always said that he is open to a good faith negotiation on election reform that improves the accessibility and convenience of voting," said Lyndsay Kensinger, a spokesperson for Wolf. "The administration will review the legislation once it's introduced."