Ethics
Senate unveils transparency reforms as lawmakers push for changes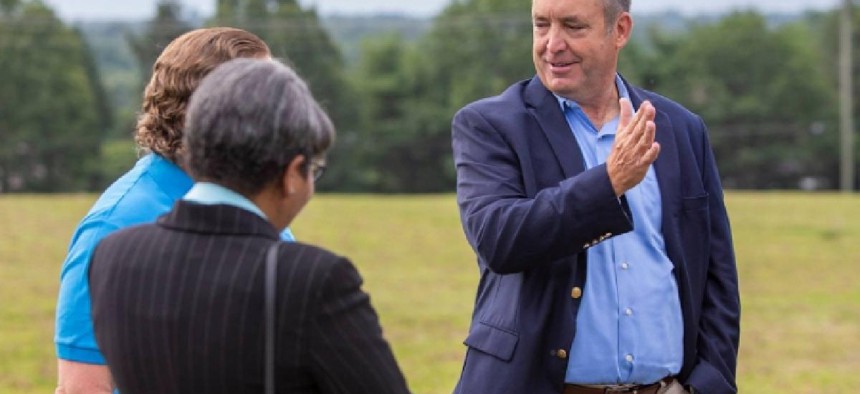 As conversations continue in Harrisburg over how best to handle legislative expenses, the state Senate will be making all of its expenses available to the public beginning next month, the chamber's top GOP leader said Wednesday. 
The new reporting system will be accessible starting on Sept. 1, and will make all office leases, per diems, reimbursements, supplies, mileage, office maintenance and other costs available through a new public-facing web page, according to Senate President Pro Tempore Jake Corman. 
"Pennsylvanians deserve to know how their tax dollars are spent, so opening the Senate's books to the public eye is absolutely the right thing to do," Corman said in a statement announcing the changes on Wednesday. "The online transparency tool that is in development now will help fulfill the promise of state government that is more open and accountable to the people it serves."

Heightened transparency has been a key priority of Corman's since taking over the reigns as president pro tempore this session, with the Centre County lawmaker stating in remarks in January that the General Assembly's upper chamber should strive to be more transparent with how it reports expenses and how it interacts with lobbyists, while also calling for better transparency in elections and in the media. 
"As I considered what we should do to make sure that the public has faith in our work, particularly after such a difficult year, one word came to mind: transparency," Corman said. "This means making sure that all of our operations here in the Senate meet the standard of openness. I know some of you already put your office expenses online and we all should do more to make sure the public sees exactly how we conduct our business." 
Legislative expenses have received renewed attention in recent weeks following the arrest of state Rep. Margo Davidson, who was charged in July with theft by deception, solicitation to hinder prosecution and multiple Election Code violations. 
Attorney General Josh Shapiro's office stated that from 2015 to 2019, Davidson profited off of state funds by requesting legislative reimbursements for expenses already paid for by her campaign committee. The criminal complaint also alleged Davidson requested legislative per diems for overnight trips and stays that did not occur. 
But legal use of legislative per diems and expense reporting has also raised some eyebrows. A Spotlight PA investigation revealed that state Rep. Chris Sainato has billed taxpayers – legally – for $1.8 million in expenses throughout his 20-plus year career in the General Assembly. 
The liberal, opaque – and at times illegal – use of legislative expenses not only prompted Corman to change Senate policy, but has motivated lawmakers to examine permanent legislative solutions as well.

Following Davidson's arrest, House State Government Committee Chairman Seth Grove announced that his committee would begin an in-depth review of the state's ethics laws to determine how best to "legislatively protect taxpayers and constituents."
State Rep. Paul Schemel, a Republican who serves as the chairman of the Subcommittee on Government Integrity and Transparency, will lead the committee's review of the state's Ethics Act and legislative per diems, which are flat-rate reimbursements lawmakers may claim when traveling outside their district. 
Schemel told City & State that his subcommittee hopes to look at the best practices of other states to minimize the ability of reimbursement systems to be taken advantage of. Schemel said requiring receipts for reimbursement, as opposed to a flat-rate per diems, could be one way to improve accountability. 

"This is the public sector, people need to have greater confidence in their legislators," he said.
State Sen. Lindsey Williams, a Democrat, introduced legislation prior to Corman's announcement that would increase transparency in both chambers. Williams' legislation would require both the House and Senate to post legislative expenses, including per diems, on a searchable website that gets updated quarterly.
Williams said she was happy to see the Senate transparency measures outlined by Corman, but believes her legislation still needs to be taken up by lawmakers. 
"I think it's a great first step towards being more transparent about the expenses for legislators, but I do believe that my legislation is still necessary because the legislation covers both the House and Senate, and it makes it a permanent thing," Williams told City & State. "Having it in statute so it is required for the future, I think, is very important."

Williams has also sought to change Senate rules to require that bipartisan bills receive a vote on the Senate floor, and that all bills get a committee vote, among other changes.

Williams said she thinks the tide may be shifting when it comes to government reforms in Harrisburg, with both transparency reforms on the horizon and legislative leaders expressing an interest in updating the state's lobbying laws.
"I give a lot of credit to people who are engaged in the process and pushing their legislators that this is what they want," she said. "I think it's a function of active and engaged citizens, and press coverage really pushing elected officials to stop talking about transparency and accountability, and actually do something about it."