Campaigns & Elections
4 election reform bills lawmakers could consider this fall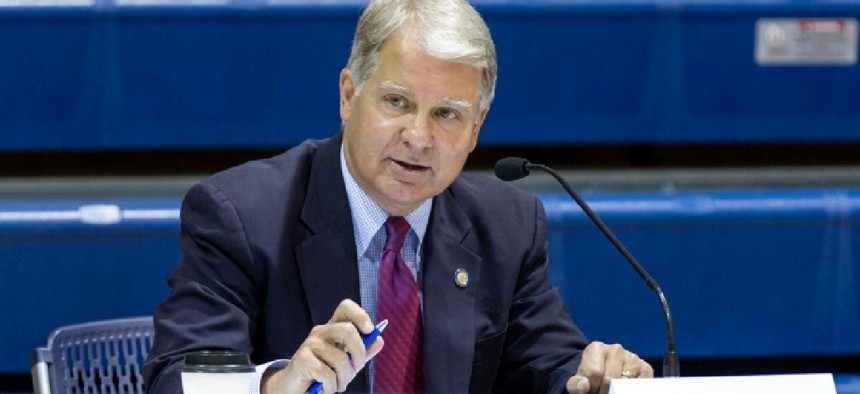 Efforts to rewrite Pennsylvania's election laws aren't over just yet.
After Gov. Tom Wolf vetoed a sweeping GOP election reform bill earlier this summer that would have, among other things, mandated voter ID for all elections and required counties to verify ballot signatures, state lawmakers are looking to take another stab at reforming the state's election laws. 
The question isn't whether lawmakers will try and update the state's Election Code, but rather how they choose to do it. Lawmakers could make another attempt to earn Wolf's support, or they could move ahead with constitutional amendments that would circumvent his desk entirely. 
Below are four major proposals that lawmakers could take up this fall.
 
The Voting Rights Protection Act 2.0
The first iteration of the so-called Voting Rights Protection Act, sponsored by state Rep. Seth Grove (and later vetoed by Wolf), would have required all voters to show proof of ID at the polls, set signature-matching requirements for mail and absentee ballots and established early in-person voting in the state. Wolf took issue with the voter ID measure and vetoed the bill, saying it would have made voting more difficult. 
Wolf later appeared to express an openness toward tougher voter ID measures, leading Grove to reintroduce an updated version of his proposal, which includes language from Democrats to further modernize Election Code language. 
Grove, who chairs the House State Government Committee, told City & State that the committee will either move Grove's statutory proposal or a constitutional amendment to require voter ID. The path the committee takes will depend on whether Wolf is willing to negotiate on his bill, Grove said. 
The York County lawmaker added that his committee intends to hold a voting meeting on election-related legislation in early September.

A spokesperson for Wolf said the Democratic governor "is open to a good faith negotiation on election reform. He will not support any legislation born out of misinformation and disproven conspiracy theories that is intended to create barriers to voting or attack the landmark voting rights expansion of Act 77."
 
A voter ID constitutional amendment
Another option lawmakers are considering is whether to mandate proof of ID at the polls by amending the state constitution to require it. 
Senate lawmakers approved Senate Bill 735 with a 30-20 vote back in June. The proposal would enshrine voter ID requirements in the state constitution. If it is approved by lawmakers in two consecutive legislative sessions, voters would then decide on the policy through a ballot question – a process that would circumvent Wolf's desk. 
Sen. David Argall, who chairs the Senate State Government Committee, told City & State that he believes voters would approve the amendment if it makes it on the ballot. 
"I'm very confident that once it's placed on the ballot, if we can get a fair wording out of the department of state, the voters will certainly approve it," Argall said. 
Recent polling suggests that an overwhelming majority of Pennsylvania voters approve of strengthening voter ID requirements, with a June Franklin & Marshall College poll pegging the number at 74% of voters.
 
Extended pre-canvassing and drop box security measures
Republicans have expressed a clear interest in strengthening the state's voter ID requirements, but in the meantime, lawmakers may try and push through a less controversial election reform measure with bipartisan support. 
Argall and state Sen. Sharif Street are seeking cosponsors on legislation that would extend the amount of time counties have to pre-canvass mail ballots, while also setting stronger security requirements for ballot dropboxes.

The measure was crafted without some of the more controversial components included in Grove's House Bill 1300 – a move that Argall and Street hope will result in attainable changes to the state's election laws.
"We understand that in order to get anything done in Harrisburg, there needs to be a bipartisan approach, and so we're giving this our very best effort," Argall said.
 
Changing how the lieutenant governor is chosen
Currently, Pennsylvania's nominees for lieutenant governor are chosen in separate elections from gubernatorial candidates. That means a party's eventual nominee for governor has little to no role in choosing who their running mate is. That could all change if the House approves a proposed constitutional amendment this session to overhaul that process.

Senate Bill 106, if eventually approved by voters, would mirror how presidential candidates select their running mates, allowing gubernatorial nominees to choose who their running mate is, rather than have voters choose for them. 
Proponents say the measure would allow a gubernatorial ticket to run as a team with a shared vision for the state, while also helping to prevent conflict between the two candidates on the same ticket. 
The proposal has already passed the legislature once, and just needs a vote in the House this session in order to find its way onto the ballot, where voters will decide its fate.