Harrisburg
GOP audit hearing ignites partisan battle over election policy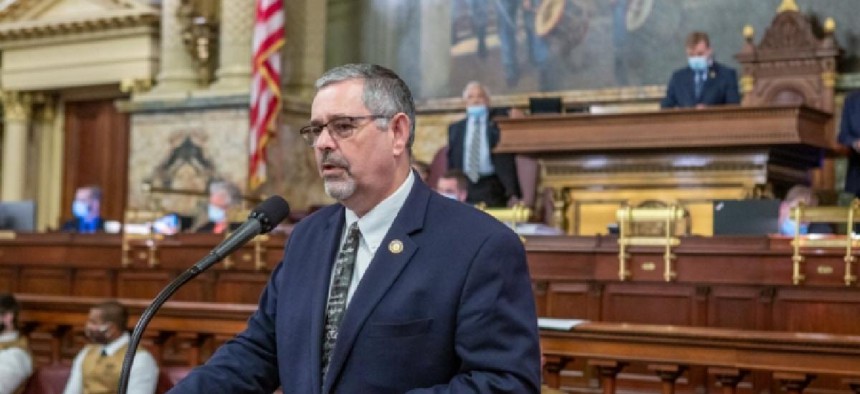 A Republican-led panel on Thursday kickstarted its audit into Pennsylvania's recent election results with a hearing that highlighted the partisan divisions that are likely to grow as lawmakers continue to probe concerns stoked by former President Donald Trump about the election's integrity. 
The investigation, which is being spearheaded by the state Senate Intergovernmental Operations Committee, comes after months of claims from Trump and his supporters about the presidential election being marred by fraud. Republican lawmakers in the General Assembly, including Senate President Pro Tempore Jake Corman, say a series of last-minute changes to election procedure made by the Department of State undermined confidence in the election and warrant a review. 
Last month, Corman committed to conducting a "thorough, forensic audit of recent elections – including using our subpoena powers." He said the goal of the audit "will not be to conduct a recount, but to find any flaws in the system that could be exploited by bad actors and take action to correct those flaws."
Thursday's hearing included testimony from a Fulton County elections official on election-related difficulties in 2020. Stuart Ulsh, chair of the Fulton County Board of Commissioners, said last-minute changes to election guidance were "overwhelming" for a county with limited staff, but said that a post-election audit agreed to by the county revealed no instances of fraud.

The hearing also highlighted tensions between Republicans and Democrats over the need for an audit, with Democrats arguing that multiple audits have already confirmed the validity of the state's election results. 
Prior to the hearing, Democratic leaders ripped into their Republican colleagues, accusing them of launching the investigation to appease Trump. Senate Democratic Leader Jay Costa said using the Senate Intergovernmental Operations Committee to conduct the election review amounted to a "bastardization of this longstanding, century-old Senate committee process."
Costa has claimed that the Senate Intergovernmental Operations Committee does not have the authority to investigate elections and that the authority to do so rests with the Senate State Government Committee. 

"We're at a crossroads of where we are as a body, of a Senate, of who we are as elected officials, of who we are as representatives of the people of this Commonwealth," Costa said. "This is an attack on one of our greatest freedoms – our freedom and our ability to vote."
State Sen. Vincent Hughes called the audit a "taxpayer-financed sham."
"The election was litigated in 21 different circumstances ... and in each in every case Donald Trump and his forces lost. Republican judges said he lost. Democratic judges said he lost. Trump-appointed justices said that he lost," Hughes said.
"The election is over. It's been over for 11 months," Hughes said. "Joe Biden is President of the United States of America, and the former president will not be reinstated. Anyone who tells you differently, including the former president, is lying to you."
Republicans, however, defended the election investigation. State Sen. Cris Dush, the committee chair, said that because the Intergovernmental Affairs Committee is charged with reviewing interactions between various levels of government, it has authority to interview how elections are administered at the state and local levels. 
"Election law and execution involves federal, state, county and municipal governments, which fits right into the definition of intergovernmental – multiple levels of government," Dush said.
Dush stressed that the investigation is not designed to overturn the results of the 2020 election, as some Democrats have suggested. "That horse is out of the barn, as far as this investigation is concerned," he said. "Rather, this investigation is about looking intensely into the general election held November 2020 and the primary election held in May of 2021, to evaluate how our election code is working."
Dush was tapped to lead the election review after a public feud between Corman, the Senate president, and state Sen. Doug Mastriano resulted in Corman stripping Mastriano of his committee chairmanship.

Mastriano had sought to review ballots, voting machines, tabulation equipment, software and more from three Pennsylvania counties, but got nowhere after the Department of State threatened to decertify machines if a county allowed third-party access. 
That led Corman to appoint Dush to lead the investigation instead, which formally began with Thursday's hearing. 
Lawmakers heard testimony from Ulsh, who doubles as chair of Fulton County's board of elections. They asked about any difficulties that arose by changing state guidance may have had on county election workers. Ulsh said the changing guidance "maybe was a burden," adding that it "worked everybody extra; everybody put more hours in."
"Our hardest thing was to make sure we kept things straight with the mail-ins and the absentees as far as what we dealt with in our office," he said. 

Democrats looked to extract information on a third-party election audit the county participated in, which led to the county's voting machines being decertified by the state. Ulsh said the audit – which was conducted by Wake TSI, an information technology company that is also conducting a recount of Maricopa County results in Arizona – was not paid for by Fulton County. Ulsh said he did not know who paid for it.

"I actually made the offer that I would kick into it if I had to," he said.

When asked by state Sen. Steve Santarsiero, a Democrat, about how Wake TSI responded, Ulsh said the company told the county that they didn't need to worry about the cost. "They didn't explain who paid for it," he said. "I honestly never asked a question."