Harrisburg
Jake Corman joins parents suing over state's school mask mandate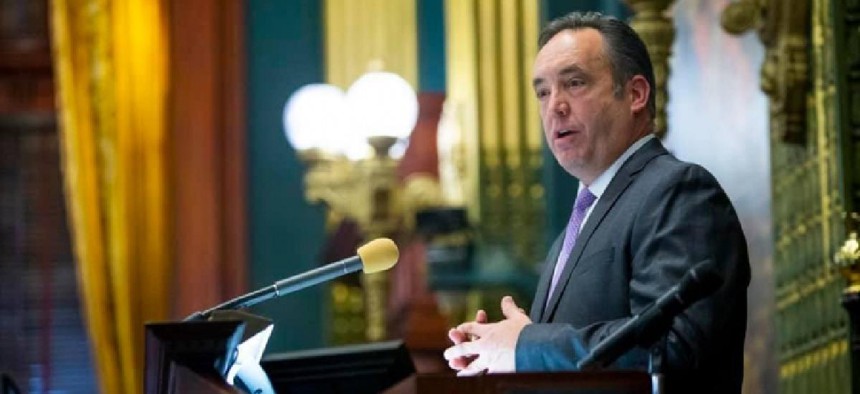 A group of parents suing the Pennsylvania Department of Health over a new statewide school mask mandate now have a powerful political ally on their side.
Jake Corman, the president pro tempore of the state Senate, announced this week that he and a group of other parents are asking the Commonwealth Court to halt Gov. Tom Wolf's current mask mandate, which requires indoor masking in all schools across the state. 
Corman said during an appearance on The Dom Giordano Show that he does not believe Acting Secretary of Health Alison Beam has the power to issue a statewide mask mandate under the state's Disease Prevention and Control Law. 
The law states that the department of health may take "appropriate control measures" to stop the spread of disease, but Corman said he believes the law does not give the department authority to subject healthy Pennsylvanians to certain control measures. 
"The Disease Prevention and Control Act of the 1950s allows the secretary of health to quarantine those who are sick or exposed," Corman said. "We do not believe it gives the Secretary of Health the power to do mitigation efforts on the healthy."

Corman said he is hoping that the court will issue an injunction, halting the mandate. The court is expected to hear oral arguments on Sept. 16, Corman said, adding that he joined the suit as a parent, not as a legislator. He said he believes the Commonwealth Court could rule in his favor, but noted that the Pennsylvania Supreme Court has often sided with Wolf when considering conflicts between the Democratic governor and the Republican-controlled legislature. 

Still, Corman said now that the voters have stripped away some of Wolf's emergency powers, Beam is left with more power than Wolf – something that lawmakers never intended. 
"Now, literally, the secretary of health does have more power than the governor if this is allowed to stand," Corman said. "There's no legislature that would have given that type of power away to a non-elected individual."

The Wolf administration issued the mask mandate on Aug. 31 amid concerns about the delta variant and increased spread of COVID-19. Under the order signed by Beam, students, staff and volunteers are required to wear masks in all public and private schools in Pennsylvania.

Wolf, despite calls from legislative Republicans to leave masking policies up to local officials, said a lack of action at the state level would have had grave consequences for the commonwealth at large. "Doing nothing is going to mean more sick kids. It's going to mean more days out of school. It's going to mean more grief for communities and more problems for our economy," he said.