Elections
Senate GOP subpoenas voter records, drawing legal challenge from Dems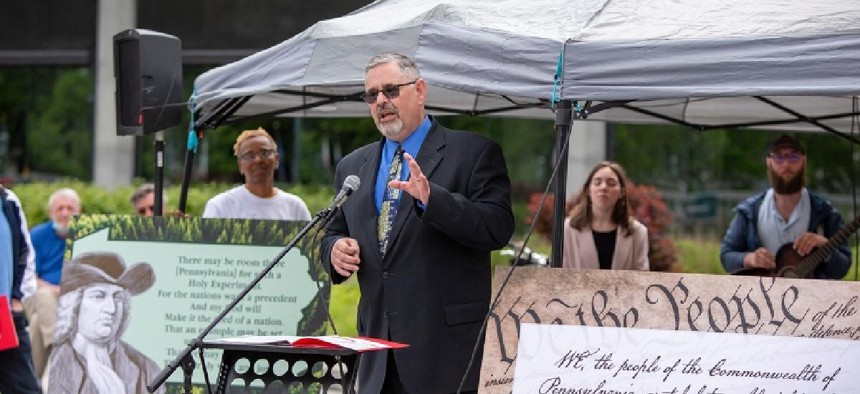 A Republican-led committee investigating Pennsylvania's 2020 election results on Wednesday voted to issue subpoenas for a wide range of personal voter information, a move that has already escalated tensions between Republicans and Democrats on the need to review recent elections. 
The party-line vote to subpoena the Pennsylvania Department of State came at the end of a contentious hearing of the state Senate's Intergovernmental Operations Committee, where lawmakers sparred over the need to obtain private information of voters, including their name, driver's license number and the last four digits of their Social Security numbers. 
Following the vote, Democrats immediately pledged to file a legal challenge in an attempt to block the subpoenas, which could provide lawmakers with the personal information of nearly 7 million voters who cast ballots last November. 
Republicans on the committee vowed to keep the information secure and stressed that the investigation is necessary to restore confidence in the state's elections, and to determine how best to update the state's voting laws. The GOP-led probe comes as former President Donald Trump continues to allege that the 2020 general election was marred by fraud.
In a statement following the committee's vote, Intergovernmental Operations Committee Chair Cris Dush criticized the Department of State for not providing information and testimony to the panel. "Subpoenas were not our first choice of action, but the refusal of the Wolf Administration to work with us in a bipartisan manner left us no other options to get the answers Pennsylvanians deserve," Dush said. 
The subpoenas, approved by a 7-4 vote, request a range of information from Gov. Tom Wolf's administration, including: 
Voter records, including the name, date of birth, driver's license number, last four digits of a Social Security number, address and date of last voting activity from all voters in the state
Communications between the Department of State and counties from May 2020 to May 2021
Election-related directives, guidance and training that the Department of State provided to counties from August 2020 to June 2021
The subpoenas do not request information regarding a voter's party affiliation or which candidates they voted for, according to a fact sheet provided by Senate Republicans. 
Jake Corman, the president pro tempore of the state Senate, pledged to keep the personal voter information requested by the committee safe and secure. "The Senate will do its job. We will gather sensitive information, we will review sensitive information, and then we will secure that information," he said. "That is my pledge. That is something that is paramount."
Democrats, however, condemned the committee's efforts to subpoena the Wolf administration for voters' personal information, calling it a "gross abuse of power." Following the meeting, Democratic members of the committee said they plan to file a legal challenge on Friday to block the subpoenas. 
"These actions are not in pursuit of transparency or an effort to improve our system. These actions are the latest attempt at a national strategy by loyalists to the former president to cast unnecessary doubt among voters and [undermine] our proven electoral system," said Senate Democratic Leader Jay Costa, who serves on the committee. "Plain and simple, it's an attack on voting rights and freedoms and now includes a perverse effort to exploit individuals' personal information to that end."
Wolf also criticized the vote to issue subpoenas, calling it "another step to undermine democracy, confidence in our elections and to capitulate to Donald Trump's conspiracy theories about the 2020 election."
Democrats also expressed concerns about Republicans' intent to hire a third-party vendor to help conduct the election investigation, accusing Dush and the Senate Republican Caucus of vetting potential vendors behind closed doors. 
Dush declined to reveal what vendors he is considering to help the committee conduct the review, but said the probe would be paid for using taxpayer dollars. That irked Democratic state Sen. Steve Santarsiero, who questioned how the committee could vote to subpoena information without a full picture of who would have access to the records. 
"We have a duty to those people, many of whom voted in last November's election, to know exactly where their information is going and who's going to have access to it," he said. 
Democrats have widely panned Senate Republican efforts to investigate claims of fraud and irregularities in the 2020 general election peddled by Trump and his supporters. 
Republicans, however, have contested claims that the review is an effort to appease Trump and his base. Corman said Wednesday that the review is meant to be forward-looking, allowing lawmakers to fix flaws in the state's election laws. 
"All we're doing is seeking facts, seeking information, so that we can make better public policy," he said. "To be very clear, the legislature has no authority to overturn an election."