Health Care
Thousands gather for first-ever Pennsylvania March For Life rally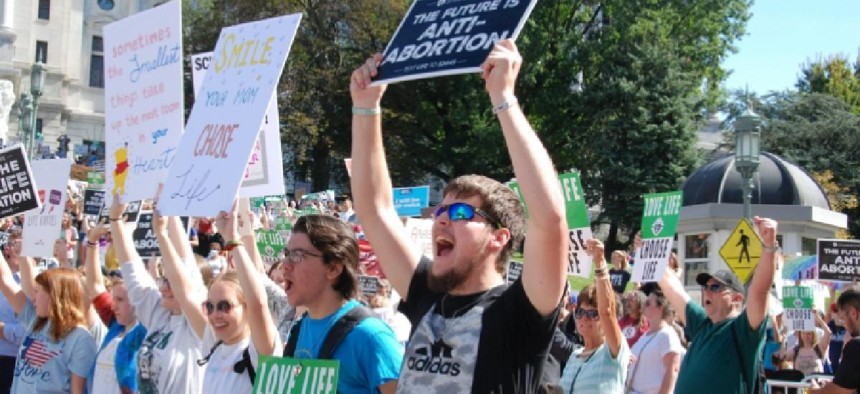 Joined by lawmakers and advocates, thousands of people flocked to the state Capitol steps in Harrisburg on Monday for the first-ever Pennsylvania March for Life, where they sent a clear and resounding message to the state's elected leaders – they want abortion abolished. 
The rally and march was organized by the Pennsylvania Family Institute, a conservative nonprofit that brought residents from across the state together with elected officials and prominent activists to advocate for an end to abortion. 
The event included speeches from Republican leaders in the General Assembly, including House Speaker Bryan Cutler and Senate Majority Leader Kim Ward, both of whom have supported efforts to curtail abortions in Pennsylvania.

Cutler referenced legislation passed by the House this session that would have banned abortions made on the basis of a Down syndrome diagnosis. He also praised another bill that would have outlined certain requirements for the disposition of fetal remains. 
Cutler stressed that certain bills designed to roll back abortion access – such as House Bill 1500, the Down syndrome abortion ban – have earned bipartisan support. "The landscape continues to shift, and as the vote on the House floor proved the issue is not split along party lines."
Ward, the Senate Republican leader, urged attendees to carry over their energy to elections and make their voices heard at the ballot box. "We need you to stay involved, we need you to vote, we need you to keep this energy up," she said. 
"As your elected leaders here in Harrisburg, we hear you loud and clear," Cutler said. "Life begins at conception and we owe it to the unborn, the voiceless, the most vulnerable among us, to make sure that we are their voice and to stand for the right to life at every opportunity."
Attendees also heard from Abby Johnson, a former Planned Parenthood clinic director turned anti-abortion activist. Johnson told of her experiences working for Planned Parenthood and called for rally goers to make their voices heard. 
"I believe that if we keep fighting this fight, that if we keep working, if we keep making sacrifices, not only will we see a time where abortion is illegal in this country, but friends, we will see a time where abortion is unthinkable," Johnson said. 
Following the rally, attendees marched around the state Capitol with signs and chants underscoring their opposition to abortion. 
Janet Bechtel told City & State that she attended the rally because she believes abortion is "atrocious." She said she supports efforts to overturn Roe v. Wade. 
"I mean, they're killing babies by the billions and we need to do something," Bechtel said.

The event drew the attention of Gov. Tom Wolf, who has been a fervent supporter of abortion access throughout his two terms as governor. Wolf has vetoed bills aiming to limit abortion access in the past, and on Monday, pledged to do the same to any that cross his desk in the future. 
"As I have said before, so-called 'pro-life' policies are actually anti-choice. They further magnify social and economic disparities within health care, counter the notion of individual freedom and lack a scientific basis," Wolf said in a statement. "As governor, I have vetoed three anti-choice bills that have come to my desk. Make no mistake, I will veto any others."
This story has been updated.