Campaigns & Elections
Wolf yanks secretary of state nomination, slams Senate for handling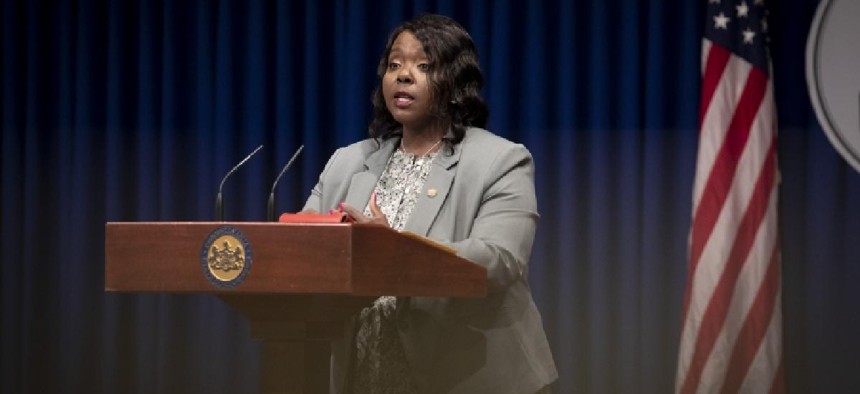 Gov. Tom Wolf on Monday revealed that he is pulling Veronica Degraffenreid's nomination as secretary of state, accusing Senate Republicans of being more interested in appeasing former President Donald Trump with a review of the state's election results than discussing Degraffenreid's appointment. 

In a scathing statement, Wolf criticized Senate Republican efforts to conduct a "forensic investigation" of the state's 2020 election results and said with lawmakers planning to subpoena the Department of State for information and testimony on the election, he will be recalling Degraffenreid's nomination. However, Wolf said Degraffenreid will continue to serve in an acting capacity. 
"It is clear that the Senate Republicans have no intention of having a rational conversation about the leadership of the Department of State or our election systems," Wolf said. "It is clear that instead of providing advice and consent on my nominee for Secretary of the Commonwealth, they instead plan on using her confirmation as an opportunity to descend further into conspiracy theories and work to please the former President by spreading lies about last year's election, instead of working together to address real issues facing Pennsylvanians." 

Wolf said it is unlikely that Degraffenreid will "receive a fair hearing from this Senate on her merits," adding that he is confident Degraffenreid will continue to serve with "integrity and professionalism."
The Senate Intergovernmental Operations Committee, a Republican-led panel leading the review of the state's 2020 and 2021 elections, is set to vote on whether to subpoena the Department of State for testimony and information on Wednesday after the department did not attend the committee's first election-related hearing. 
Wolf also ripped into the motivations behind the election investigation, accusing Republicans of spreading "lies and misinformation" about the state's election systems and their integrity. 

"For the last year, we have seen Republicans in the Pennsylvania Senate capitulate to Donald Trump's fantasy that the 2020 election experienced irregularities that changed the outcome in Pennsylvania," Wolf said. "The 2020 election that elected President Biden, as well as two Republican statewide officeholders, and Republican majorities in the Pennsylvania House and Senate, was freely and fairly run.
"There were no irregularities, no conspiracies and no fraud that occurred," Wolf added. "The people of Pennsylvania voted and their votes were accurately counted."

Senate President Jake Corman, the top-ranking Republican in the state Senate, contested the governor's claims that there was no hiccup in the election process. 

"There are many legitimate questions about the performance of the Department of State over the past year," Corman said in a statement. "They failed to properly advertise a constitutional amendment to provide relief to sexual assault victims, they removed critical voter security measures in the lead-up to the 2020 General Election, they released confusing and contradictory guidance and clarifications up until the night of the election, they inserted misleading language into ballot questions for constitutional amendments, and they have administered recent elections in a way that is deeply partisan."
Corman also criticized Degraffenreid's plan to decertify the voting machines of any county that allowed third-party access to their voting machines for the purposes of an audit. "If we turned a blind eye to these colossal failures, we would not be doing the job our constituents elected us to do," he said.

Corman noted that although Wolf recalled Degraffenreid's nomination, the Senate is not obligated to honor that recall. 
"The Acting Secretary's threats against counties and her refusal to participate in bipartisan election hearings will be considered by the Senate Republican Caucus as we plan how to proceed with her nomination," he said. 
However, Lyndsay Kensinger, a spokesperson for Wolf, said the recall is effective immediately. "The recall was effective the moment the governor issued it," Kensinger said in an email. "The governor's recall of his nominee does not require Senate approval."
This story has been updated.