Ethics
'Just ban gifts': House panel unanimously approves gift ban bill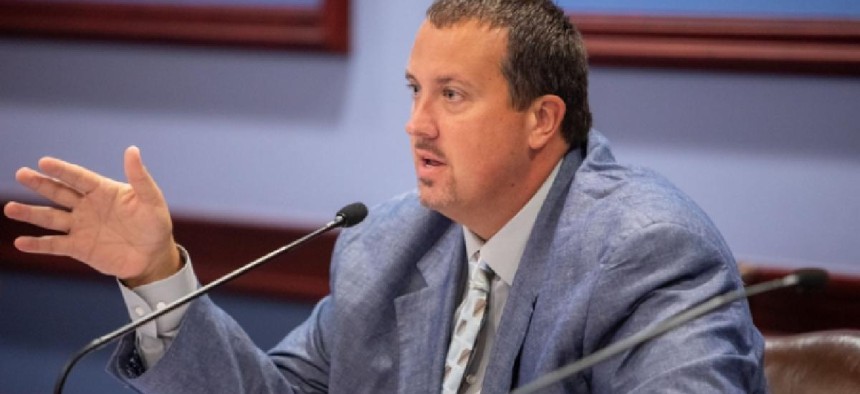 House lawmakers took major steps toward overhauling the state's ethics laws on Monday, approving legislation that would significantly limit what gifts state lawmakers may receive from lobbyists, while banning other types of gifts outright. 
The legislation, House Bill 1009, received unanimous support from members of the House State Government Committee, who said the bill represents "a step in the right direction" toward reforming state government and improving public trust. 
State lawmakers may currently receive unlimited gifts under Pennsylvania's current Ethics Act, including from lobbyists, as long as they report gifts worth more than $250 on annual forms disclosing financial interests. 
But under HB 1009, lawmakers would be prohibited from accepting gifts worth an aggregate of more than $250 in a calendar year from any one particular source, including lobbyists. Legislators would also be prohibited from accepting offerings of transportation, lodging, recreation or entertainment in connection with their role as a public official.
Even though some members of the committee thought the legislation should have set more restrictive prohibitions on gifts, Republicans and Democrats alike heralded the legislation as a positive step forward. 
"I think many of us – probably most of us – on this committee would absolutely love to see a bill that had zero gifts," Republican state Rep. Paul Schemel said, noting that Gov. Tom Wolf's 2015 executive order banning gifts to executive branch employees "set a good standard" in terms of ethics. "I think that's where we should move, but I support this because it is an incremental step in that direction."
State Rep. Jared Solomon agreed, stressing that a ban on all gifts would help communicate to the public that lawmakers are committed to improving the ethics laws that they are subjected to.
"For me, when you're talking about a cultural shift or cultural change in Harrisburg, it needs to be just that. I think the governor here has set a really good standard – the gold standard," he said. "Just ban gifts."
With lawmakers on both sides of the aisle expressing an interest in a broader, more comprehensive gift ban, state Rep. Malcolm Kenyatta said he would draft a floor amendment to ban state lawmakers from receiving any gifts. State Rep. Joe Webster noted that he has legislation awaiting a vote in committee that would ban all gifts to public officials if signed into law.
While the bill received unanimous approval from lawmakers on the panel, at least one lawmaker was wary of expanding the legislation to prohibit public officials from receiving any gifts. 
State Rep. Russ Diamond said he thinks the governor's gift ban is overly-restrictive, noting that he once saw a deputy secretary turn away a drink on a hot day due to the prohibition on gifts. "I think that going absolute zero is a little too far because there are these very de minimis things that we do simply as decent human beings," Diamond said, referencing the occasion. 
Gift ban legislation has been a pet project of activists at March on Harrisburg, a government reform advocacy group that has frequently staged protests – sometimes resulting in arrests – inside the state Capitol to advocate for the proposal. 
Following Monday's committee vote, March on Harrisburg Executive Director Rabbi Michael Pollack said the organization would continue applying pressure on lawmakers in order to move the legislation forward.

"The gift ban has made it this far because of the hard work put in by people across Pennsylvania who feel the hurt of a corrupt and indifferent government that is more responsive to moneyed special interests than to the people," Pollack said in a statement. "Moving an overwhelmingly popular bill like the gift ban through the legislature is really hard to do for the obvious reason that we are messing with the way money controls our politics."
Jason Gottesman, a spokesperson for the House Republican Caucus, said Republicans are dedicated to advancing measures that improve trust in government. "Today's vote signifies the beginning of the legislative discussion on a number of related concepts that members have put forward," Gottesman said in an email, adding that he expects conversations on HB 1009, as well as other measures, to continue in the coming weeks. 
A spokesperson for Senate President Pro Tempore Jake Corman did not immediately return requests for comment on whether he would support advancing HB 1009.
In addition to the gift ban legislation, the House State Government Committee also approved a slate of lobbying reform proposals backed by House Speaker Bryan Cutler. 
Those measures, which are included in a series of 10 pieces of legislation approved by the committee on Monday, would require lobbyists to disclose client conflicts, temporarily prohibit campaign consultants from lobbying those they provided consulting services for and establish first-dollar reporting requirements for lobbyists.
Cutler said the bill package "ensures our lobbying community is held to ethical standards the public expects and promotes a culture of transparency every Pennsylvanian deserves."