Gun Control
Senate panel approves bill to strengthen state's gun preemption law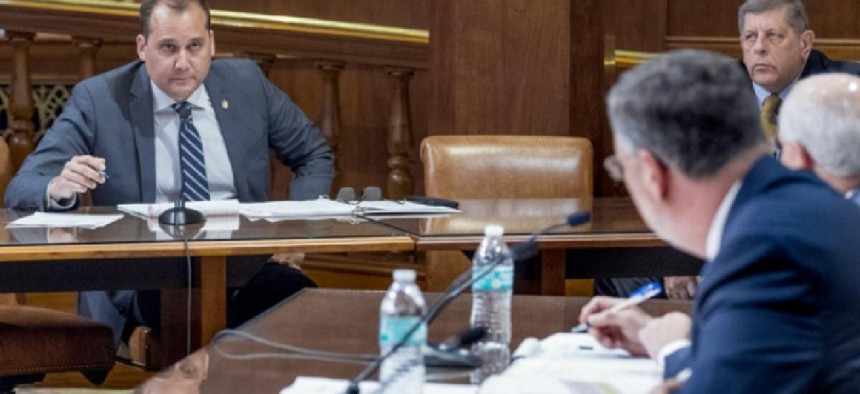 A Senate panel voted along party lines Tuesday to approve legislation that would strengthen the state's existing law that bans local municipalities from adopting their own gun regulations.
Senate Bill 448, sponsored by Republican state Sen. Wayne Langerholc, underscores the state's existing preemption law to prevent municipalities from imposing any restrictions on firearms or ammunition that are more stringent than state law. 
Langerholc said the legislation is necessary to crack down on municipalities that have been flouting the state's preemption law and passing their own gun restrictions anyway. 
"In 2015, there were approximately 100 municipalities that chose to go in direct contravention of existing law and enact their own ordinances attempting to regulate guns," he said. "It's very clear within the laws of the commonwealth that this body – the Senate and the House in the General Assembly – is tasked with those types of duties."
Langerholc's bill would allow people "adversely affected" by local gun restrictions to challenge them in court and seek damages. It also adds new language to the existing preemption law to prohibit municipalities from adopting any "ordinance, resolution, regulation, rule, practice or other action" regulating guns, ammunition or other related components. 
Democrats criticized the measure, arguing that it takes away the ability of local governments to address unique needs within their respective communities and prompt lawsuits that could place a financial strain on municipalities. 
State Sen. Maria Collett, a Democrat, said the legislation stands in stark contrast to other bills pushed by Republicans that would have allowed local governments to lead the state's COVID-19 response – instead of state-level officials. 
Collett also said the bill distracts from more pressing concerns the state is facing. "It doesn't assist in the recovery from the pandemic or make it easier to address crime in our neighborhoods. It doesn't make Pennsylvania a safer commonwealth for our constituents. It simply makes it harder for communities from Erie to Philadelphia to address their own local needs," she said. 
Democrats at the municipal level have attempted to challenge the state's preemption measures in court. Last October, Philadelphia officials sued Republican leaders in the General Assembly, arguing that two separate preemption laws violated the state constitution.
State Sen. Sharif Street, who lost a relative to gun violence over the summer, said given the political makeup of the General Assembly, it's unlikely that any state-level gun restrictions would reach the governor's desk. Street said the diversity of the state warrants giving local governments the ability to adopt gun-related policies as they fit. 
"Clearly, we're not going to pass gun laws to regulate the whole state because that would be difficult, because the state is very big and diverse," Street said. "But allowing some measure of autonomy for places like Philadelphia and other urban areas where people would naturally have a very different relationship with firearms than they would in parts of rural Pennsylvania seems to make common sense to me."