Ethics
Senate Republicans seek stricter rules for lobbyists with bill package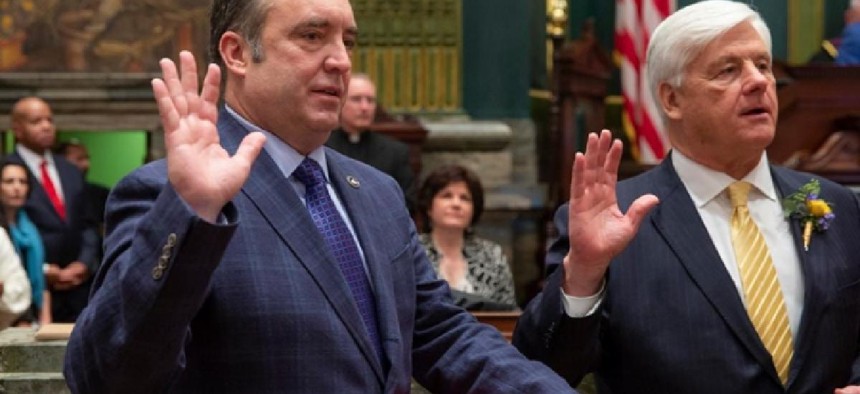 Speaking from the dais after being elected president pro tempore of the state Senate earlier this year, Jake Corman pledged to make transparency and government reforms a key priority as the chamber's top-ranking official. 
Corman has already made good on his promise to make government more transparent, rolling out a new legislative expense database that makes Senate office leases, per diems, reimbursements, supplies, mileage, office maintenance and other costs available on a new public website. Now, Corman is eyeing changes to the state's lobbying laws, hoping to draw clearer distinctions between lobbyists and political consultants. 
"It is important to draw a bright line between legislators, lobbyists and political consultants," Corman said in a statement announcing a new lobbying reform bill package. "Adding the necessary layers of transparency and separation between all of these entities will help prevent conflicts of interest and ensure lobbyists and political consultants cannot play an inappropriate role in the legislative process."
Senate Bill 801, sponsored by state Sen. Bob Mensch: This bill would require lobbyists and lobbying firms to register clients seeking state funding or grants. The bill also prohibits lobbyists from receiving financial inducements or kickbacks after successfully lobbying for state-issued grants through a third-party affiliate.
Senate Bill 802, sponsored by state Sen. Kristin Phillips-Hill: This legislation would prohibit state agencies and entities from hiring outside lobbyists to solicit other branches of government. The prohibition would not apply to government employees within a particular agency who are tasked with lobbying on behalf of the agency or entity. SB 802 would also prohibit lobbyists, lobbying firms and principals from lobbying employees of the General Assembly who previously worked for the same lobbyist, firm or principal. That restriction would last for one year after an employee left a particular lobbyist or lobbying firm.
Senate Bill 803, sponsored by state Sen. Lisa Baker: Baker's legislation would ban lobbyists from simultaneously working as political consultants or providing political consulting services while they are a registered lobbyist. The bill would also ban lobbyists and political consultants from lobbying state and local officials for whom they have provided political consulting services. That ban would last for the entirety of the term the particular official was elected to hold.

Senate Bill 804, sponsored by state Sen. Tommy Tomlinson: This legislation from Tomlinson would subject all registered lobbyists to at least one hour of mandatory ethics training developed by the Department of State in conjunction with the State Ethics Commission. 
The four bills being sponsored by Senate Republicans have all been referred to the Senate State Government Committee, where they await a committee vote.
House Speaker Bryan Cutler has also championed lobbying law reforms this session, introducing his own package of bills in the House. Many of the proposals mirror those being sought by Corman. 
In an interview with City & State earlier this year, Cutler stressed that a rewrite of the state's lobbying laws could help to improve public trust. "There's a lot of public distrust with the legislative process already, and we need to do everything we can to make it transparent and easy to understand," he said. 
One change to the state's lobbying disclosure requirements has already been signed into law this year. That measure, included in Act 70 of 2021, requires lobbyists to file annual equity reports that disclose any equity a lobbyist has that may present a conflict of interest.