Campaigns & Elections
Why is Josh Shapiro running for governor? It's pretty obvious.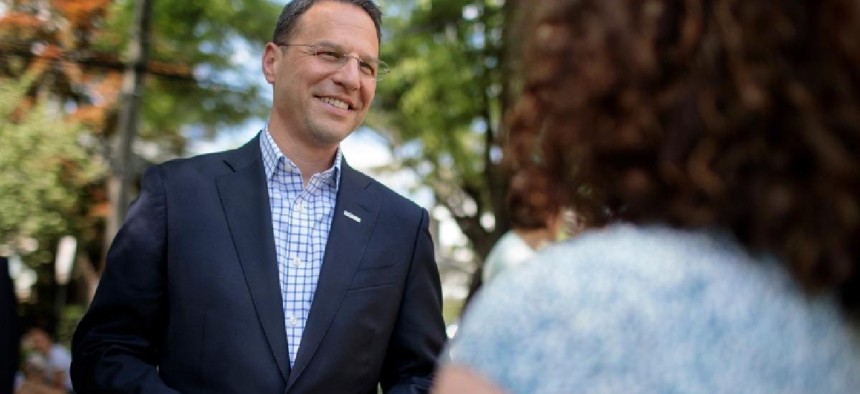 Attorney General Josh Shapiro made his official long-awaited entrance into Pennsylvania's gubernatorial race on Wednesday, a move that caps off months – even years – of speculation about the AG's political future.
Shapiro's entry cements his status as a clear front-runner for the Democratic nomination, as no other candidates have yet to enter the Democratic primary race. That's in stark contrast to the Republican race for governor, as a slate of GOP hopefuls are preparing to face off in a wide-open race for the Republican nomination next year. 
In a video announcing his campaign, Shapiro took aim at Republican candidates running for governor and characterized himself as a problem solver who will stand up for Pennsylvanians. 
"Each of us has a responsibility in life to get off the sidelines, get in the game, and do our part to make things better," he said. "We're at a critical time in America – here in Pennsylvania too. Already there are Republicans running for governor who want to lead us down a dark path, undermine free and fair elections, strip away voting rights and permanently divide us. That's the kind of divisive politics that gets in the way of solving real problems."
Shapiro will hold events in Pittsburgh and Montgomery County on Wednesday to kick off his campaign before embarking on a statewide bus tour next week. 
His announcement is hardly shocking, as the Democratic attorney general was widely expected to enter the race with Gov. Tom Wolf's final term in office set to expire at the beginning of 2023. 
Shapiro joins the race with a robust list of accomplishments and legal challenges as attorney general. He made international headlines in 2018 for spearheading a two-year investigation into the Catholic Church, which found widespread instances of child sex abuse in six Pennsylvania dioceses. 
The investigation resulted in sexual abuse allegations lodged against more than 300 priests, with more than 1,000 child victims identified. The grand jury report prompted a number of reforms to Pennsylvania's statute of limitations laws for sex abuse crimes and had ripple effects that stretched all the way to the Vatican. 
Shapiro also used his office to challenge an array of policies rolled out by former President Donald Trump's administration, from Trump's early ban on travel from Muslim-majority countries, to the administration's efforts to challenge the state's election results and procedures. 
During his time as attorney general, Shapiro has also prosecuted a number of public officials for corruption and other crimes.
He's also positioned himself as a natural successor to Wolf in the area of abortion policy, with Shapiro pledging to protect abortion rights throughout his time as attorney general – a stance that will likely hold if Shapiro win's the governor's race. 
Wolf has already tacitly endorsed Shapiro on two separate occasions, calling Shapiro his "guy" in 2022. The incumbent attorney general is already fairly popular statewide, earning more votes in 2020 than any other candidate on the ballot, including President Joe Biden.
Shapiro served as a member of the Pennsylvania House of Representatives before chairing the Montgomery County Board of Commissioners in 2011.
Even before his entrance into the race for governor, his potential political opponents have often targeted Shapiro with attacks under the assumption that he would enter the race. 
On the Republican side of the ticket, a number of candidates have already jumped into the GOP primary race, including former U.S. Rep. Lou Barletta, Pittsburgh attorney Jason Richey, former U.S. Attorney Bill McSwain, Chester County Chamber CEO Guy Ciarrocchi and political strategist Charlie Gerow. 
Other Republican figures, such as state Senate President Pro Tempore Jake Corman and state Sens. Dan Laughlin, Scott Martin and Doug Mastriano, have also been rumored to enter the race. 
Barletta, who some polls show as an early frontrunner in the GOP race, blasted Shapiro in a statement released on Wednesday. He accused Shapiro of being beholden to "radical, leftist" groups and looked to tie Shapiro to Wolf's handling of the COVID-19 pandemic. 
"He has zero real world experience and would lead Pennsylvania even further in the wrong direction than Wolf has," Barletta said. 
McSwain, the former U.S. attorney, called Shapiro "a career politician who supports higher taxes, bigger government, more regulation, less freedom, and lawlessness." 
"Dedicated to prioritizing his own career over the needs and desires of Pennsylvanians, Shapiro stands for the continuation of the same failed economic and public safety policies of liberal Governor Tom Wolf and would provide no new solutions to put Pennsylvania on a path to prosperity," McSwain said in a statement.
This story has been updated.