Health Care
Cutler, Cephas and others push for data sharing to treat mental health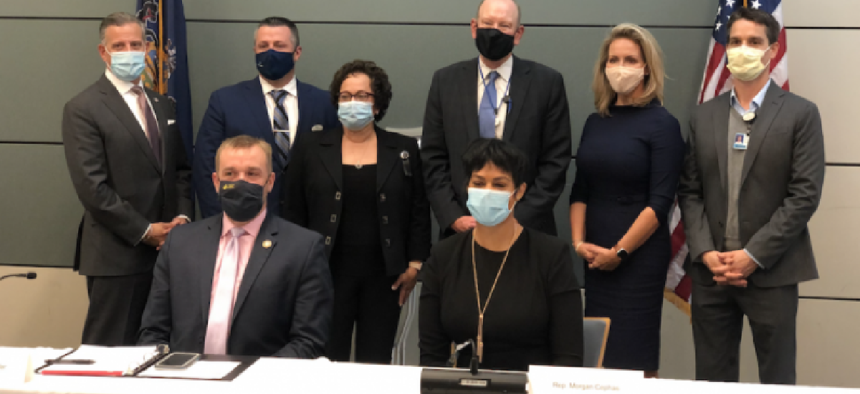 These lawmakers are making one thing clear: it's time to talk about mental health. 
A pair of bipartisan legislators held a roundtable discussion Thursday on legislation aimed to modernize the state's mental health and substance use disorder laws. 
House Speaker Bryan Cutler and state Rep. Morgan Cephas joined forces with representatives from Independence Blue Cross, Main Line Health and advocates to get a picture of what individuals with substance use disorders and providers are struggling with in terms of access to care and information. Discussions centered around a bill package that looks to allow providers, facilities and health plans to share patients' mental health and substance use disorder-related information more easily. 
The package of mental health bills, House Bills 1561, 1562 and 1563, would amend the state's language to align with the federal Health Insurance Portability and Accountability Act, known as HIPAA. They also would allow targeted data sharing between programs and insurers to ensure patient information can easily be transmitted. 
"You can't treat the whole patient if you only have half the information," Cutler said.
A report conducted by the state Department of Drug and Alcohol Programs from August found that Pennsylvania is one of only three states where SUD confidentiality policies go beyond what's required in federal regulations. Those regulations made sense when they were put in place, but they now limit physicians' ability to properly treat patients in today's world. 
"These laws had good intentions," said Doug Tieman, senior advisor to the CEO, Caron Treatment Centers. "[In the past], many people didn't use their health insurance because they knew their employer would see if they used insurance to go to a substance use treatment center and they didn't want to be discriminated against. The intention was good, but our field has evolved over the last 40 years. I'm glad to see that evolution and it's important to have laws catch up." 
Participants of the roundtable, including people in recovery and physicians, shared several stories where physicians didn't have full information about their patients. 
"I learned that addiction is a disease and not a disgrace," said Sherri Belkoff, a Caron patient who celebrated 13 years of continued sobriety back in April. She noted that she visited a doctor when she had shingles at the point where she was three years sober. The doctor, unaware of her struggle with addiction, prescribed her Vicodin, which led her to relapse.
"Had he looked further in my chart, he would not have prescribed me that," Belkoff said. "There are many people that cannot advocate for themselves. This legislation would help support others in getting the proper treatment that they need and not having to be ashamed of it."
The bill package is looking to address the main concerns involving the sharing of patients' information, one of the recommendations of DDAP's report. Other recommendations included developing resources, such as informed consent training on client privacy rights to ensure individuals who enter treatment are informed about their rights, and creating an ombudsman or advocate position at the state level to empower individuals to report grievances if they think their data has been misused or their status resulted in discrimination. 
Dr. Marc Burock, Main Line Health, noted that physicians are able to look up prescription history for any patients that have been prescribed controlled substances but they aren't allowed to share the information with each other without direct consent. 
"When you have things that are fundamentally contradictory, you have to get rid of them," Burock said. "Your psychiatric conditions affect your medical condition. It's well known that these are intertwined and they affect the long-term outcome. If you want better medical care, you should free these records up."
Yet some provider groups have expressed privacy concerns. Legislators said they must ensure data can be shared only between different providers caring for a client. This "person-centered" care is what some lawmakers and advocates hope will become the norm going forward. 
Cephas related the topic to another ongoing issue: maternal mortality. She said the pandemic exacerbated mental health and substance use disorder problems and that many maternal deaths can be traced back to one or both of those issues. 
"There's a silent crisis that is happening across this country, especially here in the commonwealth," Cephas said. "It just reinforces that as we had these experiences of COVID and the opioid epidemic, we really have an opportunity right now to redefine what care looks like."
Cutler said he hopes to address any concerns during the amendment process and get the bills through the legislature in the near future.