Campaigns & Elections
Josh Shapiro frames himself 'the fighter' for the governorship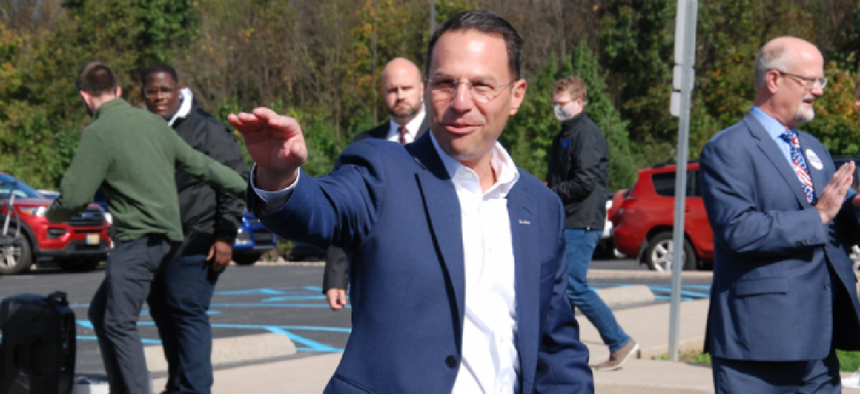 At each stop along the campaign trail, Josh Shapiro sent a message to voters before ever stepping off his blue bus, emblazoned with an impossible-to-miss "Shapiro For Governor" decal on each side.

With "The Fighter" by Gym Class Heroes playing in the background, Shapiro wanted voters to know that he would never back down from a fight as the state's next governor.

It became a common refrain throughout Shapiro's time on the campaign trail in October, when he made stops in 18 Pennsylvania counties as part of his "Big Fights Bus Tour," where he highlighted his vision for Pennsylvania. He trekked from Pittsburgh to Philadelphia and from Abington to Erie, and said the case for his candidacy is clear: he has the track record and the tenacity to tackle the state's most pressing issues. 
"I have a strong record of taking on big fights," Shapiro said in an interview with City & State PA, reflecting back on his time as a state representative, chair of the Montgomery County Board of Commissioners, and now, Pennsylvania Attorney General. Throughout his time on the trail, Shapiro walked through his record as a public official, from his work to close Montgomery County's financial deficit to an earthshattering investigation led by his office that revealed widespread sexual abuse within Pennsylvania Catholic dioceses.
But while Shapiro is happy to tout his record in public service, he also acknowledges that there are plenty of battles ahead of him. He listed education as a top priority, saying the state needs to develop a comprehensive blueprint for it and help students chart a pathway from pre-K all the way through college or vocational training.

He has also said the state needs to do more to protect the environment from the impacts of climate change, while simultaneously protecting union jobs. Shapiro said he would make a determination on the future of Gov. Tom Wolf's plan to join the Regional Greenhouse Gas Initiative once elected to the governor's office, but stressed that the state could reduce emissions and create jobs by developing a plan to cap Pennsylvania's abandoned oil and gas wells. 
The Democratic attorney general also said he wouldn't shy away from rejecting proposals that would limit abortion access, voting rights or the ability of workers to unionize. "I won't be afraid to use my veto pen," Shapiro told City & State, echoing a common refrain he's stressed to voters on the campaign trail. 
But while Shapiro has been quick to show his fighting spirit in the early months of his campaign, he's also hoping to be a unifier. "I've got a track record of bringing Democrats and Republicans together, both electorally … as well as governing, and I'm prepared to meet this moment and tackle these big challenges," he said.
During campaign stops across the state, Shapiro supporters said they were drawn to the candidate for his devotion to the causes he cares about, as well as his track record.
"Not only does he have the knowledge, but he has the courage to stand up and speak what needs to be said. Not all politicians are able to do that as well as he does," said Maria Sweet, a retired Centre County college professor who spent time as an education policy analyst for former Gov. Dick Thornburgh, a Republican. "It's rare to find somebody with those qualities [in] either party," she said.
Marty Tuzman, a Montgomery County resident who owns the Philadelphia-based Jenkintown Building Services, was at Shapiro's campaign launch event in Abington last month. Tuzman said he has worked with Shapiro on reentry and workforce development projects and always found Shapiro to have shown passion, as well as having "a heart that is there for the people."
Shapiro has made clear that there are a host of issues he wants to address as governor, but he'll have to clear some more hurdles before he gets there, including some daunting political headwinds. 
Shapiro is hoping to win a statewide contest in a midterm election year that could be precarious for Democrats. With a Democrat in the White House and Republicans sweeping this year's statewide judicial races, Pennsylvania politicos are in agreement that Shapiro has his work cut out for him. 
"If you put him in a different cycle, I think he's unstoppable," said a Republican operative with experience working on statewide campaigns who agreed to speak on the condition of anonymity. "I think he's a really good candidate. He's talented, he raises money, he's very focused and deliberate on how he goes about things. The question is going to be, is that enough in a Biden midterm?"
Christopher Nicholas, a veteran Republican political consultant, agreed. Nicholas said that since the gubernatorial race will occur during a midterm election, and at a time when President Joe Biden's approval rating is low, Republicans will have an advantage heading into 2022.
"When you look at the political environment, you have to put that now as a definite edge for the GOP, and that is primarily driven by something that Josh Shapiro or John Fetterman can't control, which is what's going on with the federal government and President Biden's approval rating," Nicholas said. 

He added that Shapiro will likely have to fend off attacks about his tendency to leave positions before his term is up, as Shapiro left both the Pennsylvania General Assembly and the Montgomery County Commissioners to seek other elected posts. 
That's not to say Shapiro isn't heading into 2022 in a favorable position. He's entering an election year with no primary opponent and $10 million in the bank, while an ever-growing field of Republicans will have to make their case to voters as to why they should be the GOP nominee. 

Chris Borick, the director of the Muhlenberg College Institute of Public Opinion, said Shapiro has put himself in the best-possible position to run for governor despite the political challenges facing him in the midterms. And for a candidate who is itching for a fight, Shapiro is going to get one.

"By all likelihood, Josh Shapiro, with all his attributes and assets, is heading into headwind in 2022," Borick said. "And thus, he'll need all those things to be able to win this race."