Campaigns & Elections
SEIU Pennsylvania State Council backs Josh Shapiro for governor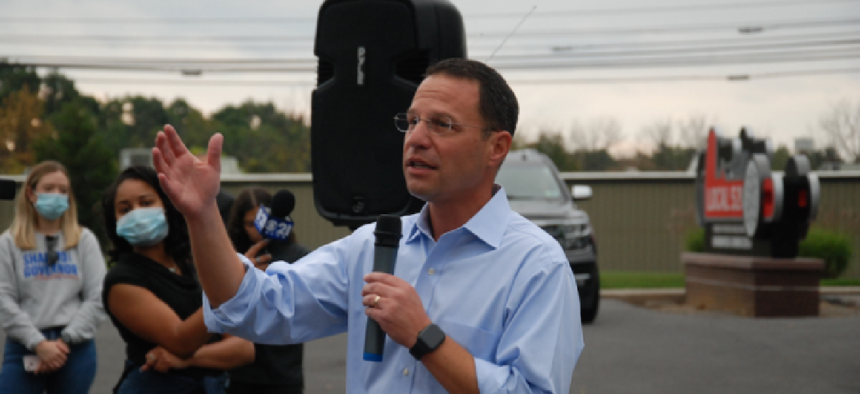 Attorney General Josh Shapiro picked up a major endorsement in his bid for governor on Monday, earning the support of the SEIU Pennsylvania State Council – a collection of four SEIU locals that represent more than 80,000 union members across the state.
The state council, which is made up of SEIU 32BJ, SEIU Healthcare Pennsylvania, SEIU Local 668 and the Pennsylvania Joint Board of Workers United, plans to officially announce the endorsement Monday afternoon during a rally in Philadelphia. 
In an interview with City & State, SEIU leaders touted Shapiro's history of taking on powerful institutions, from brokering a new 10-year agreement between Highmark and the University of Pittsburgh Medical Center to leading a groundbreaking investigation into sexual abuse within the Catholic Church that revealed widespread abuse throughout six Pennsylvania dioceses. 

"What we've seen from Josh that has us really excited is that Josh has been an incredibly strong attorney general who has had a real focus in looking out for workers rights," said Gabe Morgan, president of the SEIU Pennsylvania State Council. "Josh has been very aggressive in fighting the abuse of corporate power."
In addition to his widely-publicized battles against UPMC and the Catholic Church, Shapiro announced charges earlier this year against Glenn O. Hawbaker, a State College-based construction and design firm, for stealing more than $20 million in funds meant to go toward health, welfare and pension benefits for its prevailing wage workers. Hawbaker ultimately pleaded no contest and agreed to pay more than $20 million in restitution to more than 1,000 impacted workers. 
Matt Yarnell, president of SEIU Healthcare Pennsylvania, highlighted the Hawbaker case, and said that Shapiro's record as attorney general offers a glimpse into how he would govern as the state's next chief executive. 
"I think of him as a transformational leader, but definitely somebody who is proactive and is going to want to drive change and do big things and bring people together to make life better for everyone," Yarnell said, adding that Shapiro has placed "a real focus on labor and human rights" as attorney general.
Denise Stroman, a 34-year SEIU member and janitorial worker from Philadelphia, said she supports Shapiro due to his stances on unions. "Our union is very important to me, mainly with the health care, our wages," she told City & State. "He looks out for them kind of people. He protects me."
Shapiro announced his long-anticipated campaign for governor last month, entering a vacant Democratic primary field that currently offers him a clear path to his party's nomination.
On the campaign trail, Shapiro has pledged to improve the state's quality of education and spur economic growth, while also vowing to fight off attempts to roll back voting rights or undermine the right of workers to organize.

After receiving the SEIU endorsement, Shapiro once again promised to keep labor rights at the forefront of his agenda if elected governor.

"Harrisburg Republicans have spent years undermining organized labor and attacking the right to organize, but when I'm governor, I'll always have Pennsylvania workers' backs," Shapiro said in a statement. "I've spent my career taking on the powerful and well-connected on behalf of the people, and as governor, I'll make sure we not only defend the right to organize, but expand it, and ensure we're paying every Pennsylvania worker a living wage and building an economy that works for everyone in the process. SEIU has been on the frontlines of that fight, and I'm proud to have their support in my campaign to move our Commonwealth forward."

While Shapiro, at this time, doesn't have to fend off any criticisms from Democratic opponents, he has certainly come under fire from Republicans seeking the governor's office.

Former U.S. Rep. Lou Barletta, who has emerged as one of the top contenders for the GOP nomination in early polling conducted on the race, has said Shapiro is "motivated by power and authority" and has repeatedly looked to link Shapiro to Gov. Tom Wolf's record. When Shapiro entered the race in October, Barletta said Shapiro "would lead Pennsylvania even further in the wrong direction than Wolf has."

Others have looked to paint Shapiro as someone more interested in political ambition than serving in office. Former U.S. Attorney Bill McSwain, another GOP gubernatorial hopeful, said the attorney general has frequently sought to "politicize his position and prioritize personal advancement over upholding and enforcing the law."
But the GOP attacks appear to have done little to dissuade unions from lining up behind Shapiro. The attorney general has already received endorsements from the Amalgamated Transit Union and the Pennsylvania Conference of Teamsters. Additionally, the SEIU Pennsylvania State Council has already contributed $250,000 to Shapiro's gubernatorial campaign, including $150,000 from the state council and $100,000 from SEIU Healthcare Pennsylvania.

As of October, Shapiro had more than $10 million in his campaign account, a sum that his campaign touted as more at that point in the election cycle "than any non-incumbent gubernatorial candidate in Pennsylvania history."