Campaigns & Elections
Tyler Titus concedes in race for Erie County executive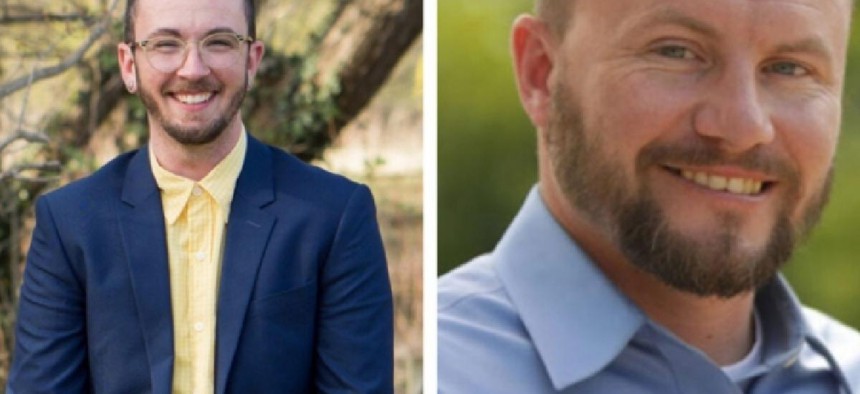 By Marley Parish 
Erie voters have flipped their county executive seat, electing a Republican to serve in the county's top role in the Nov. 2 municipal election.
Brenton Davis is slated to become the next Erie County executive, according to unofficial results. Updated returns show a 2,739-point lead over Democratic nominee Tyler Titus. With all precincts reporting, and all mail ballots tabulated, Davis garnered 34,506 votes against Titus's 31,767.
Davis, 38, who touted his military experience throughout the campaign, expected a victory Tuesday night. His campaign did not immediately respond to a request for comment, or release a statement Wednesday afternoon. 
"With almost all precincts reporting, we now hold a lead greater than the number of remaining uncounted ballots," Davis wrote in a Facebook post after polls closed. "Things look good, but they look that way because of the amazing people of Erie County."
A total of 68,767 voters — out of 177,195 registered — cast their ballots in Erie County in the municipal election.
Despite an anticipated victory from Davis, he said his campaign was waiting on a call from the Titus campaign to see how to proceed, GoErie reported.
Titus, 37, told supporters on Tuesday that they would wait for the final count. But on Wednesday, they conceded.
"Thank you — for believing in me, for supporting me, for fighting alongside me," they wrote in a statement. "I don't know what comes next, but I'll tell you this: This isn't the last time you'll see me fighting like hell for a better future for all of us."
If elected, Titus would have been the first openly transgender person to serve in the role.
"I hope queer, trans, and nonbinary youth who are unsure of their place in this world look to this campaign, see themselves in government and leadership, and believe tomorrow will be better than yesterday," they wrote.
Titus added: "Every day, people told me a trans person couldn't compete in a moderate, working-class district like Erie County. Even though we did not get the results we hoped for, how close we came shatters that narrative — a narrative that has embedded within it internalized biases that have held so many back."
Marley Parish is a reporter for the Pennsylvania Capital-Star, where this story first appeared.