COVID-19
Wolf offers extra paid leave for vaccinated state employees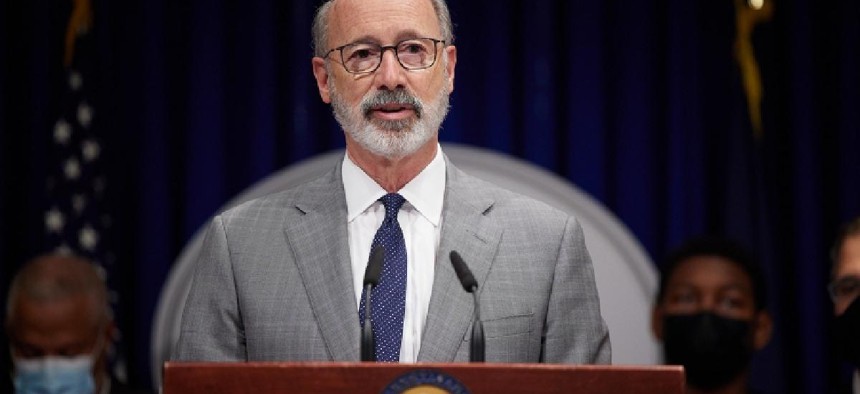 State workers under the governor's jurisdiction may have some extra time off coming their way in the near future.
Gov. Tom Wolf's administration announced Monday that commonwealth employees under the governor's purview will be eligible for additional paid time off under a set of new COVID-19-related policies. The catch? The paid leave will only be offered to vaccinated employees as part of an initiative to promote the vaccine and reduce the spread of COVID-19.
"Most of our employees, approximately two-thirds, have worked in-person throughout the pandemic and continue to do so. This new paid leave package is designed to continue supporting our employees during this pandemic, while also helping to end it," Michael Newsome, Wolf's secretary of administration, said in a statement. "By encouraging commonwealth employees to get the COVID-19 vaccine and stay home if they are sick, we are increasing the safety of our workplaces, as well as our communities."
Under the new policy, employees in the Wolf administration who have received two doses of the Pfizer or Moderna COVID-19 vaccines, or one shot of the Johnson & Johnson vaccine, by Dec. 31, 2021 may take up to five days of paid time off between Dec. 20, 2020 and March 31, 2022. This leave, referred to as "verification leave," will be paid as a lump sum if any goes unused.
The Wolf administration also announced Monday that the state's emergency paid leave for state employees is being extended until June 30, 2022. This paid leave may be used for instances when a worker is sick with COVID-19, caring for someone who is subject to quarantine or isolation, or when experiencing vaccine-related side effects. 
Pennsylvania Treasurer Stacy Garrity's office said that the five-day paid leave offering will cost the state approximately $105 million to administer based on conservative estimates. 
Garrity, a Republican, criticized the paid leave proposal for being made outside of the state budget process, which requires budget legislation approval by both chambers of the General Assembly. Garrity called the offering an "ill-conceived scheme."
"This decision by Governor Wolf – made in a back-room deal completely outside of the state budget process and away from public scrutiny – is fiscally irresponsible," Garrity said in a statement. "Treasury estimates it could cost Pennsylvania taxpayers more than $100 million. As an independent fiscal officer charged with protecting money that belongs to hard-working Pennsylvanians, I call on the governor to drop this ill-conceived scheme immediately."
House Majority Leader Kerry Benninghoff also weighed in on the announcement, calling it "tone-deaf."
"The same administration that, without notice, permanently ended thousands of Pennsylvania jobs and shuttered mom-and-pop stores across the commonwealth with its ill-advised and overbroad economic shutdown is now forcing many of those same individuals to finance this week-long paid vacation or cash payouts for the governor's employees who received a COVID-19 vaccination," Benninghoff said. 
The Wolf administration however, defended the move, arguing that it will help encourage people to get the COVID-19 vaccine and bring the pandemic to an end. Beth Rementer, a spokesperson for Wolf, said Republican criticisms of the paid leave offering aren't accurate.
"Calling it a 'backdoor deal' is perplexing, completely inaccurate, and not helpful toward our ongoing efforts to encourage vaccinations and fight this pandemic," Rementer said in an email. "No new funding is necessary – existing agency budgets will cover the cost."
The Wolf administration had already rolled out a paid leave vaccine incentive in August, giving some employees up to eight hours of paid leave. Under the new plan, employees who have already claimed that paid leave – and verified their vaccination status – will be automatically eligible for the additional five days.