Gambling
Yaw, Wheeland, others make bipartisan push to legalize games of skill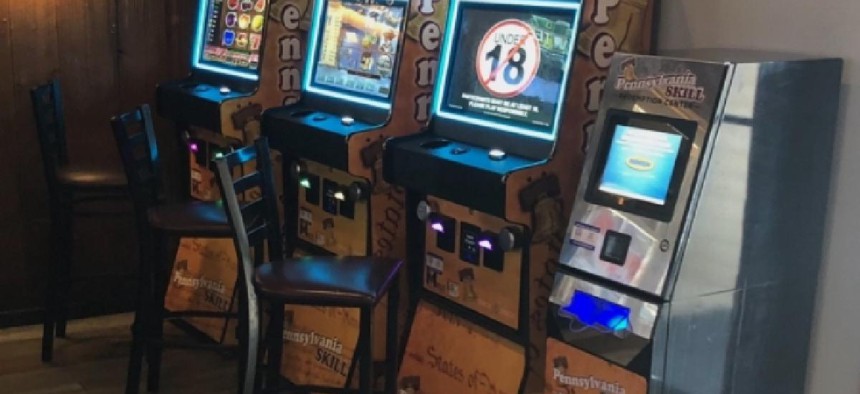 Pennsylvania lawmakers are making another push to regulate so-called games of skill, the controversial, unrelated gaming machines that have proliferated in bars, convenience stores, and clubs across the state, and have left policymakers at odds over whether the machines would provide a boost to the state's economy, or do more harm than good. 
Legislation introduced on Wednesday by state Sen. Gene Yaw, a Republican, and State Reps. Jeff Wheeland, a Republican, and Danilo Burgos, a Democrat, would regulate and tax games of skill in the state, and could bring in $250 million in annual revenue for the state, as well as an influx of money to the local businesses that house the machines, according to the bill sponsors. 
"Skill games are allowing businesses, fraternal clubs, veterans organizations, or whatever to provide health insurance for their workers, increase salaries, and in some cases, simply keep the doors open," Yaw said. "Skill games are an important part of the small business economy in our state and will be one way to make sure that everybody makes it beyond the pandemic."
The skill machines, which are not regulated under the state's Gaming Act, were effectively legalized by a 2014 Beaver County Court of Common Pleas decision that found the machines to fall outside of the purview of the Gaming Act. The Commonwealth Court made a similar ruling in 2019.
The machines are similar to video gaming terminals, or VGTs, which were legalized for use at truck stops in 2017. Skill games, however, don't rely on chance like traditional gambling machines or games. Instead, players can win money based on their skill at a particular game. 
Because the machines are currently unregulated at the state level, the state doesn't bring in tax revenue from skill games like it does for VGTs or slots, opponents say.

Yaw's legislation looks to change that by levying a 16% tax on distributors for all gross profits generated by skill game play, according to a draft of the bill that has yet to be finalized. The draft legislation, which could change by the time the legislation is formally introduced, would also establish fees for skill game distributors, operators and establishments that house the games. 
Critics of skill games liken the machines to illegal gambling. Republican leaders in the General Assembly returned political donations from a skill game-aligned political action committee earlier this year, with Senate President Pro Tempore Jake Corman describing the machines as "at best, unregulated or, at worst, illegal gaming in PA."

Gov. Tom Wolf's administration has also spoken out against skill game machines, fearing that regulating them would cut into Pennsylvania Lottery sales, as well as slot machine revenue that goes toward school property tax relief. 
Ewa Swope, a spokesperson for the Pennsylvania Lottery, called the idea of regulating the machines "irresponsible and reckless," given that lawmakers recently approved a gaming expansion in 2017. 
"Doing so may very well hurt the Lottery and other gaming options, including the legal and licensed slot machines that play an integral role in funding property tax relief for Pennsylvanians," Swope said in an email.

Yaw contested claims that regulating skill games would cut into lottery revenue, citing a study from Peter A. Zaleski of Meadow Metrics that challenges claims made by Pennsylvania Lottery officials.
Spokespeople for House and Senate Republican leaders did not immediately respond to requests for comment about the skill game legislation.