Campaigns & Elections
Lamb says, 'freedoms are under attack' in first Senate campaign ad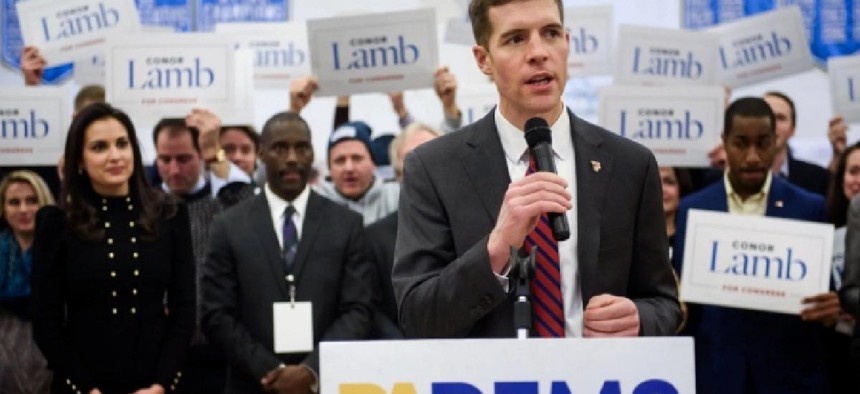 Pennsylvanians could be seeing a lot more of U.S. Rep. Conor Lamb in the very near future. 
The Democratic U.S. Senate hopeful is launching the first ad of his U.S. Senate campaign, which looks to cast the incumbent congressman as a Democrat uniquely-suited to win in Pennsylvania. 
---
---
"I've always considered myself a Pennsylvania Democrat," Lamb says in the 30-second ad, which is slated to appear on digital platforms. "Our democracy was born here, as much in the coal mines as in the Constitution. It was carried forward by our working men and women, as much as by the founding fathers."

In the ad, Lamb goes on to list some of his core political priorities, including defending the right to vote and the right to join a union.

"I believe in the right to vote, and the right to organize and bargain. The right to have a say in your government, and also in your workplace with your wages," he says. "All these freedoms are under attack like never before. And it's up to us to defend them."
The ad comes as the state's Democratic primary for U.S. Senate, scheduled for May 17, 2022, inches closer. Lamb is currently facing off against Lt. Gov. John Fetterman, Montgomery County Commissioners Chair Dr. Val Arkoosh, state Rep. Malcolm Kenyatta and emergency room physician Dr. Kevin Baumlin, in the primary.
The eventual winner of the Democratic primary will face the winner of a wide-open Republican primary race. Former Army ranger Sean Parnell, who was endorsed by former President Donald Trump and viewed by many as the frontrunner in the GOP primary, dropped out of the race after losing a custody battle in November.
Republicans vying for their party's nomination include Montgomery County real estate developer Jeff Bartos, former ambassador to Denmark Carla Sands, conservative commentator Kathy Barnette and celebrity physician Dr. Mehmet Oz. David McCormick, a hedge fund executive, is also weighing a Senate bid in Pennsylvania.