Campaigns & Elections
Martin calls for conservative solutions as he enters governor's race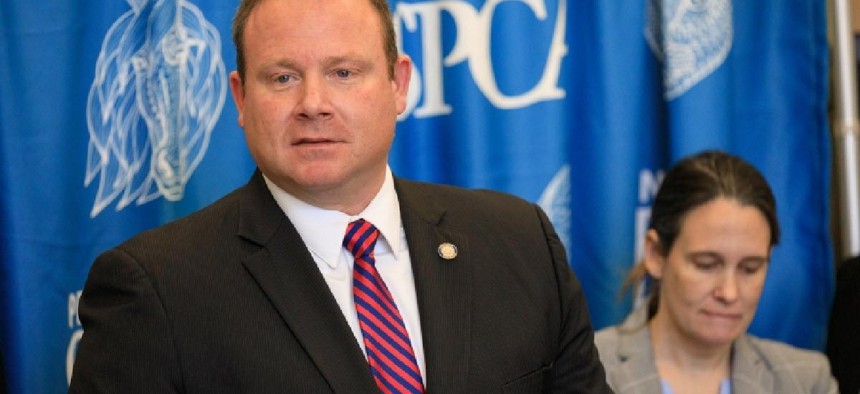 Touting his experience as a county commissioner and state lawmaker, state Sen. Scott Martin entered the Republican primary race for governor over the weekend, promising to support small businesses, expand school choice and prioritize fiscal responsibility, if elected.
Martin, in a video posted to his campaign website, highlighted his experience as a lawmaker and his work ethic, which he promised to bring to the governor's office.
"I believe Pennsylvania's future is bright, because I believe that people of Pennsylvania have the smarts and strength and commitment to get us there. I believe we can and will achieve great things," Martin said. "But unlike most politicians, I'm not going to promise you the world. I'm going to promise you the work."
Martin was first elected to the General Assembly in November 2016 after previously serving on the Lancaster County Board of Commissioners. He currently serves as chair of the Senate Education Committee, where he has advanced legislation that would expand access to school choice programs. 
He's also backed legislation that would ban abortions sought on the basis of a prenatal Down syndrome diagnosis and authored proposals designed to place limitations on a governor's executive powers. 
One of those proposals was Senate Bill 2, which Martin co-authored with state Sens. Kim Ward and John DiSanto. Voters approved the measure earlier this year and amended the state constitution to place limitations on a governor's ability to use executive orders under an emergency proclamation.
The Pennsylvania Democratic Party bashed Martin over his entrance into the race, with party spokesperson Maria Nahem saying Martin will push "far-right" policies.
"Scott Martin is yet another far-right candidate in a field of MAGA wannabes who sees the key to success in the GOP primary as embracing every far-right litmus test thrown their way – no matter how much it harms Pennsylvania families," Nahem said.
In a call with reporters, Martin outlined his stances on a range of issues, ranging from education to abortion to election reform and integrity.
On education:
Martin highlighted the need to reduce higher education costs, noting that Pennsylvania has some of the highest student debt levels in the nation. 
The Education Data Initiative estimates that Pennsylvania ranks among the top five U.S. states in total student loan debt, with a total of $63.9 billion in loans. The state's average amount of debt per borrower is $35,804, according to the organization.
"We want to make education more affordable," Martin said. "We want to make sure kids are getting trained or educated and things that lead to family-sustaining jobs. It's something that I definitely have a passion for."
Throughout his time as a legislator, Martin has also emphasized the need for expanding access to school choice programs, such as the Educational Improvement Tax Credit Program and the Opportunity Scholarship Tax Credit Program.
He told reporters over the weekend that he believes "one size doesn't fit all" when it comes to education.
On abortion:
Martin has been a vocal supporter of anti-abortion polices as a state senator, authoring legislation that would ban abortions sought on the basis of a Down syndrome diagnosis. 

As the U.S. Supreme Court currently considers a case that could undermine Roe v. Wade, Martin said his view on abortion is unlikely to be swayed by the court decisions on abortion cases. "I don't ever see that swaying how I feel about the value of life," he said. 

Martin also added that he would sign legislation as governor that would roll back access to abortions. "I will sign pro-life legislation," he said.
On election issues:
More than a year after the 2020 presidential election, Pennsylvania's election laws are still in the spotlight. Republican state lawmakers have attempted to add stricter voter ID requirements to the state's Election Code, though those attempts, to date, have been turned away by Gov. Tom Wolf. 
Martin did not say whether or not he would support a full repeal of Act 77 of 2019, the state law that ushered in no-excuse mail-in voting in Pennsylvania for the first time. But he did say he didn't think a measure seeking to repeal mail-in voting would have the political support to succeed. 
"I don't see the votes being there to repeal," Martin said. He said a decision from the state Supreme Court resulted in Act 77 being implemented in a different way then it was written, which Martin said sowed confusion among voters. He added that the state's election laws need to be strengthened to improve trust in the state's elections.
"There's definitely a thirst amongst folks across the spectrum out there to ensure that their voting system is secure and cannot be manipulated, and to build trust and never have a scenario where we have votes counted in different ways in the same race," Martin said.
On the environment:
Martin expressed opposition to the state's planned entrance into the Regional Greenhouse Gas Initiative, which is a multi-state effort to limit greenhouse gas emissions from power plants. 
He criticized Wolf's decision to move ahead with the plan to put a price on carbon emissions through an executive order – and without legislative input. He indicated an interest in potentially pulling the state from the initiative altogether, if elected governor.