Campaigns & Elections
5 takeaways from Doug Mastriano's gubernatorial campaign launch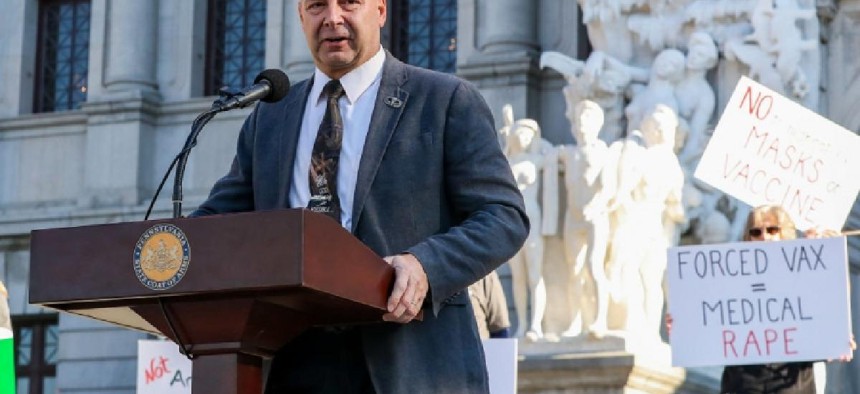 State Sen. Doug Mastriano, the conservative firebrand who sought to decertify the state's 2020 presidential electoral votes and rose to fame as a major critic of the state's COVID-19 mandates, announced a run for governor over the weekend at a rally based in Gettysburg. 
In recent years, Mastriano has amassed a grassroots following, often using Facebook Live videos and rallies to highlight his conservative policies, his support for former President Donald Trump and his disdain for Gov. Tom Wolf's handling of the COVID-19 pandemic. Mastriano was in attendance on the U.S. Capitol grounds on Jan. 6, 2021 and reportedly bused supporters to D.C. However, he has maintained that he never entered the building and he has not been charged with any crimes to date.
The campaign launch event spanned more than four hours and featured speeches, performances and prayers from state, local and national figures who praised Mastriano as a conservative who will put freedoms first if elected to the governor's office. The rally featured performances from former American Idol finalist Danny Gokey, a speech from former U.S. National Security Advisor Michael Flynn and a ceremonial blowing of a shofar, an instrument used in both the Jewish and Christian faiths.
The rally marked Mastriano's formal entrance into Pennsylvania's gubernatorial race after months of hints that he was interested in seeking the GOP nomination. Below are five major takeaways from Mastriano's campaign launch. 
Mastriano outlined a conservative agenda
If voters had any questions about where Mastriano stands on the issues, he gave clear answers about what his platform will look like as a gubernatorial candidate. In a 40-minute speech at the conclusion of the rally, Mastriano ripped into Wolf's COVID-19 mitigation efforts, promising to prioritize "medical freedom" and eschew mask and vaccine mandates in a Mastriano administration. 
He also stressed a need for strengthened election security measures, including mandatory voter ID requirements. "I don't even know why we don't have mandatory voter ID. That needs to happen," he said. 
Mastriano promised to reduce the number of regulations that currently exists in the state and said he would support anti-abortion policies as governor. Mastriano also voiced support for an expansion of school choice policies and called for the elimination of school property taxes. 
Conservatives endorsed Mastriano's gubernatorial bid
Mastriano kicked off his campaign with a slew of endorsements from Republican officials and conservative advocates, which could serve to give his campaign some momentum as it gets off the ground. 
He was endorsed by former President Donald Trump's one-time National Security Advisor, Gen. Michael Flynn, who said Mastriano is "somebody that sees serving others as a way of life." Flynn went on to call Mastriano a "man of integrity" and said: "I think this is exactly the type of leader that this country needs."
State Reps. Rob Kauffman and Stephanie Borowicz also endorsed Mastriano's gubernatorial bid, as did conservative commentator Kathy Barnette, who herself is running for U.S. Senate in Pennsylvania. Mastriano also received an endorsement from Gun Owners of America, according to the organization's Pennsylvania director, Val Finnell.
Mastriano made a U.S. Senate endorsement
Not only did Mastriano receive endorsements at his campaign kickoff event, but he made one as well. After GOP U.S. Senate candidate Kathy Barnette lent her support to Mastriano, Mastriano returned the favor, formally endorsing Barnette for U.S. Senate. 
"Before thousands of people watching live across this nation here, we're looking for the U.S. Senate candidate that has honor, integrity and honesty," Mastriano said. "Somebody who's been fighting as well for the past several years, not standing back or playing golf at the country club. That person is standing with us right now and so we fully endorse Kathy Barnette for U.S. Senate."
Barnette is currently facing a range of GOP contenders in the state's U.S. Senate race, including Montgomery County real estate developer Jeff Bartos, former U.S. ambassador to Denmark Carla Sands and celebrity physician Dr. Mehmet Oz. Former hedge fund executive David McCormick is also expecting to jump into the primary.
The rally broadcast featured promotions for Mike Lindell's MyPillow
Mike Lindell, the CEO of My Pillow, Inc., received a fair amount of attention during the broadcast of Mastriano's gubernatorial campaign announcement. The businessman, who has become known as much for peddling doubt about the 2020 election results as he has for his pillow company, was the focus of a number of promotions aired during the stream of Mastriano's event. 
On multiple occasions, the Right Side Broadcasting Network encouraged viewers to use a special promo code to get discounts on Lindell's pillows. Right Side Broadcasting Network correspondent Brian Glenn encouraged viewers to buy pillows from Lindell's company, telling viewers to "support patriots like Mike Lindell."
"I keep saying that over and over because if it wasn't for Mike Lindell, a lot of the election integrity that we're seeing now would simply not exist," Glenn said. Lindell, Trump and others have frequently made claims that the 2020 presidential election was marred by widespread election fraud, a claim that has been refuted by judges and members of Trump's own administration. 
Attendees amplified claims of a stolen 2020 election
While Lindell was not a speaker at Mastriano's event, others looked to cast doubt on the integrity of the 2020 presidential election. Mastriano stopped short of calling the election fraudulent, though the gubernatorial candidate said the state's election laws are in need of fixing. "Our election system is compromised. It needs to be addressed; it needs to be corrected," he said. 
Others, however, were more blunt in their assessment of the election. Virginia state Sen. Amanda Chase, who appeared in support of Mastriano's campaign, alleged that the election was stolen from Trump. "I was one of the only legislators – actually was the only legislator in Virginia – that said that the 2020 election was stolen, because it was," Chase said. Toni Shuppe, the founder of Audit The Vote PA, also asked the crowd if anyone believed Trump was the "legitimate" winner of the 2020 election, to which a number of attendees cheered. 
In addition to Bill Barr, Trump's former attorney general who said fraud did not sway the results of the 2020 election, elections officials have also disputed claims that the election was stolen. Additionally, Judge Stephanos Bibas, a Trump appointee, wrote in an opinion in late 2020 there was: "no clear evidence of massive absentee-ballot fraud or forgery" in Pennsylvania's 2020 presidential election.