Campaigns & Elections
Bill McSwain receives Commonwealth Partners endorsement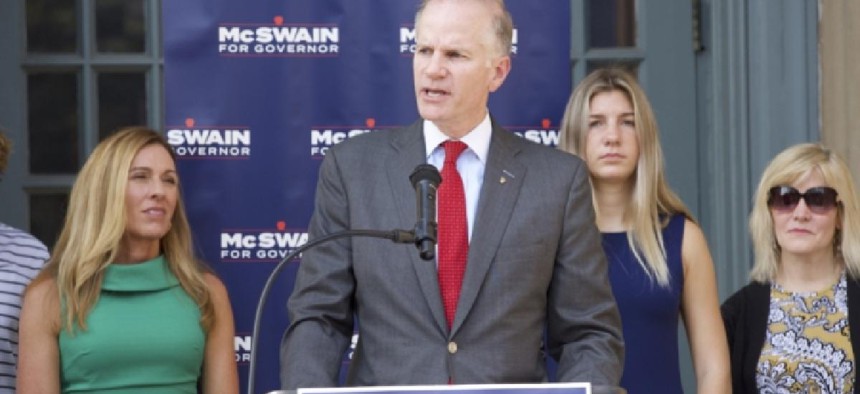 Former U.S. attorney and GOP gubernatorial candidate Bill McSwain received a major endorsement Thursday, earning the backing of a Harrisburg-based business organization that is a major donor in state politics. 
McSwain was endorsed by the Commonwealth Partners Chamber of Entrepreneurs, an organization that has two political action committees that effectively serve as channels for millions of dollars in campaign cash from Bala Cynwyd billionaire Jeffrey Yass. 
---
---
Matt Brouillette, the president and CEO of Commonwealth Partners and the treasurer of the organization's two PACs, said McSwain will prioritize the state's economy and policies that promote school choice. 
"Pennsylvanians are ready for a bold leader who will put their priorities first and fight to strengthen our economy, unleash businesses' potential, restore local control, ensure every child has a chance at a great education and take on the crime that's plagued our cities for far too long," Brouillette said in a statement. "Bill McSwain knows what it means to lead, to fight and to serve. Commonwealth Partners is pleased to endorse him for Pennsylvania governor."
Brouillette serves as treasurer for the Commonwealth Leaders Fund and the Commonwealth Children's Choice Fund – two PACs that have frequently received large contributions from another PAC affiliated with Yass. 
In 2021, Yass made direct donations of more than $13.5 million to the Students First PAC, which went on to contribute $12 million to Brouillette's Commonwealth Children's Choice Fund. 
The endorsement will likely lead to a significant financial boost for McSwain's gubernatorial campaign in the coming months as the Republican primary election date draws near. 
In a statement, McSwain said he was "grateful" to receive the endorsement from Commonwealth Partners. "Together, driven by our shared priorities of a robust economy, public safety, school choice for all families and a reinvigorated energy industry, we will work towards victory in November and a freer, safer, more prosperous Pennsylvania for years to come," McSwain said.
McSwain is running against a robust field of other GOP candidates, including former U.S. Rep. Lou Barletta, state Senate President Pro Tempore Jake Corman, state Sens. Scott Martin and Doug Mastriano, Delaware County businessman Dave White, political strategist Charlie Gerow and a number of other candidates. 
The primary election date is May 17, 2022.