Elections (Archived)
Here are the candidates running for PA's U.S. Senate seat in 2022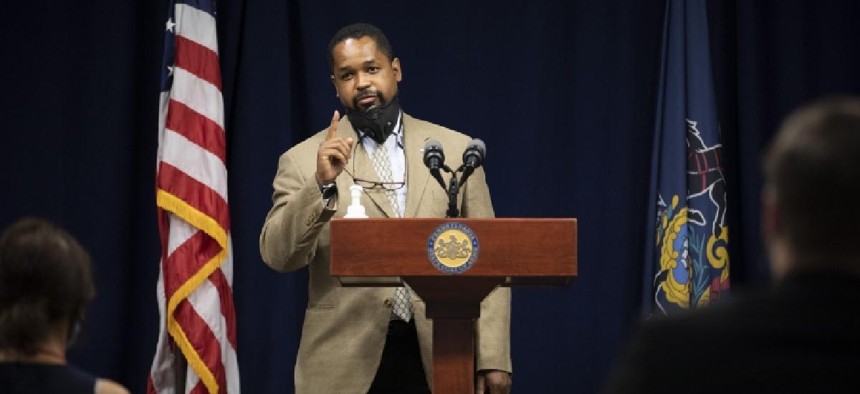 Pennsylvania's U.S. Senate seat immediately became one of the most coveted prizes in politics following the news that incumbent Sen. Pat Toomey won't seek another term. Since then, a range of candidates have jumped in the race, including elected officials, private sector hopefuls and even a celebrity physician. 
Here's who is running for U.S. Senate in Pennsylvania in 2022.
---
---
Democrats
John Fetterman
Pennsylvania Lt. Gov. John Fetterman was one of the first Democratic candidates to jump into the Senate race. He boasts a clear advantage in both fundraising and name recognition heading into 2022. Fetterman has raised a combined $6.5 million in the first half of 2021 and established himself as an ardent supporter of raising the minimum wage, legalizing cannabis and reforming criminal justice laws.
Conor Lamb
U.S. Rep. Conor Lamb made his long-awaited entrance into the Democratic primary race in August, promising to fight for increased wages, access to health care and retirement benefits. "I believe this is the most important Senate seat in the country. We have to build on our majority, and tell the truth about what's really going on people's lives," Lamb said in a video announcing his campaign, later adding, "Our democracy was born in Pennsylvania, and I'm running because I believe Pennsylvania can save it."
Malcolm Kenyatta
State Rep. Malcolm Kenyatta has a knack for turning his fiery, passionate speeches into viral moments, and is likely hoping that attention – coupled with his progressive brand of politics – will propel him to a successful Senate victory. Kenyatta has put government reforms, climate change and LGBTQ issues at the forefront of his campaign, and, if elected, would be the first openly gay man and first LGBTQ person of color elected to the U.S. Senate.
Dr. Val Arkoosh
Dr. Val Arkoosh chairs Montgomery County, Pennsylvania's third-largest, and has led efforts to raise the minimum wage for its employees. She looks to establish gender-neutral paid parental leave. And as the nation transitions out of a pandemic, Arkoosh has touted her experience as a physician, as well as her background in public health, during her campaign for Senate. Arkoosh has also earned key endorsements from 314 Action and EMILY's List, and raised more than $1 million in her first quarter in the race.
Dr. Kevin Baumlin
With more than 30 years of experience in the medical field, Dr. Kevin Baumlin is hoping not only to diagnose Pennsylvania's biggest problems, but to prescribe the proper solutions to fix them in the U.S. Senate. If elected, Baumlin's priorities would be to lower health care costs, increase the minimum wage to $15, make investments to rebuild the nation's infrastructure and codify protections for the LGBTQ community. 
John McGuigan
John McGuigan, a former member and president of Norristown Municipal Council, was an early entrant into the Democratic race for Toomey's seat. To address climate change, he supports a Green New Deal and a ban on fracking; he also supports red flag laws and a ban on assault weapons to curb gun violence. His campaign platform also calls for equitable public school funding, as well as interest-free loans for higher education.
Alexandria Khalil
Alex Khalil is a member of Jenkintown Borough Council and was a Bernie Sanders delegate in 2020, and now she's looking to bring those same progressive values to Washington, D.C. as Pennsylvania's next senator. Khalil supports a Medicare For All health care model, a $15 minimum wage, a Green New Deal, paid sick time and paid vacation time, as well as using federal funds to rebuild schools.
Larry Johnson
According to Federal Election Commission documents, Dr. Larry E. Johnson of Beaver Falls has filed paperwork to run for Senate as a Democrat in 2022. Johnson also has signed a pledge to cosponsor and vote for legislation setting term limits for members of Congress. 
Alan Shank
According to Federal Election Commission documents, Alan Shank of Homer City has filed paperwork to run for Senate as a Democrat in 2022. On his campaign's Facebook page, Shank says he supports marriage equality. 
Llewellyn Tapera
According to Federal Election Commission documents, Llewellyn Tapera has filed paperwork to run for Senate as a Democrat in 2022. 
Republicans
Jeff Bartos
Jeff Bartos, a former GOP nominee for lieutenant governor, was one of the first high-profile Republicans to enter the race. During the pandemic, he founded a nonprofit, the Pennsylvania 30 Day Fund, that provided forgivable loans to businesses hit hard by COVID-19. He's vowed to fight for lower taxes, regulatory cuts and strong foreign policy that holds China and Iran accountable. 
Carla Sands
As GOP candidates vie for former President Donald Trump's endorsement, Carla Sands has a built-in advantage: she served on Trump's Economic Advisory Council and was named his ambassador to Denmark in 2017. Sands, who has experience both as a chiropractor and businesswoman, lists energy security, election integrity and border security as her biggest priorities as a senator. 
Dr. Mehmet Oz
Yes, that Dr. Oz. Television's own surgeon, who's been criticized for promoting questionable medical advice on his own show and made a name for himself during guest appearances on The Oprah Winfrey Show during the 2000s. Oz, a registered Republican, entered the race late last year. He has lived in New Jersey but reportedly changed his registration to Pennsylvania after the 2020 election, so his residency has piqued questions from other candidates in the race. If elected, Oz would be the first Muslim to hold a U.S. Senate seat. 
David McCormick
Army veteran and former hedge fund executive David McCormick officially entered the race in January 2022. McCormick served under former President George W. Bush's Treasury Department and recently resigned as CEO of Bridgewater Associates, the world's largest hedge fund. The executive is likely to face scrutiny of his business practices and connections in China, but McCormick could bring a more moderate, economy-focused campaign to the field. 
Kathy Barnette
A veteran, former professor and conservative political commentator, Kathy Barnette could be Pennsylvania's first Black, female senator in state history. In her bid for Congress last year, Barnette campaigned on her support for the Second Amendment, school choice policies and her pro-life beliefs, according to PoliticsPA. Barnette has also stressed the importance of border security and supports banning the teaching of critical race theory.
Everett Stern
Everett Stern founded Tactical Rabbit, a private intelligence company, and later gained fame as a whistleblower who unveiled a money-laundering scandal at HSBC Bank. Stern's Senate campaign outlines national security, the economy, border security and gun rights as a few of his core issues, along with directing more students toward the trades, addressing climate change through the development of renewable energy sources and electric vehicles. 
Sean Gale
Sean Gale is a business and health care attorney who is planning to bring a Trump-like approach to politics and policy to the U.S. Senate. Gale's brother is Joe Gale, a Montgomery County commissioner who also announced a bid for governor and is heavily critical of Pat Toomey. A campaign ad for Sean Gale outlines his platform by saying: "He's not Pat Toomey or a puppet of the Pennsylvania GOP swamp."
Martin Rosenfeld
Martin Rosenfeld is a former deputy sheriff and constable who has four decades of experience in accounting and tax preparation. He's running for Senate as a constitutional conservative seeking to lower taxes, rebuild infrastructure, establish term limits for elected officials and defend the Second Amendment. Rosenfeld also formerly served as the treasurer of the Elk County Republican Party. 
Bobby Jeffries
Bobby Jeffries, a Republican from Hershey who previously launched a primary challenge against U.S. Rep. Scott Perry, is now seeking the GOP nomination for Senate. In a campaign ad, Jeffries says protecting the country's energy independence and reinvigorating the nation's manufacturing industry are two of his biggest goals. Jeffries also stressed the need for "America First" policies and placed an emphasis on border security. 
John DeBellis
John DeBellis is campaigning on his experience as a small business owner, touting himself as a "constitutional conservative." His campaign site promotes the fact that he isn't a career politician – DeBellis wants to cut regulations that impact businesses, reduce illegal immigrants, crack down on large tech companies, reform the nation's election laws and establish term limits. 
Ronald Johnson
An Army veteran, Ronald Johnson hails from Oil City and is running for Senate with an "America First" mindset, with a particular emphasis on enacting term limits for members of Congress, according to Explore Venango. Johnson also told Explore Venango that members of Congress shouldn't be able to retire after just five years. On his campaign Facebook page, Johnson describes himself as a defender of constitutional rights. 
James Hayes
According to Federal Election Commission documents, James Hayes of Allison Park has filed paperwork to run for Senate as a Republican in 2022. 
Not Running
Sharif Street
State Sen. Sharif Street formed an exploratory committee in April 2021 in anticipation of a U.S. Senate run, showing the Philadelphia politician has a clear interest in running for higher office. However, Street won't be running for U.S. Senate this year, telling NBC 10's Lauren Mayk that he will not jump into the race. Street did say that he's open to running for other positions, including Congress, and that his exploratory committee will remain active.
Sean Parnell
Sean Parnell, an Army veteran and author who came within three points of knocking off U.S. Rep. Conor Lamb in 2020, was hoping that a campaign focused on lower taxes, relaxed regulations, support for unions and protecting Pennsylvania's energy independence will propel him to the U.S. Senate next year. Parnell also has stressed the need for strengthened election security measures and health care competition to drive down costs. He dropped out after losing a custody case in November 2020.
Craig Snyder
Craig Snyder was formerly chief of staff to the late U.S. Sen. Arlen Specter and launched an exploratory committee and filed paperwork to run for Senate in 2022. Snyder wrote a "Manifesto for a Post-Trump GOP" that stresses the importance of conservative values, democratic capitalism, the dangers of climate change and the importance of the U.S. playing a key role in foreign affairs. However, Snyder was unable to generate enough support and ultimately dropped his Senate bid.
Eric Orts
Eric Orts was eyeing a transition from academia to politics as he sought Toomey's seat. Orts, a professor at the Wharton School of the University of Pennsylvania, said he was motivated to enter the political arena after seeing Donald Trump get elected to office in 2016. Orts supported raising the minimum wage, protecting unions, campaign finance reforms, paid leave and strengthening the Affordable Care Act. He dropped out in October 2021.