Elections
Thirteen candidates take the stage for first GOP gubernatorial debate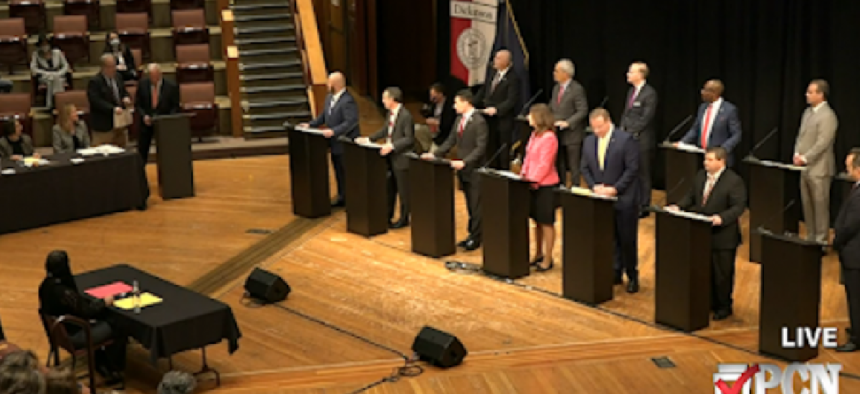 The crowded field of Republican gubernatorial candidates met on stage Wednesday night for the first debate of the primary season. Thirteen candidates came together at Dickinson College in Carlisle to discuss issues ranging from COVID-19 and the economy to education and energy production.
Among the candidates at the debate were former head of the Chester County Chamber of Commerce Guy Ciarrocchi; Senate Pro Tempore Jake Corman; political strategist Charlie Gerow; Montgomery County Commissioner Joe Gale; former U.S. Attorney Bill McSwain; Allegheny County-based attorney Jason Richey; Delaware County businessman Dave White; cardiothoracic surgeon Nche Zama; former U.S. Rep. Melissa Hart; state Sen. Scott Martin; Northampton County businessman Shawn Berger; former Corry Mayor Jason Monn; and retired public affairs executive John Ventre. 
---
---
Republicans have been anxious to take back the governor's mansion since Gov. Tom Wolf defeated incumbent Tom Corbett in 2014. Wolf and the GOP-controlled legislature have been at odds on a variety of issues over the last seven years, and the state response to COVID-19 led to further backlash from Republicans. 
Amidst another surge in cases, combined with rising inflation and other economic concerns, GOP candidates have consistently made the economy a talking point of the campaign. It was also a major theme of the first debate. 
"It's as if Harrisburg has wanted us to fail," Ciarrocchi said. "We have more assets than almost every other state, from agriculture to the life sciences. We're sitting on more energy than most nations on the planet. With the assets we have, with those universities we have, there's no reason we're not a top 10 state."
Candidates criticized Wolf and President Joe Biden for the current state of the economy, claiming that COVID closures and incentives have kept people from returning to work. They were in agreement that "pro-growth" policies are essential to economic development and keeping Pennsylvanians in the commonwealth. 
"We consistently hear the stories of people fleeing places like California going to the Floridas, the Arizonas and the Carolinas," Martin said. "Why is that? Because they have pro-growth policies, where we have the exact opposite here, with one of the most onerous regulatory and tax climates in the country." 
Candidates also weighed in on energy production and jobs in that sector. Corman, who repeatedly said he would be a governor that "put people first," noted he would remove the state from the Regional Greenhouse Gas Initiative his first day in office, if Wolf is successful in entering the program. 
"I will take us out, much like Gov. [Glenn] Youngkin is doing in Virginia," Corman said. "We need a governor that's going to embrace this energy economy." RGGI, a cap-and-trade program that looks to reduce carbon emissions by placing restrictions on power plants, has been another point of contention in Harrisburg. Candidates emphasized the state's potential as an energy exporter with its natural gas reserves without mentioning many concerns for any environmental hazards. 
While the Republican candidates were largely in agreement on economic and energy issues, that wasn't the case with every topic. McSwain, Monn, Richey, Ventre, White and Zama, who described themselves as "political outsiders," called out Harrisburg lawmakers for the state of the commonwealth. 
Gale was the most vocal opponent of Harrisburg Republicans' work, denouncing the lawmakers who voted for Act 77, which expanded mail-in voting. 
"I will also support primary challenges against the Republicans in the state legislature when they worry too much about catering to public sector unions, campaign donors, party bosses and establishment insiders … I will be a pitbull in Harrisburg and hold the Republicans accountable to get the job done," he said.
With such a large and professionally diverse field of candidates, there's bound to be a few surprises. Most notably, in an effort to show his openness to listening, Gerow announced his cell phone number during the debate and invited people to reach out to him directly. 
At the conclusion of the debate, candidates were asked a series of lightning-round questions before offering their closing statements. Another area of disagreement was over school closures amid rising COVID-19 cases. Straying away from the crowd that reaffirmed the need for in-person instruction, Monn, Hart and Corman said they would leave school closures to local officials. 
The debate was moderated by former state Rep. Becky Corbin, Allison Coccia, political engagement director at the Pennsylvania Chamber of Business and Industry, and Terry Tracy, founder of the conservative news site Broad + Liberty. State Sen. Doug Mastriano, who is expected to officially join the race Saturday, and former U.S. Rep. Lou Barletta, did not attend. 
Voters will decide on the next governor in the May 17 primary and Nov. 8 general elections. Whoever the Republican nominee is will likely face off with the unrivaled Democratic candidate, Attorney General Josh Shapiro.