Capitol Beat
Benninghoff asks high court to suspend use of new state legislative maps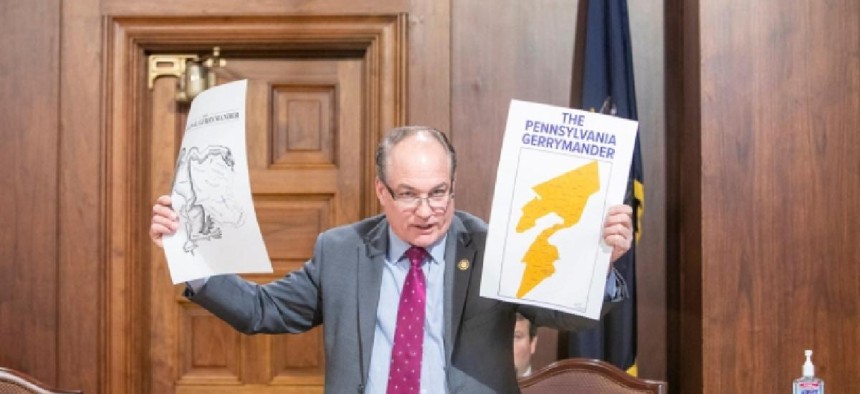 Unhappy with new state legislative maps that were approved earlier this month, Pennsylvania House Majority Leader Kerry Benninghoff is asking the state Supreme Court to revise the new maps and use the current House and Senate maps that were approved in 2012 in this year's state legislative elections. 
In a statement, Benninghoff said the maps approved on Feb. 4 by the Legislative Reapportionment Commission – of which he is a member – were drawn to benefit Democrats and run afoul of constitutional guidelines. 
---
---
"This filing is a logical outgrowth of the numerous serious state and federal legal issues inherent in the Pennsylvania Legislative Reapportionment Commission's final plan," Benninghoff said. "The plan at issue is an extreme partisan gerrymander: It has splits that are not 'absolutely necessary,' it has an excessive population deviation that violates one person, one vote, and is an inappropriate and illegal racial gerrymander."
In an application for relief submitted to the state Supreme Court, Benninghoff asked the court to order that the current state legislative districts – approved in 2012 – should be used for this year's midterm elections, citing confusion created by delays in this year's redistricting process. 
Benninghoff said that delays caused by the U.S. Census, as well as prisoner data changes requested by a majority of the Legislative Reapportionment Commission, warrant action by the court to clarify election-related deadlines. 
"Given the serious legal problems lodged against the state redistricting plan in court filings and media reports, there is a significant chance that not all complaints will be sufficiently resolved to give Pennsylvania voters and putative candidates certainty that the districts adopted in the final plan will be usable during the current election cycle," Benninghoff said. "The request to run in the current legislative districts is in line with past precedent and reflects the dual realities of this plan's significant legal challenges and the need to have certainty in the conduct of the 2022 elections."
Benninghoff was the lone member of the Legislative Reapportionment Commission to object to new House and Senate maps on Feb. 4, with the committee's four other members – Chairman Mark Nordenberg, House Minority Leader Joanna McClinton, Senate Minority Leader Jay Costa and Senate Majority Leader Kim Ward – all voting to approve them.