Campaigns & Elections
GOP candidates meet for U.S. Senate debate – with a few key absences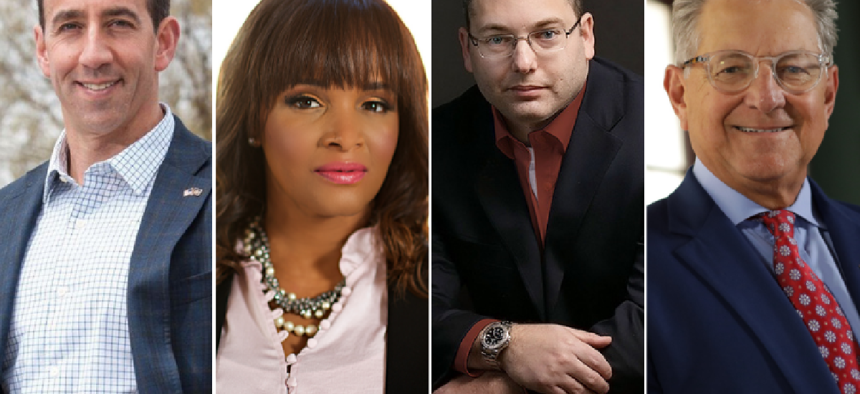 Four out of the seven Republican candidates running for Pennsylvania's open U.S. Senate seat took the stage at Villanova University Monday night for a debate sponsored by the Pennsylvania Chamber of Business and Industry and the conservative online news outlet Broad + Liberty.
Montgomery County real estate developer Jeff Bartos, conservative commentator Kathy Barnette, Philadelphia attorney George Bochetto and whistleblower Everett Stern were the four candidates who participated in Monday's debate, which covered topics ranging from energy and the economy to foreign policy and President Joe Biden's administration. 
The candidates criticized Biden's foreign policy decisions, outlined their respective plans to stimulate the nation's economy, and launched plenty of broadsides against their rivals for Sen. Pat Toomey's Senate seat. 
---
---
McCormick and Oz loom large over the debate
The candidates who arguably had the largest impact on the debate were the ones who chose not to attend. Dave McCormick and Dr. Mehmet Oz – both of whom have been labeled as carpetbaggers due to their ties to other states – did not attend the debate. Oz cited a scheduling conflict and McCormick skipped the debate after Oz chose not to participate. Former U.S. Ambassador to Denmark Carla Sands also did not take part.
Oz and McCormick each received significant criticism from Bartos, who highlighted his Pennsylvania roots throughout the night. 
"I didn't parachute into Pennsylvania to run for office. I'm a lifelong resident with a deep love for our commonwealth," Bartos said in his closing statement. "You cannot save Main Street if you can't find Main Street. As we saw tonight, my out-of-state opponents don't even care to try to find it. They don't care about you."
Barnette also joined in on the attacks, commending Bartos for his criticisms of Oz and McCormick. 

"Jeff has thrown out a lot of punches on Mehmet Oz and Dave McCormick – and it is warranted. It is such an insult that this is the second debate and they refuse to come before the American people – and specifically Pennsylvania – and allow you to vet them and allow you to look behind the curtain to see if the Oz is real or not," Barnette said. "That is an insult to the highest degree. These are serious times and we need serious people who understand what is at stake."
Coalescing around energy 
Each of the four candidates highlighted a need to protect and bolster the state's energy industry, and emphasized the importance of Pennsylvania's natural gas reserves. 
Bartos said he would fight for the energy industry if elected, adding that the state's two biggest exports should be energy and agriculture. "We have two Saudi Arabia's worth of natural gas here in Pennsylvania, and when Pennsylvania's energy industry is flourishing, the entire commonwealth flourishes," he said.
Stern said he would support "increasing fracking" if elected, and also stressed the importance of coal manufacturing. 
Barnette said she would sponsor legislation to remove restrictions on drilling in the United States, as well as legislation that would reverse Biden's decision to revoke the permit for the Keystone XL Pipeline, a 1,200-mile pipeline project that would have transported crude oil from Canada into the U.S. 
"We are literally standing on pure gold in Pennsylvania, and the fact that this administration has created a hostile environment for us to be able to drill and to invest – instead now we're on our hands and knees begging Qatar and (the Organization of the Petroleum Exporting Countries) to give us what we can provide for ourselves right now tomorrow if we wanted to," Barnette said.
Bochetto said Pennsylvania – and the U.S. as a whole – needs to build out its pipeline infrastructure. 
"We have to invest in how to get that oil from the Marcellus Shale – which runs through the Appalachian Mountains – get it to Philadelphia, get it to New Jersey, get it to the coastlines, where we can then export it," Bochetto said. "And there's only one meaningful way to get it there – and that's through pipelines."
Criticizing Biden's foreign policy
In addition to agreeing on energy policy, the candidates were unified in lambasting Biden's foreign policy, criticizing the president for his approaches to China, Russia and his withdrawal of U.S. troops from Afghanistan. 
Bochetto described the country's foreign policy as being "at an all-time low," adding that "the world does not have confidence that America is going to back up its obligations." He questioned whether the Biden administration would show strength if China were to attack Taiwan, noting that the U.S. has treaty obligations with Taiwan. 
"If China attacks Taiwan – where 75% of our semiconductors are manufactured – is the United States going to stand up in backup there our obligation to defend them? Well, if you look at President Biden's behavior in Afghanistan, it sure doesn't look that way."
Bartos said Biden has exhibited "weakness" with his foreign policy, adding that Pennsylvanians need to elect a senator who will exhibit strength on foreign policy matters.
"We need a strong American economy – a robust foreign policy," Bartos said. "We need a senator from Pennsylvania who will go to Washington, fight for Pennsylvania's resources (and) make sure that we have the key voice that we need to drive America's national security forward. It starts here in Pennsylvania."
Barnette said Biden's foreign policy resembles "running around like a chicken with his head cut off." She said the U.S. should respond in a "forceful" manner if China escalates its aggression toward Taiwan, adding that the U.S. should take a more measured response to Russia and Ukraine. 
"We're about to enter into, potentially, two major invasions. If we're over here in Ukraine and then China begins to be more aggressive toward Taiwan, we are going to stretch our ability to have a very effective response," Barnette said. "If China shows further aggression toward Taiwan, America's response needs to be forceful, and it needs to be immediate."
As for China and Taiwan, Barnette said: "We should not have as forceful of a response. But if we go into Russia right now, we're going to leave ourselves vulnerable for what China is going to do."
Stern goes on the attack
Stern, a former whistleblower, is the intelligence director for Tactical Rabbit, a private intelligence agency. He entered the debate as one of the lesser-known candidates on stage but was quick to separate himself from the other candidates. 
He listed "right-wing extremism from the Republican Party" as the top threat facing the United States, and said his mission as a U.S. Senate candidate is to "absolutely make sure that a right-wing candidate backed by either (former President Donald) Trump or General (Michael) Flynn does not get into office."
"If I have to take down any of these candidates to make sure I bring the moderates (and) independents with me and a Democrat wins, so be it," Stern said. "That's my mission, and I will make sure that democracy prevails. That's all I care about because that's all that matters."
Stern also spent a large portion of the debate attacking other candidates for their stances on the 2020 presidential election – particularly Barnette – noting that she helped organize buses to Washington, D.C. on Jan. 6, 2021. 
Stern accused Barnette of committing treason, and suggested that she didn't deserve to be on stage with the other candidates, saying she "attacked the Capitol."
Barnette, for her part, largely ignored Stern's remarks, noting that she remained "focused" despite Stern's attacks – a demeanor she said she would bring to the U.S. Senate. 
"We have another opponent here on stage who has been calling my name from the very beginning and what have I done? I've ignored it because I'm focused," she said.
McCormick and Sands have said they look forward to participating in any future debate that includes Oz, though Oz has not publicly indicated whether he would be open to participating in a future debate. As of press time, there is no indication of when or if a third debate would occur.