Elections
Montgomery County Commissioner Dr. Val Arkoosh suspends her U.S. Senate campaign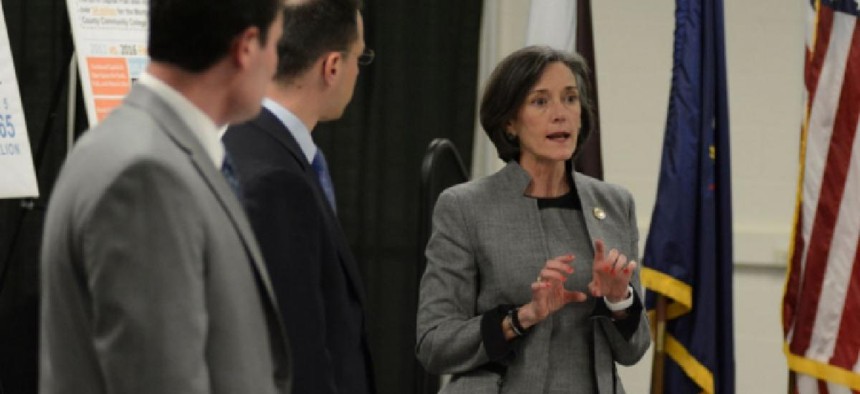 The only female Democratic candidate running for U.S. Senate in Pennsylvania suspended her campaign Friday morning. 
Dr. Val Arkoosh, chair of the Montgomery County Board of Commissioners, announced she is suspending her campaign and will help elect a Democrat to the seat being vacated by retiring U.S. Sen. Pat Toomey. 
---
---
"We cannot let anything stand in the way of a Democrat being elected to the United States Senate. The stakes are just too high," Arkoosh said in an announcement. "And it's become clear to me that the best way I can ensure that happens is to suspend my campaign today and commit to doing whatever I can to help ensure we flip this seat in November."
Arkoosh came into the race stressing her status as the only woman and a physician, stating that she's been overlooked throughout her career. 
"I have been underestimated my whole life working in the kind of fields, both in medicine and in public service," Arkoosh told City & State last month. "People told me I wasn't going to be able to do something, but I broke through all of that."
Arkoosh had difficulty raising funds compared to competitors like Lt. Gov. John Fetterman and U.S. Rep. Conor Lamb. Heading into 2022, she had more than $2.1 million in total contributions and more than $1.2 million cash on hand. Her standing among the state Democratic Committee members was similar, as she finished fourth at an endorsement meeting held last weekend. 
Although the party failed to come to a consensus to make an official endorsement, Lamb, Fetterman and State Rep. Malcolm Kenyatta received the most votes from party members. Arkoosh received 17 votes out of 290 in the initial round and was knocked out of the second round of voting.