Economic Development
Wolf, Democrats unveil plan to utilize ARP funds for further recovery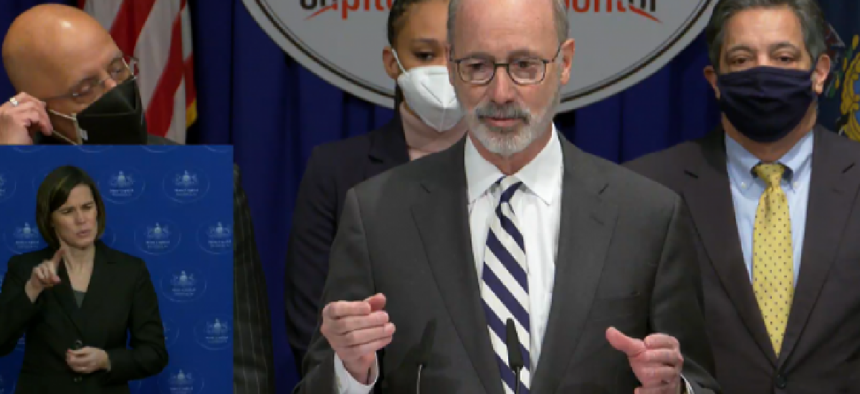 With more than $2 billion in American Rescue Plan Act dollars still available in Pennsylvania, Gov. Tom Wolf and Democratic legislators came together Wednesday to lay out their plan to utilize $1.7 billion for more pandemic recovery efforts. 
Wolf and state lawmakers called on the Republican-controlled General Assembly to take action and leverage the federal funds for immediate relief. Democratic leaders have made several requests to their Republican counterparts to dip into the state's savings after much of the federal pandemic funding was stashed away in last year's budget negotiations. 
---
---
"Our commonwealth is sitting on more money and millions of dollars of additional federal aid that can actually help Pennsylvanians thrive," Wolf said. "We need to get this money out the door so that people who are hurting right now get relief."
Wolf's plan includes:
$500 million to provide relief to families for child care, household and job training expenses;
$225 million to provide grants to small businesses affected by the pandemic;
$204 million to provide property tax relief to Pennsylvanians;
$325 million to support the state's health care systems; and
$450 million to invest in conservation, recreation, preservation and revitalization projects. 
On the other side of the aisle, Republican lawmakers make the case for long-term sustainability. They've argued that with Pennsylvania's shrinking tax base, it's more fiscally responsible to keep dollars in the Rainy Day Fund for future budgets. 
Republican leaders in the House issued a statement saying the proposal was developed "in a fiscal fantasy land where concern for future fiscal years apparently doesn't exist." 
"House Republicans have been the line of defense against progressive fiscal policies that would squander taxpayer resources at the expense of national Democratic talking points and take more hard-earned money from the pockets of Pennsylvania's families," State Reps. Bryan Cutler, Kerry Benninghoff and Stan Saylor said in a joint statement. "By contrast, Gov. Wolf and his Democratic allies have only put forward the largest cradle-to-grave tax increases in Pennsylvania history and proposals that will increase the cost for Pennsylvania families to heat their homes to fuel their desired unchecked spending regardless of the economic circumstances."
At the press conference, Democrats recognized the need for long-term economic sustainability but said there are also many Pennsylvanians in need of relief right now. 
"We could say, 'Let's wait and see what happens next year,' or 'Let's wait and see what happens the year after that,' or we can be responsible stewards and rise to the occasion of the third year of this pandemic," House Minority Leader Joanna McClinton said. "There are so many working parents across the commonwealth trying to move ahead in life that are being held back. We can rescue them now."
While the ARP dollars won't be a part of the upcoming budget negotiations, they'll likely play a critical role in what Wolf and lawmakers prioritize in the state budget. 
"We'll have plenty of arguments over the budget, which I'm going to unveil next week," Wolf said. "But this is a lot. This is $1.7 billion … that is intended to be used to help individuals and businesses in Pennsylvania."