Campaigns & Elections
Chester County's Christine Digiulio enters governor's race as the Green Party candidate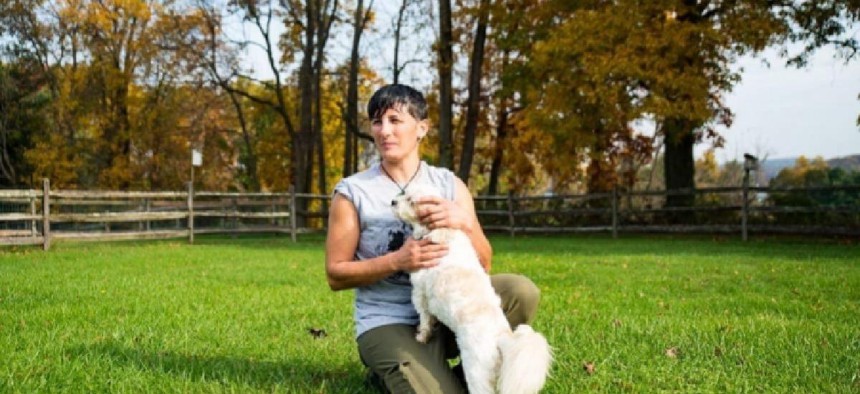 Just when you thought the field of gubernatorial candidates was shrinking, another candidate has thrown her hat into the ring. Christina Digiulio is running for governor as the Green Party candidate hoping to bring environmental issues to the forefront of the race. 
Digiulio, 44, a former analytical chemist for the Department of Defense, is the co-founder of the Watchdogs of Southeastern Pennsylvania and the Better Path Coalition. Digiulio got involved in politics as a vocal opponent of the Mariner East pipeline and was endorsed by the Green Party this week. 
Hailing from Upper Uwchlan Township in Chester County, Digiulio said she began by helping neighbors with water testing after the Mariner East pipeline was installed in their community. 
"I started getting involved here and realized people had some issues with water testing, which is right up my alley," Digiulio told City & State. "I knew how to interpret the reports and I thought that these reports weren't legally defensible."
As an activist-turned-candidate, Digiulio said she never expected to run for office, but that she's seen officials fail to provide basic rights such as clean air and water to residents for far too long.
"Public officials, especially those in scientific agencies, aren't practicing good science," she said. "In my opinion, it's a dereliction of duty. That's not serving the public and that's not protecting health, which is what they're supposed to do."
Seeking the support of environmental organizations, Digiulio's campaign could take away voters from Attorney General Josh Shapiro, the lone Democratic candidate in the gubernatorial race, if they feel his climate policies don't go far enough. Digiulio said she doesn't disagree with all of Shapiro's policies but that she wants to be the candidate that offers a different perspective from the partisan gridlock in Harrisburg. 
"It's time to focus on the people 100%. We need basic human rights. There are people without clean water in 2022 in Pennsylvania. That's pretty pathetic," she said. "I think third parties give people the option of something else, and I really think it's necessary for getting our political party system straightened out."
Leaders on the Democratic side aren't as keen on a third-party candidate entering the race. One Democratic strategist who declined to be identified said the move is dangerous considering how close the race may be in November. The effects of a candidate playing spoiler could be even more harmful to the environment if a Republican candidate were elected over Shapiro, he said. 
And while Digiulio said her campaign will focus on more than just environmental issues, the Democratic Party argues Shapiro's resume stands up as an environmental advocate and beyond. 
"This race is not only about protecting our environment, but also about standing up for women's reproductive rights, worker's rights, defending our democracy and more, and Josh Shapiro is the only serious candidate with a track record of fighting successfully on these issues," Jason Henry, executive director of the Pennsylvania Democratic Party, said in a statement. "Josh not only has the support of environmental groups across Pennsylvania, but Christina has thanked him for his work on these issues. This isn't the time for a vanity project because what's at stake is too serious."
Regardless of the electoral success of her campaign, Digiulio said she hopes her run can be a change of pace from the normal political talking points and help broaden the community's understanding of the issues at hand. 
"Localized community building is really important. Hopefully, people start becoming involved in their local government and start from the bottom up," Digiulio said. "That's a goal of mine, as well as having some of these topics talked about. If it starts to become part of the political conversation, I think that's successful."