Labor
Philly airport workers call for airlines to pay higher wages, offer better benefits, time off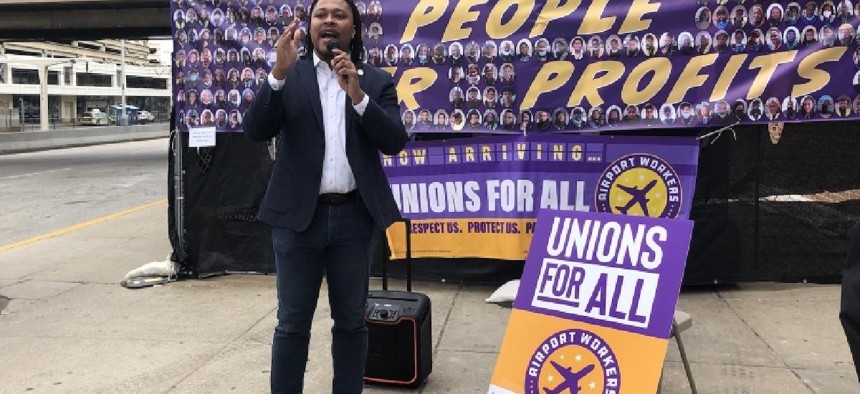 Airport workers rallying on Tuesday said current wages and benefits for contracted workers won't fly with them. 
Representatives of Local 32BJ of the Service Employees International Union, whose members include workers for airline subcontractors, were joined by state Rep. and U.S. Senate candidate Malcolm Kenyatta outside the American Airlines terminal calling on its CEO to take the "Good Airports" pledge. According to Local 32BJ, the pledge would acknowledge airlines have the ability and responsibility to pay living wages, respect workers' rights to join a union, and ensure contracts with airport service providers guarantee proper wages, health care benefits, and paid time off. 
Walter Thomas, who has worked as a security guard at the airport for nearly a decade, said he's experienced what it's like working on front lines since the beginning of the pandemic. 
"I was working double and triple shifts constantly covering for my coworkers who did get sick," Thomas said. "While I was sacrificing my time and safety to provide for my daughter and to keep this airport running, I had no health care benefits. I take medication for blood pressure and Type 2 diabetes and I pay hundreds of dollars out of pocket for my medication."
The rally was part of a national day of action for airport workers. Philadelphia City Council unanimously passed a prevailing wage bill last year to raise wages and establish health benefits for services workers at the airport. 
As a city-owned facility, Philadelphia International Airport enters into contractual agreements with airlines and businesses that operate there, giving the city discretion over wage regulations. The legislation, sponsored by Council member Kenyatta Johnson, would set a minimum hourly wage of $15.06 and require an additional $4.54 hourly supplement toward health care and paid leave benefits. 
Calls for better treatment of frontline workers have only grown as the pandemic has gone on. Service workers at PHL, including wheelchair attendants, security guards, catering staff and retail and restaurant workers, often work for subcontractors of airlines. Airlines such as American argued prevailing wage bills like the one passed last year could jeopardize jobs and the number of flights available. Some of those concerns were addressed before the bill was passed, however, as it was amended to delay the wage increase until 2022 and the health supplement until 2023. 
"Airline CEOs who profit from our hard work should have to put themselves in my shoes and do the work and make the sacrifices I do," Thomas said. "They would not accept this treatment either."
Contracted airline workers, who are majority people of color, said Tuesday that many make just more than $13 an hour – salaries less than $30,000 a year – and cannot afford health coverage. That doesn't sit right with some who say airlines are still sitting on the billions of relief dollars they received from the federal government. 
"(Workers) are essential in these people's minds, in name only. They were quick to put up signs saying 'thank you,' 'you're a hero,' or 'you're wonderful,'" Kenyatta told City & State. "But when people are asking for prevailing wage, when they're asking for dignity on the job, when they're asking for quality health care and time off in case they get sick, now, it's crickets."
Proponents of these prevailing wage bills argue the mandates ensure better standards of living for workers, while critics say they inflate costs and leave taxpayers with the extra burden. 
American Airlines couldn't be immediately reached for comment.