Campaigns & Elections
With Fetterman absent, Lamb and Kenyatta duel in Democratic Senate candidate debate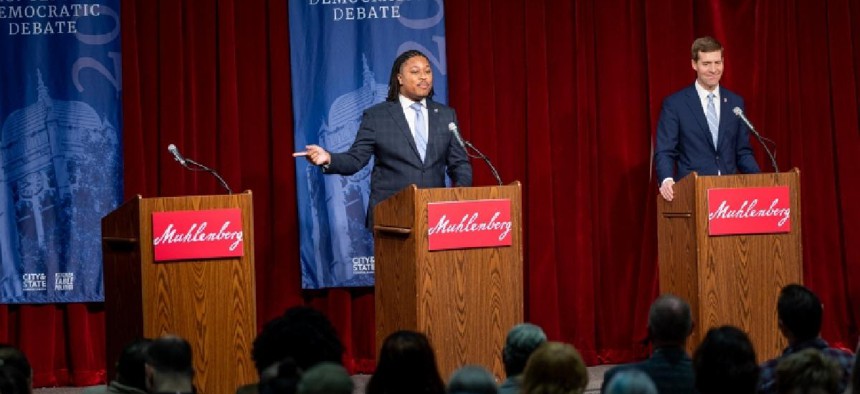 Two out of the three leading candidates in Pennsylvania's Democratic primary race for U.S. Senate faced off in a fiery debate Sunday at Muhlenberg College in Allentown. 
U.S. Rep. Conor Lamb and state Rep. Malcolm Kenyatta each outlined their own policy prescriptions, while also taking shots at Lt. Gov. John Fetterman, the current Democratic frontrunner who declined to participate in Sunday's debate.

The two candidates outlined their respective stances on student debt, their approach to bipartisanship, fracking and energy issues and much more.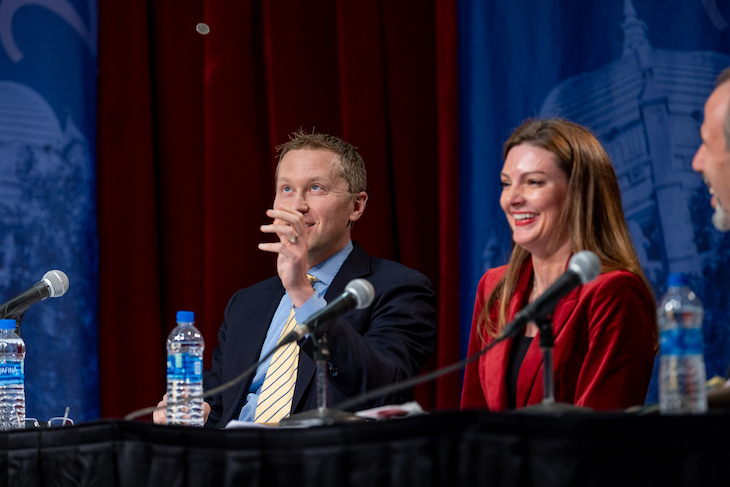 The student debt crisis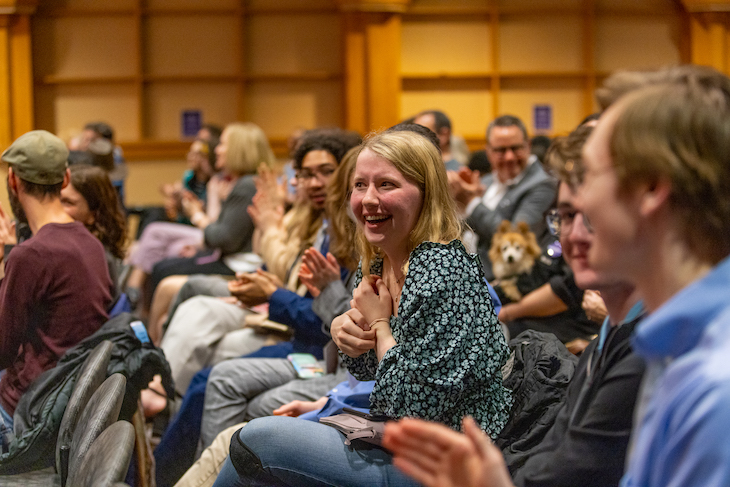 Kenyatta and Lamb both cited high levels of student debt as a major issue that needs to be addressed in Washington. Kenyatta called for student debt to be canceled at the federal level, and also said students should be able to attend community college for two years for free.
"We need to cancel student loan debt and we need to start to do the hard work of making sure college is more affordable in the first place," Kenyatta said. "We need to make two years of community college – at least – completely free, particularly in a moment where it's going to be necessary for people to upskill and re-skill."
Lamb touted his work in Congress to pressure the White House to suspend student loan payments during the COVID-19 pandemic. "I have twice now helped lead a big group of members of the House of Representatives to persuade the White House to suspend student loan payments," he said. 
A bipartisan approach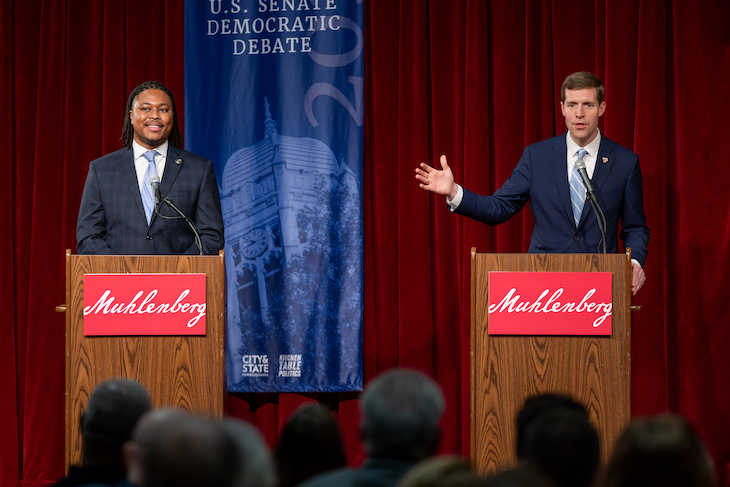 Both candidates expressed a willingness to work across the aisle, though each said there are certain issues where Democrats should avoid compromising with Republicans. 
Lamb said: "We have to be morally clear about the incredible differences between ourselves on voting rights, gun rights, women's rights, minimum wage – but it is still possible on issues related to infrastructure, our national security, technological research and development, and the future of this country in that respect to actually get a lot done on a bipartisan basis."
Kenyatta touted his record of working with Republicans in the General Assembly on issues like criminal justice reform and cybersecurity, and said he would work with Republicans who choose to leave "Fantasy Island."
"I'm the first to welcome anybody to the dock of reality who wants to get serious about getting things done. I've done it around criminal justice reform," he said, as well as "around bipartisan legislation to strengthen our digital infrastructure and make sure Pennsylvania is less susceptible to the types of ransomware and cyber attacks that we've seen."
Kenyatta also criticized Lamb for his voting record, particularly on bills that former President Donald Trump supported. Lamb responded by noting that his voting record aligned more with House Speaker Nancy Pelosi than with Trump. "It's not true, that is not a true number," Lamb said, noting that Republicans have run attack ads citing the similarity between his record and Pelosi's.
To frack or not to frack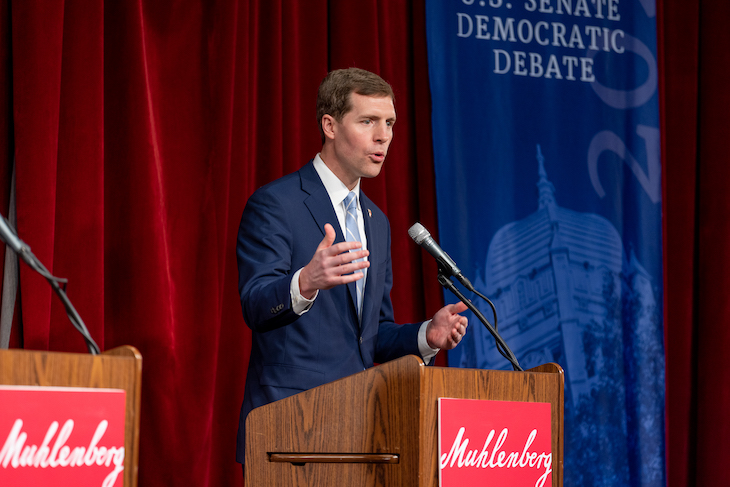 Lamb, a western Pennsylvania native, said natural gas development is critical to creating jobs and reducing carbon emissions. 
"It gets a bad name because of some bad practices here in our state in the early years that were not caught up to its enforcement quickly enough," Lamb said. "It is very, very widely supported by people all over the state because of the opportunities that it brings. So I'm a supporter of it," he added, qualifying that "it has to be done responsibly … The single technology that has allowed us to reduce our carbon emissions in the United States the most is fracking because it has taken so much market share away from coal."
Kenyatta disagreed, noting that pipeline developers in the state have repeatedly faced lawsuits and sanctions for pollution and leaks. He also called for a halt on new drilling permits. 
"If we're going to get to a clean energy future, we have to stop approving new fracking permits," Kenyatta said. 
Attacking Fetterman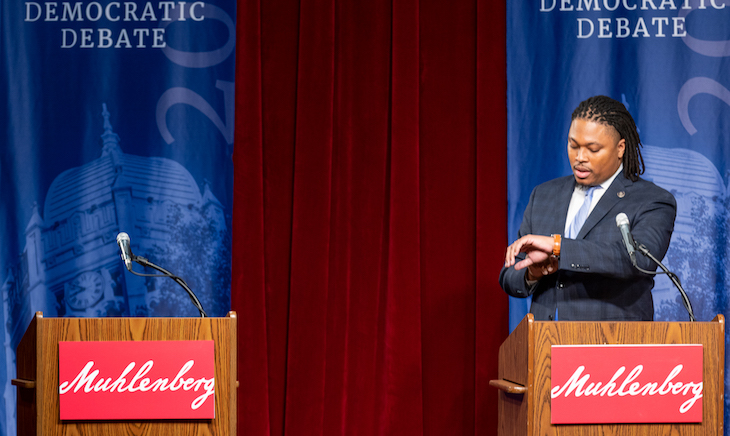 Fetterman was absent from Sunday's debate, opting to make multiple campaign stops in Franklin County instead – a fact that didn't stop his Democratic primary rivals from attacking him. 
Lamb didn't wait to address Fetterman's absence, using part of his opening statement to criticize Fetterman over an incident Fetterman had with a Black jogger in 2013.
"We all make choices in life and John made a choice. He made a choice to point a shotgun at the chest of an unarmed Black man, and then say afterward that he would do it again," Lamb said. "You deserve a senator that you can trust to show up and not to act like a loose cannon." 
Kenyatta also took shots at Fetterman throughout the night. "If John can't show up to talk to other Democrats ... who the hell really believes that John is going to be able to show up and stand up and fight for our values in Washington?" he said. 
Kenyatta, Lamb and Fetterman will all meet in a debate in Harrisburg on April 21 hosted by WHTM. The debate will be broadcasted on eight Nexstar TV affiliates across Pennsylvania.