Campaigns & Elections
Five Pennsylvania state Senate races to watch
Several races in the November election could decide the fate of the General Assembly under a new administration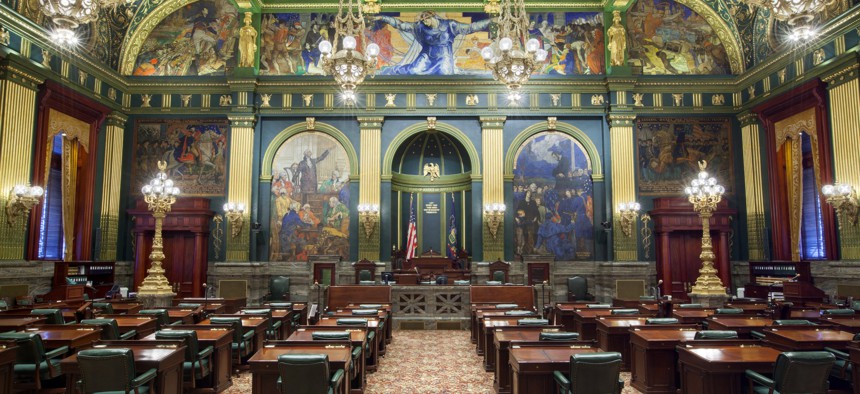 The nation's eyes are on the commonwealth's high-profile, high-stakes races for the U.S. Senate, House and governor – but majority rule in Washington, D.C. and the executive mansion aren't the only things up for grabs in this year's general election. 
Republicans have held the majority in both chambers of the General Assembly since 2011. Prior to that, Democrats held a slim majority in the House from 2007 through 2010. As both parties jockey for power in Harrisburg, several races could have a major impact on the makeup of the legislature – and its relationship with a new governor. 
Currently, the GOP holds 28 of 50 Senate seats – with 21 Democrats and one Independent – while in the House, Republicans hold 113 of the 203 seats. As Democrats make a push to flip at least one of the chambers in November, the party has a lot of work ahead of it. Democrats would need to flip at least four Senate seats or 12 House seats in order to gain a majority in one chamber. Of the Senate races listed below, Democrats would have to hold onto the 38th district and flip the remaining four seats to have a shot at a majority. 
With that in mind, City & State has highlighted several close races that could determine the fate of the 2023 General Assembly. And while the implications of each race won't be fully known until all the ballots are counted in November, the outcomes will give us the first glimpse of how the commonwealth's new district lines will affect its political makeup.
Check out some of this year's Senate races to watch below: 
Senate Races:
6th Senate District: Frank Farry (Republican) vs. Ann Marie Mitchell (Democrat)
Voter spread, according to Dave's Redistricting: Dem +2.9
Ann Marie Mitchell, a one-time state representative candidate, is going up against current state Rep. Frank Farry in the race to fill the seat of retiring state Sen. Robert "Tommy" Tomlinson. Farry, a Republican representing the 142nd legislative district in Bucks County, is attempting to make the move over to the state Senate in a new district that's leaning slightly Democratic. Mitchell has bachelor's and law degrees from the University of Pennsylvania and is a business attorney. 
14th Senate District: Dean Browning (Republican) vs. Nick Miller (Democrat)
Spread: Dem +11.1
A hotly contested primary in the Lehigh Valley concluded with Dean Browning, a former Lehigh County commissioner, as the Republican nominee and Nick Miller, an Allentown School Board member, as the Democratic nominee. Browning, who is white, garnered national attention in 2020 when he tweeted "I am a black gay guy," and claimed he was quoting a message from one of his followers. Miller earned a close victory over Tara Zrinski in a primary that featured a court battle over the counting of naked and late mail-in ballots. 
The 14th Senate district previously included all of Carbon County and parts of Luzerne County. After redistricting, new boundaries include multiple municipalities in Lehigh and Northampton counties and most of Allentown. The much more Democratic district will be a signal win for Republicans if Browning is able to come out on top.  
16th Senate District: Jarrett Coleman (Republican) vs. Mark Pinsley (Democrat)
Spread: GOP +7.4
Another closely watched primary election that ended after a court decision involved Jarrett Coleman and longtime state Sen. Patrick Browne. Coleman, an airline pilot and Parkland School Board member, surprised many when he upset Browne – and he has his work cut out for him if he wants to take Browne's seat in Harrisburg. 
Coleman, a Republican who has been a vocal opponent of school closures and vaccine mandates, is going up against Democrat Mark Pinsley. Pinsley, the Lehigh County Controller, faced criticism earlier this year after he testified in front of the legislative reapportionment committee and claimed the GOP wanted to create a "ghetto" by lumping Allentown and Bethlehem together.  
The new district lines, which include parts of Bucks County, may have helped Coleman edge out Browne, as the district is still Republican-heavy in many areas. Pinsley, who narrowly lost to Browne back in 2018, will attempt to become the first Democrat elected from the district since 1994. 
38th Senate District: Lori Mizgorski (Republican) v. Lindsey Williams (Democrat)
Spread: Dem +13.0
The race in the 38th Senate district pits two sitting lawmakers against each other. State Rep. Lori Mizgorski, who was drawn into a heavily Democratic state House district, opted to jump into the Senate race against incumbent Lindsey Williams instead of seeking reelection. Mizgorski, a Republican from Shaler, defeated public defender Jake Roberts in the primary. 
In November, Mizgorski has a tough task in defeating the incumbent Democrat in Williams. Although Williams narrowly won her seat back in 2018, the district that covers the North Hills suburbs, Allegheny River towns and East End neighborhoods in Pittsburgh is considered more friendly to Democrats this go-round. 
40th Senate District: Rosemary Brown (Republican) v. Jenn Shukaitis (Democrat)
Spread: Dem +3.7
Another Republican lawmaker attempting to make the jump to the state Senate is state Rep. Rosemary Brown in the 40th district. Brown, who currently represents the 189th legislative district in parts of Monroe and Pike counties, wants to keep outgoing state Sen. Mario Scavello's seat in Republican hands. She's up against Democrat and Stroud Township Supervisor Jennifer Shukaitis. Shukaitis, granddaughter of former Monroe Country Commissioner Nancy Shukaitis, will now seek to win over a slightly Democratic district consisting of all of Monroe County and parts of Lackawanna and Wayne counties.