Law Enforcement
On day one of hearings to impeach Larry Krasner, mothers of homicide victims share testimony
Crime victims' families told of grief and trauma followed by inaction and confusion due to lack of an adequate city response.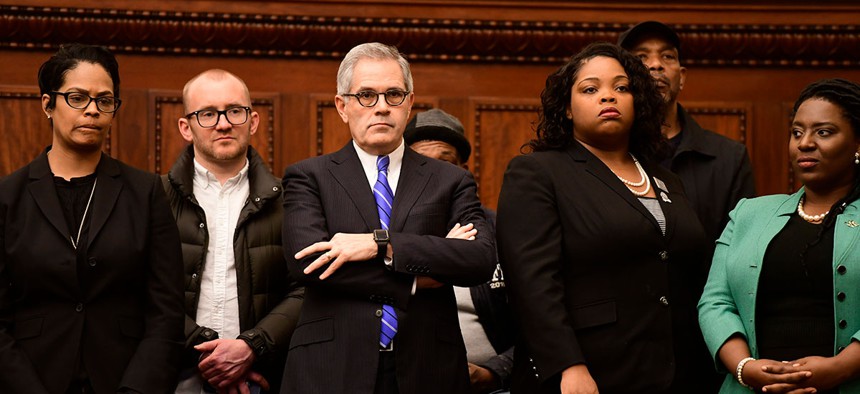 With the backdrop of a posse of protestors nearby calling the process a "circus," the legislative panel investigating Philadelphia District Attorney Larry Krasner heard from crime victims' families Thursday on the city's law enforcement failures in investigating homicides. 
"I am here because of the lawlessness that continues to plague this city. This is not a political stance. This is the stance of a mother whose whole world was turned upside down since the death of (her) son," said Nakisha Billa, who testified before the government's House Select Committee on Restoring Law and Order. Billa, who said she now lives outside the city due to safety concerns, lost her 21-year-old son Dominic in a shooting in March 2021. 
Billa shared a similar message to the other parents and family members who lost loved ones in that they never received follow-ups from the police investigating their incidents or city agencies offering support after the initial case was filed. 
"It was always me seeking out organizations for help," Billa said. "Even in the beginning, in my state of blur … none of them contacted me. I was the one that reached out to them."
The House Select Committee held its first of two hearings in Penn State at the Navy Yard in Philadelphia Thursday. With a focus on the physical and emotional toll of gun violence, the committee heard testimony from family members of homicide victims, described as co-victims, who voiced concerns with law enforcement's handling of their individual cases, not just prosecutorial concerns related to the district attorney's office. 
"Most of the footage (the detective) already had came from places I went to," Jennifer Meleski, a co-victim, said during video testimony. "The police have nothing … I feel like no one really cared." Testifiers' stories painted a picture of a fractured justice system in Philadelphia, where families are following up with neighbors and businesses about surveillance video, witnesses aren't contacted or are intimidated to speak up, and communities are left picking up the pieces following a shooting in their area. 
Just across the street from where the hearing was held, protestors from organizations including the Working Families Party and Abolitionist Law Center rallied to call out the committee's actions. Protestors had "circus" signage in reference to what they perceived as a politically-motivated process aimed at drumming up fear during an election cycle. 
"The reality is, legislators have a responsibility to make sure that their communities are adequately resourced," Bishop Chris Kimmenez, executive director of the prison reentry ministry Healing Communities PA, said. "Crime is tied to poverty. If you're not going to do anything about the conditions of poverty, then you can't turn around and try to pass the buck on the DA and the cops." 
The hearings come after the House lawmakers voted to hold Krasner in contempt for failing to comply with the select committee's subpoena. Prior to being held in contempt, Krasner's office filed a legal challenge to the committee's subpoena, arguing materials requested are covered by grand jury protections and would unlawfully and inappropriately interfere in a pending criminal jury trial. 
I am here because of the lawlessness that continues to plague this city.
- Nakisha Billa
Krasner's platform of ending mass incarceration, cash bail and selective prosecution of low-level crimes has become a consistent talking point among conservative lawmakers who blame his actions for the rise in gun violence.
Krasner, who was re-elected in 2021 with about 70% of the vote, communicated with the committee that he wanted to appear at the hearings and that they should be relocated to a more accessible venue than the Navy Yard. He was not in attendance Thursday. 
Addressing contentions that state lawmakers were overreaching into local government, state Rep. John Lawrence, the Chester County Republican who chairs the Select Committee, said it would be a "dereliction of duty" on behalf of the legislature to not investigate the rising crime rates in Philadelphia. 
"There is no greater issue facing the commonwealth than addressing this situation," Lawrence said to open the hearing. "Lawlessness, rising crime rates and disregard of the law should not, cannot and will not be tolerated." 
Lawrence said the committee is reviewing not only rising crimes in the city but also the usage of public funds for the purpose of prosecuting criminals and supporting crime victims. 
State Rep. Martina White, the lone Republican legislator from Philadelphia, told reporters the "scales of justice" have been tipped in one direction under Krasner. She dispelled points made by Democrats and Krasner that the state legislature should allow municipalities to enact their own gun laws, claiming that Philadelphia's "lawlessness" comes down to Krasner's failure to enforce the laws already on the books. 
"I think that the key right now is to actually hold the criminals who have illegal gun possessions accountable," White said. "That's not even happening right now as it stands."
Kimmenez said regardless of the politics, Philadelphians should maintain the right to hold their own elected officials accountable. 
"This is really about what we feel is an attack on Philadelphia home rule and is not respecting the results of elections," Kimmenez said. "It's also spending a bunch of taxpayer money … The state is always coming in and telling Philadelphia what to do." 
The committee will hear expert testimony regarding arrest and sentencing trends and the training of assistant district attorneys during Friday's hearing. 
If an impeachment process were to proceed, the General Assembly would have to pass the motion by majority vote in the House and two-thirds vote in the Senate.