Philadelphia
Former Philly fiscal watchdog Rebecca Rhynhart officially launches bid for mayor
The former city controller is the first non-City Councilmember to announce their candidacy for Philadelphia's highest office.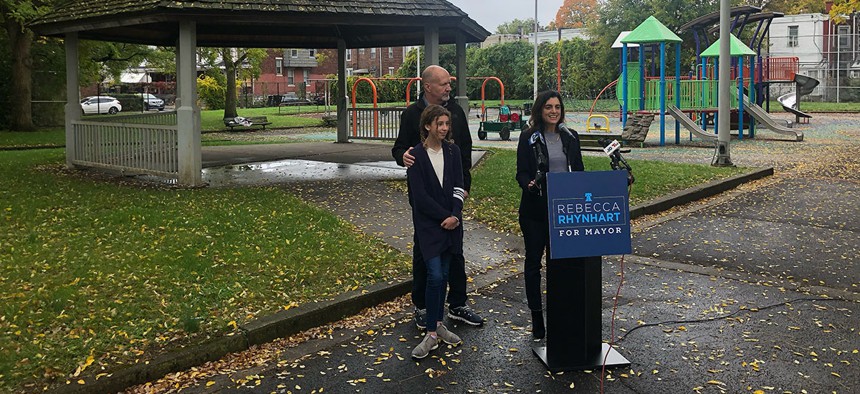 About two hours after she resigned from her position as Philadelphia City Controller, Rebecca Rhynhart formally announced her long-anticipated run for mayor. 
Standing with her husband, David McDuff, and daughter, Julia Bright, at Nichols Park in West Philadelphia, Rhynhart touted her experience auditing the city's operations and said Philadelphia needs a leader "willing to take on politics as usual."
Gun violence, crime and safety – all of which will be major issues throughout the race – were at the center of Rhynhart's announcement. 
"I envision a city where everyone feels safe, where the streets are clean," she said Tuesday. "I envision a city where every child has a good education at a good school. These are the basics that city government should be providing."
Rhynhart, who's been among the most vocal critics of Mayor Jim Kenney's handling of gun violence, made the announcement a week after her office released the results of an eight-month review of the city's police department. The audit cited inconsistent strategies, slow response times and outdated systems among the several issues hampering the police department's response to the city's gun violence crisis. 
"I've worked on gun violence and being a voice against the inhumane conditions in our prison system. I've done analysis on inequities in service delivery," Rhynhart said. "But as controller, that's where my power ends. As mayor, I can make these changes happen."
Before working in city government, Rhynhart was in the private sector dealing with financial services, including a stint at Bear Stearns before its collapse during the Great Recession. She came to Philadelphia in 2008 to take the job of city treasurer under Mayor Michael Nutter. Rhynhart worked in the Nutter administration for eight years as she rose to the position of budget director. In the Kenney administration, Rhynhart served as chief administrative officer for less than a year before she resigned to run for city controller. 
Her 2017 upset primary win over three-term incumbent and Democratic establishment stalwart Alan Butkovitz was a surprise to many who saw Rhynhart as a political outsider. Following her reelection in 2021, she went from being a newcomer to being among the top names mentioned as potential candidates in the 2023 mayoral race. 
I envision a city where every child has a good education at a good school. These are the basics that city government should be providing.
– Rebecca Rhynhart
Although she's a political outsider no more, Rhynhart still has to find the financial backing to put her on the same level as others expected to be in the race. One possible candidate, former City Councilmember and "condo king" Allan Domb, could primarily self-fund his campaign. Other former Councilmembers have longstanding ties with the city's Democratic establishment and other major donors. Rhynhart admitted she may not have the financial resources that other candidates may have going into the race, but that same challenge didn't stop her against Butkovitz. 
"People didn't think I was gonna win" in 2017," she recalled. "I ran against the party – ran against a long-term incumbent. I had the support of one ward leader out of 69 ward leaders, and I won with 58% of the vote – and what I think that says is that people want change."
Rhynhart is now the fourth Democrat to enter what is expected to be a crowded field seeking to succeed the term-limited Kenney. She is the third woman and first non-Councilmember to throw their hat in the ring. 
Other declared candidates include three now-former City Councilmembers in Cherelle Parker, Derek Green and Maria Quiñones-Sánchez. Domb, who resigned last month to consider a run, has yet to formally launch his campaign.