Philadelphia Mayor's Race 2023
How Cherelle Parker's 'village' made a path to victory
The Democratic mayoral primary victor's ability to hold a majority of the Black vote throughout Philadelphia propelled her to victory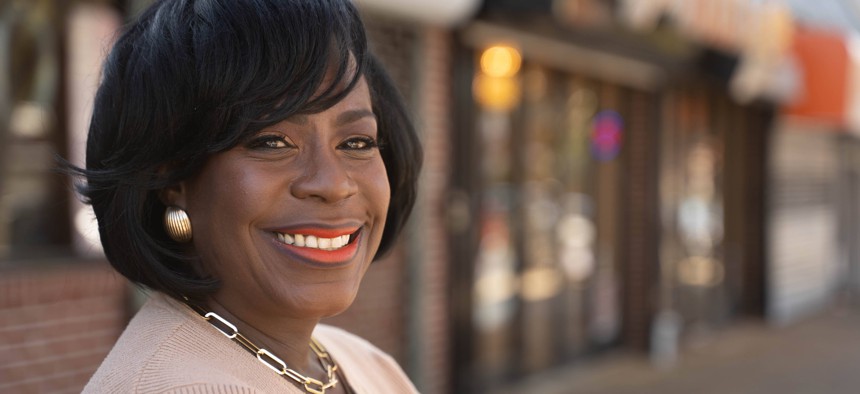 Surrounded by a crowd of orange-clad friends and supporters outside Finley Recreation Center in Mt. Airy during Tuesday's primary election, Cherelle Parker said she wouldn't be in her position without her "village." 
"I'm just feeling extremely humble and grateful for all of the people in the neighborhoods and communities that I grew up in who were a part of my village – who taught me how to serve people and who told me that dignity is more important than anything," Parker told City & State Tuesday. "When people have dignity and pride in their communities and in themselves, a whole lot of other things change. But they can't do that without economic opportunity, quality education, safe streets and clean neighborhoods."
Parker, a West Oak Lane native who often relied on family and friends for support growing up, now does the same in her political career. After bringing her 10-year-old son into the voting booth with her, Parker recognized she wouldn't be who she is today without the community support she received as a child and the same support her son Langston receives today. 
Langston "knows what the sacrifice means and that's what I've been trying to talk to him about. I'm here, but I'm not here without his grandmother, his godmother and his godfather. They're with him when I'm moving about and I'm traveling," Parker said. "Our village is tight and I'm super proud of that."
Parker's historic and unexpectedly convincing win in Philadelphia's Democratic mayoral primary wasn't a shock, but the numbers surprised many as they trickled in Tuesday night. Despite not a single candidate polling above 20% throughout the campaign cycle, Parker blew estimates away, garnering 28.6% of the vote – more than 20,000 votes ahead of Rebecca Rhynhart, who finished second. 
Parker never had a doubt regarding widespread support across the city, referencing her "village" and saying media coverage does not reflect the true reality on the ground. 
"I would tell my team, 'I do not want to see polls.' I don't want them to watch television and see any commercials. I don't want to see any of that because it gets into your head," Parker told City & State Tuesday. "The only poll that mattered to me was the poll on the day."
Tuesday's polls were increasingly in her favor as the night went along. Parker's win was powered by Black voters and residents of low-income neighborhoods, many of which are some of the most impacted by gun violence. 
As of Wednesday morning, Parker had 69,499 votes – a third of all votes cast in the city. Many knew her strength going into the race would be in Northwest Philadelphia, where the politically powerful Northwest Coalition has helped increase voter turnout and rallied communities around candidates like former City Councilmember Marian Tasco, Parker's longtime mentor. 
With fellow Northwest native Derek Green dropping out of the race last month and endorsing Parker – who already had the support of much of the city's Democratic establishment – the Northwest region was going to be a stronghold. Higher-than-expected turnout in the 9th Ward was a prime example of that, with a 7.3% increase in voter turnout from 2015 to 2023. 
Her support among Black voters wasn't limited to her strongholds, however. Parker ended up earning the most votes throughout North and West Philadelphia as well as pockets in the Northeast and Southwest, including the 40th and 41st Wards. 
Add in the support from Ryan Boyer, business manager of the Laborers' District Council and the first Black leader of the city's powerful building trades, as well as the backing of much of the Democratic establishment, and Parker had some of the biggest names and organizations in the region behind her. 
Majority-Black voting precincts gave nearly 56% of their vote to Parker, and in majority-Latino precincts, she took home more than 44% of votes. 
Throughout her campaign, Parker would take indirect jabs at her Democratic opponents, calling them "I know what's best for you people" policymakers. The candidates who come from working communities and understand their struggles, she said, are able to connect on a much deeper level. 
Looking at the crowd of orange shirts Tuesday, Parker said "This right here, these are my people."