Environment
Pennsylvania officials declare 'Code Red' air quality alert due to Canada fires
Smoke from wildfires smothered the East Coast on Wednesday, with officials urging residents to limit time outside.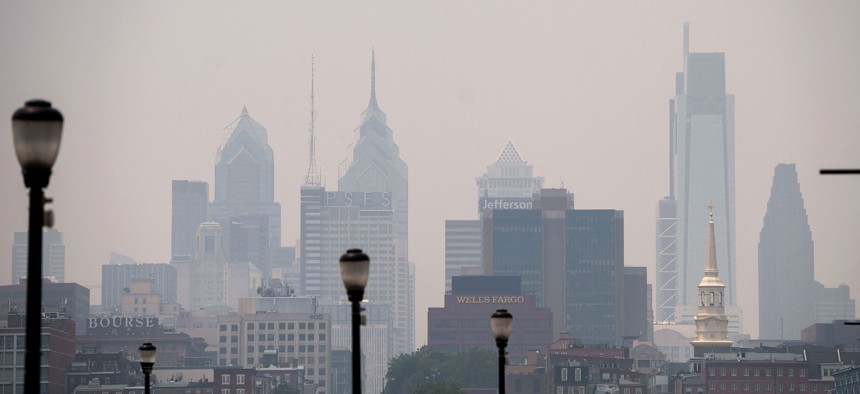 With smoke from wildfires in eastern Canada blanketing large portions of the commonwealth, the Pennsylvania Department of Environmental Protection on Wednesday declared a "Code Red" air quality alert for the entire state. 
Officials from DEP and the Pennsylvania Department of Health are urging residents to limit their outdoor activities, warning that high levels of fine particulate matter from the fires could be dangerous for the elderly and people with respiratory conditions. 
"Many of us really enjoy spending time outside; however, while the smoke from Canadian wildfires is affecting our air quality, we need to consider moving physical activities indoors or rescheduling them," Acting Secretary of Health Dr. Debra Bogen said in a statement. "For the next day or two, I encourage people to limit time outside, especially if you are sensitive to poor air quality."
The Department of Health is asking Pennsylvanians to avoid strenuous outdoor activity and to limit time outside. The department also recommends that outdoor events be relocated or rescheduled. 
To keep the pollution levels down indoors, the department suggests that people keep windows and doors closed and use air filters if possible. They added the current conditions could pose a greater risk to people with heart disease, lung disease, seniors, those who are pregnant, people who work outside, as well as children and teenagers. 
According to AirNow – a partnership between the U.S. Environmental Protection Agency, National Oceanic and Atmospheric Administration, the National Park Service and other government entities – air quality indexes are measured as follows: 
0 to 50 means the air quality is good, and is denoted by the color green
51 to 100 means the air quality is moderate, and is denoted by the color yellow
101 to 150 means the air quality is unhealthy for sensitive groups, and is denoted by the color orange
151 to 200 means the air quality is unhealthy, and is denoted by the color red
201 to 300 means the air quality is very unhealthy, and is denoted by the color purple
Any AQI 301 or higher means the air is considered hazardous
The air quality index for the state's major cities remained at unhealthy levels Wednesday evening, with Pittsburgh's AQI at 131, Harrisburg's AQI at 264 and Philadelphia's AQI at 255, according to AirNow, which has a tool monitoring air quality levels.  
A weather pattern is pushing the smoke south from eastern Quebec to states like New York and Pennsylvania. The smoke caused plenty of disruptions throughout the day Wednesday.
Events scheduled outside the Pennsylvania Capitol in Harrisburg were relocated inside, and in Philadelphia, a baseball game scheduled between the Philadelphia Phillies and Detroit Tigers was postponed. 
According to the National Weather Service, "hazardous air quality levels will persist across the Northeast and Mid-Atlantic through Thursday before shifting westward into Ohio Valley on Friday."
More information about the state's air quality can be found on AirNow.gov and on DEP's Air Quality Partnership website.