Campaigns & Elections
Philadelphia Republicans appeal decision to allow Working Families Party candidates on the ballot
The appeal comes less than a week after a judge ruled in favor of City Councilmember Kendra Brooks and her running mate Nicolas O'Rourke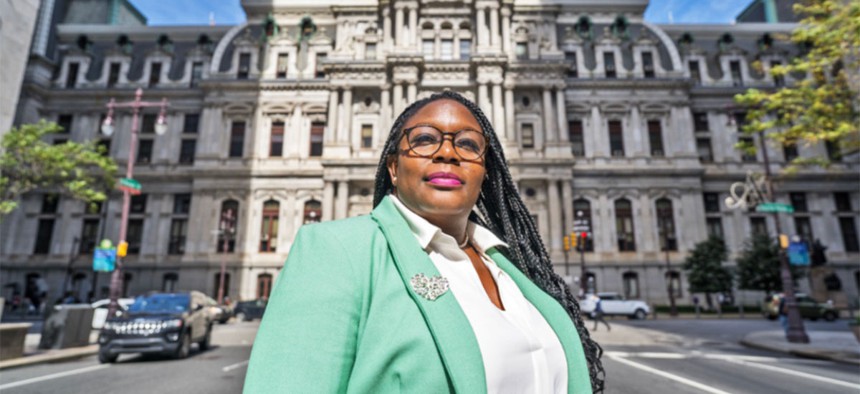 Less than a week after a judge ruled in favor of two Working Families Party candidates in Philadelphia, allowing them to remain on November's general election ballot, Republicans in the city are appealing the decision. 
City Councilmember Kendra Brooks and at-large running mate Nicolas O'Rourke, both progressive Working Families Party members, were victorious last week after a Republican legal challenge was tossed out on Friday. In their appeal, the Philadelphia Republican Party claimed the two candidates signed statements of financial interests electronically before submitting them to the city's Department of Records, arguing that state law requires candidates to fill out the forms with a "wet signature," meaning one with a pencil or pen. 
Philadelphia Common Pleas Judge Joshua Roberts rejected the request to remove the candidates from the ballot and the Philadelphia Republican Party appealed the ruling Wednesday. 
Vince Fenerty, chair of the Republican City Committee, said his party respected Roberts' ruling but considered it flawed. 
"There are contradictory precedent cases," Fenerty said, citing a 2020 case in which the state's Democratic Party successfully petitioned to have Howie Hawkins, the Green Party's presidential candidate, removed from the ballot for faxing his affidavit to the State Department instead of submitting it to the office on paper.
The city's Home Rule Charter requires that two of the seven City Council at-large seats and one of the three city commissioner seats go to members not in the majority political party. 
The ongoing legal challenges are the latest developments in a battle between Republicans in the city and the progressive Working Families Party. Republicans lost one non-majority seat to Brooks when she won in 2019 – now, O'Rourke is seeking the second council seat, which sits vacant following Republican mayoral nominee David Oh's resignation from the legislative body earlier this year. 
In a statement, Brooks and O'Rourke called the appeal "another desperate attempt" to "take away voter choice." 
"We are not surprised by the continued legal challenges, given that their billionaire benefactors have said they will stop at no lengths to prevent our elections, including filing frivolous legal challenges meant to tie us up in court," Brooks and O'Rourke said in the joint statement. "Their efforts are in direct contrast to the people-powered and grassroots campaigns we are building."