First Read
First Read PA
Special election on Tuesday … Nine escape from juvenile detention following riot … SEPTA's contract negotiations … and more.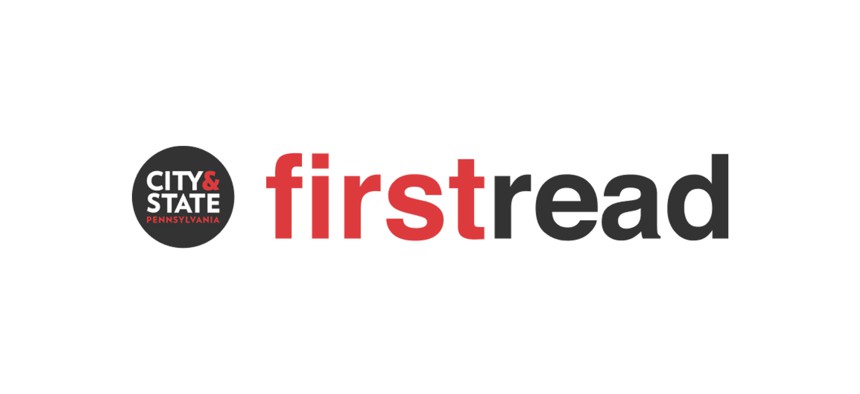 WEATHER: Philadelphia: showers likely, high of 72; Harrisburg: patchy fog before 9 a.m., then sunny, high of 75; Pittsburgh: chance showers, high of 72.
FROM CITY & STATE:
* ICYMI: Philadelphia City Council kicked off its fall session with an agenda item that could have a major impact: a bill to ban supervised injections sites in most of the city. 
* From our partners at the Pennsylvania Capital-Star: The governor's office is now available on Community, an SMS messaging system that delivers text messages directly to subscribers. Using the number 717-788-8990 on Community, constituents can send and receive text messages from Shapiro's office.
NEW THIS MORNING:
* For the third time in less than eight months, a special election will decide control of the narrowly divided state House of Representatives and provide political reinforcements to either the commonwealth's Democratic governor or its Republican-controlled Senate, The Associated Press reports. 
* State authorities launched a search last night for nine people who escaped from a juvenile detention facility following a riot, the AP reports. 
* At least 14 separate bargaining units represent SEPTA's vast workforce, and the transit agency faces contract negotiations with almost all of them in the coming months, The Philadelphia Inquirer reports. 
* A monthslong investigation by Spotlight PA and the Pittsburgh Institute for Nonprofit Journalism found that the state's system for determining whether someone is mentally fit to stand trial often traps them in the very place making them worse – jail.
* Philadelphia native Kristen Welker debuted as the new moderator of NBC's flagship politics show "Meet the Press" yesterday, and she's not wasting any time putting her own stamp on the long-running show, the Inquirer reports.
* Leaders in state school districts large and small are forced to make unthinkable decisions as they work within crumbling buildings, triage educational resources and improvise a social safety net, the Pennsylvania Capital-Star reports. 
* Health centers in Allegheny County and throughout the country face a funding cliff at the end of this month due to the looming threat of a federal government shutdown, WESA reports.
* Philadelphia City Council's role in the battle over the Sixers' plan to build an arena on Market Street is returning to the fore after the body's summer break. Anti-arena organizers made sure to elevate the issue this week as they welcomed Councilmember Mark Squilla back to City Hall for Council's first fall session, Billy Penn reports.
* Pennsylvania did not set heat records this summer, but a new analysis shows it is still feeling the effects of climate change – and a separate analysis also links the wildfire smoke that plagued the state to climate change, StateImpact Pennsylvania reports.
* U.S. Sen. John Fetterman drove from Pennsylvania to Michigan Saturday to picket with striking United Auto Workers members, according to a statement from Fetterman and photos provided by his office, PennLive reports.  
EDITORIAL PAGES:
* The Pennsylvania Cap-Star has an op-ed from Marc Stier, executive director of the Pennsylvania Policy Center, who writes that school vouchers in Pennsylvania would violate the principles of 'public' education.
* PennLive has an op-ed from state Rep. Aaron Bernstein, who writes that too many of his peers in Harrisburg have made it their mission to jeopardize small businesses.
NATIONAL POLITICS:
* Ukrainian President Volodymyr Zelensky's second trip to America comes at a more delicate diplomatic moment, as he tries to navigate political currents while expressing gratitude for Western support, The New York Times reports.
* The American Library Association is facing a partisan firefight unlike anything in its almost 150-year history. The once-uncontroversial organization has become entangled in the education culture wars – the raging debates over what and how to teach about race, sex and gender, The Washington Post reports. 
HAPPY BIRTHDAY: To state Sen. Marty Flynn … Want to wish someone a happy birthday in our newsletter? Email their name, job title and upcoming birthday to editor@cityandstatepa.com.
TODAY'S SKED:
11 a.m. – The Senate Transportation Committee holds a public hearing on automated enforcement of traffic violations, Room 461, Main Capitol, Harrisburg. 
11 a.m. – Gov. Josh Shapiro and Department of Community and Economic Development Secretary Rick Siger tour Pratt Industries' advanced manufacturing plant in Carlisle and announce a major economic development investment, Pratt Industries, 200 Goodman Drive, Carlisle. Watch here. 
11 a.m. – Department of Human Services Secretary Dr. Val Arkoosh, along with leaders from multiple state agencies and suicide prevention advocacy groups, will gather to recognize September as Suicide Prevention Awareness Month, Main Rotunda, Harrisburg. 
12 p.m. – State Sen. Doug Mastriano gives a commemorative speech to honor flight 93, Soldier's and Sailor's Grove, Harrisburg. 
Off the Floor – The Senate Appropriations Committee meets, Rules Committee Conference Room. 
Off the Floor – The Senate Education Committee meets, Rules Committee Conference Room. 
Off the Floor – The Senate State Government Committee meets, Rules Committee Conference Room. 
To have your events included in Today's sked, please email the information to editor@cityandstatepa.com.
KICKER: 
"They are clearly what we were calling 'essential workers,' and have always been, but it's the right time to show them that they are essential and treat them with respect and express that respect at the bargaining table." – Danny Bauder, president of the Philadelphia Council AFL-CIO, via the Inquirer