First Read
First Read PA
Special election day in Pittsburgh … Federal investigators subpoena PUC for records from chocolate factory explosion … Report finds ChildLine should be abolished … and more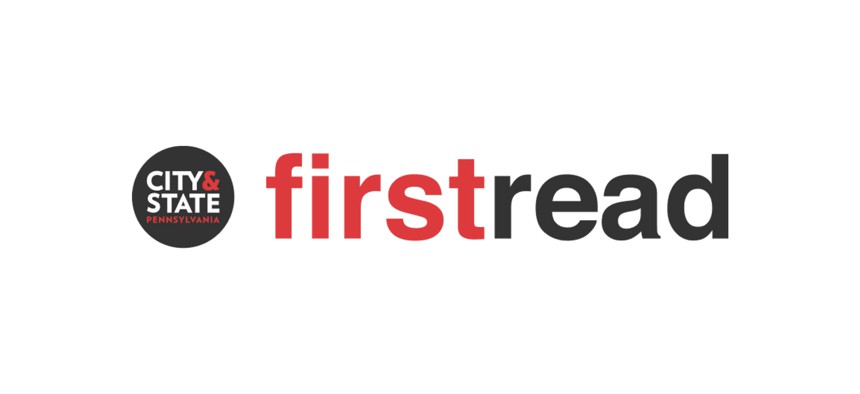 WEATHER: Philadelphia: sunny, high of 73; Harrisburg: sunny, high of 76; Pittsburgh: mostly sunny, high of 72.
FROM CITY & STATE:
* All of Pennsylvania's living former governors are calling for an end to closed primaries in Pennsylvania, with former Govs. Tom Ridge, Mark Schweiker, Ed Rendell, Tom Corbett and Tom Wolf writing in a joint letter that it is "long past time" for the commonwealth to join the 43 other states that currently allow independent voters to vote in party primaries.
* Yesterday, Google announced that Ardella's House Inc. in North Philadelphia would receive a $150,000 community involvement grant to support their work in assisting women impacted by the criminal justice system in obtaining work, housing and health care. Philadelphia City Councilmember Curtis Jones followed that up with an announcement the city will be contributing an additional $50,000 to the organization. 
NEW THIS MORNING:
* Control of the state's House of Representatives will again be determined by the results of a special election, this time a race being held today to fill the seat of a Pittsburgh lawmaker whose resignation put the chamber at a 101-101 partisan tie, The Associated Press reports. 
* Federal safety investigators issued a subpoena to the state's public utility regulator yesterday for documents related to a fatal explosion at a chocolate factory, escalating a monthslong legal dispute over the agency's authority to share the sensitive information, the AP reports. 
* A report by Penn and Temple law schools says that the state's ChildLine and Abuse Registry does not actually protect children and should be abolished, The Philadelphia Inquirer reports. 
* Nine teenagers have been captured after escaping from Abraxas Academy in New Morgan, Berks County, police said, the Inquirer reports. 
* Senate Majority Leader Chuck Schumer has directed the Senate's Sergeant at Arms to no longer enforce the chamber's informal dress code for its members. The new directive will allow Sen. John Fetterman, who tends to favor gym shorts and hoodies, to linger on the Senate floor before and after votes, Axios reports. 
* Thanks to the state's universal breakfast program, all of the food offered to students coming off the bus – from fruit and muffins, to eggs and milk – is free, regardless of income. But free breakfast can be harder to get to kids arriving at school late or without enough time to make it to the cafeteria and sit down for a meal, WESA reports. 
* Ten weeks after the Pennsylvania House deadlocked on funding the commonwealth's four state-related universities, a path forward is still not certain, the body's top Republican indicated yesterday, PennLive reports. 
* Sen. John Fetterman has endorsed two progressive third-party candidates seeking seats on Philadelphia City Council, becoming the second statewide Democrat to buck local leaders and align with the Working Families Party, the Inquirer reports. 
* An Australian company is dedicating $500 million of recycling and green energy infrastructure over the next decade in Pennsylvania, WFMZ reports.
*  Lehigh Valley residents may not know about the LV Print Center, but they've almost certainly seen its work. The Nov. 7 general election is only a few weeks away, and political campaigns will soon be making their fall push to connect with voters. The small union shop on Union Boulevard, owned by Ervin Fetherman and Maggie Wert, is a big cog in that effort, LehighValleyNews reports. 
EDITORIAL PAGES:
* The Inquirer writes that Cherelle Parker should treat the Philadelphia mayoral campaign seriously. That means debating David Oh, the Republican nominee.
* PennLive has an op-ed from Harrisburg City Councilmember and congressional candidate Shamaine Daniels, who writes that recent news regarding Scott Perry and his role in Trump's post-election insurrectionist circus has come as no surprise to his constituents. 
NATIONAL POLITICS:
* President Joe Biden will attempt today to focus global attention on the need to protect and nurture democracies, calling for the world to continue backing Ukraine and urging advanced nations to do more to bolster economies in the developing world, The New York Times reports.
* A growing number of polls are showing voters concerned about Biden's age and energy, The Washington Post reports. 
HAPPY BIRTHDAY: To Greater Pittsburgh Chamber of Commerce President Matt Smith … and to Anne Deeter Gallaher, owner and CEO, Deeter Gallaher Group LLC … Want to wish someone a happy birthday in our newsletter? Email their name, job title and upcoming birthday to editor@cityandstatepa.com.
MOVING ON: Pennsylvania Chamber Insurance is hiring Khary Byrd to lead PCI's regional sales efforts … Have a career change or life event to announce? Email us: editor@cityandstatepa.com.
TODAY'S SKED:
9 a.m. – The Senate Communications & Technology Committee meets, Room 8E-A, East Wing, Harrisburg. 
10 a.m. – The Senate Intergovernmental Operations Committee meets, Hearing Room 1, North Office Building. 
10 a.m. – The House Republican Policy Committee meets for a public hearing on creating educational pipelines to prosperity, Wallenpaupack High School, 2552 US-6, Hawley. 
10:30 a.m. – The Senate Education Committee meets, Room 8E-A, East Wing. 
11 a.m. – The Senate Aging & Youth Committee meets, Room 8E-A, East Wing. 
11 a.m. – Press Conference in support of Senator Cappelletti's Right to Read Legislation, East Wing Rotunda. 
11 a.m. – Press conference in support of requiring automated defibrillators at schools, Main Rotunda. 
11:30 a.m. – The Senate Judiciary Committee meets, Room 8E-B, East Wing. 
12 p.m. – The Senate State Government Committee meets, Room 8E-A, East Wing. 
12 p.m. – The ninth annual Recovery Advocacy Day aims to raise awareness of substance use disorders; celebrate individuals in recovery; and acknowledge the work of prevention, treatment, and recovery support services. 
12:15 p.m. – Advocates join senators to request funding to create safety corridors to and from school, East Wing Rotunda. 
12:30 p.m. – The Senate Transportation Committee meets, Room 461, Main Capitol. 
1:30 p.m. – Pittsburgh City Council Committee on Hearings and Policy meets, Council Chambers. 
2 p.m. – Agriculture Secretary Russell Redding tours New Bethany Choice Food Pantry with local and state officials to highlight their work to fight food insecurity and hunger in the Lehigh Valley, 333 W. 4th St., Bethlehem. 
2 p.m. – Press conference to show public support for school choice legislation, Main Rotunda. 
Off the Floor – The Senate Appropriations Committee meets, Rules Committee Conference Room. 
To have your events included in Today's sked, please email the information to editor@cityandstatepa.com.
KICKER: 
"This is a unique situation where a federal agency is demanding that the PUC violate state law." – PUC spokesperson Nils Hagen-Frederiksen, via the AP