Philadelphia
Philadelphia Police Commissioner Danielle Outlaw resigns
Outlaw's departure comes just months before the city elects a new mayor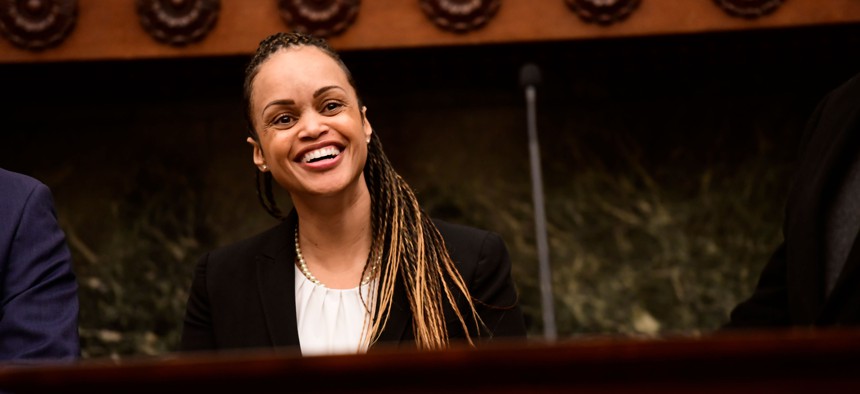 Philadelphia Police Commissioner Danielle Outlaw is resigning later this month for a new position, Mayor Jim Kenney's office announced Tuesday morning. 
Outlaw, who will leave her post on Sept. 22, is set to become the deputy chief security officer of the Port Authority of New York and New Jersey. She became the police commissioner in February 2020, becoming the first Black woman to lead Philadelphia's police department. 
But Outlaw faced a series of tests throughout her tenure, including pandemic shutdowns, record levels of gun violence and increasingly vocal criticism of the Philadelphia Police Department amid anti-brutality protests and law enforcement's responses to them. 
"Commissioner Outlaw has worked relentlessly for three and a half years during an unprecedented era in our city and a number of crisis situations, and she deserves praise for her commitment to bring long-overdue reform to the Department after years of racism and gender discrimination prior to her appointment," Mayor Kenney said in a statement. "We wish her success in her new position and thank Commissioner Outlaw for her dedication to serve the residents of Philadelphia."
Outlaw has more than two decades of experience in law enforcement – having spent years in Oakland, California and two years in Portland, Oregon before coming to Philadelphia in 2019.  With a salary of $285,000, she oversaw the nation's fourth-largest police department, with more than 6,300 sworn members and 800 civilian personnel. 
At the Port Authority of New York and New Jersey, she's expected to help oversee more than 2,300 staff operating across 13 facilities. While no salary details for her new position have been confirmed, the 2022 salary of the chief security officer at Port Authority was $266,470. 
The challenges Outlaw, the police department and the city as a whole have faced regarding rising gun violence led to her role – and whether or not she should retain it – becoming a key talking point during the Philadelphia mayoral primary earlier this year. 
While some candidates suggested removing Outlaw from her post upon taking office, Cherelle Parker, the former City Councilmember and Democratic nominee for mayor, told City & State that she wouldn't commit to making personnel decisions during the campaign. 
"While there will be many Monday morning quarterbacks second guessing her performance and decision-making, I have nothing but a great deal of respect and admiration for the job that she has done for our city," Parker said in a statement Tuesday. "We should remember her name because I know we will be hearing about her distinguished work in whatever capacity she chooses in the future – that is one thing I know for sure."
Outlaw will also join Michael Harpster at the Port Authority. Harpster is a former FBI special agent who most recently served as head of global security and fraud operations for the Vanguard Financial Group. The two hires come as the Port Authority begins to operate on its new, nearly $1 billion budget focused on enhancing safety and strengthening cybersecurity. 
"These exceptional talents have their finger on the pulse of a high-stakes, constantly shifting security universe," Port Authority Chief Security Officer Greg Ehrie said in a statement. "We are honored to be able to fortify our team with professionals from law enforcement's top levels, who understand the unyielding importance of keeping our region safe."
First Deputy John Stanford will serve as Philadelphia's interim police commissioner.