Philadelphia
Philadelphia City Council races result in landmark victories for LGBTQ, South Asian candidates
In addition to the historic victories of Rue Landau and Nina Ahmad, Republicans are struggling to hold on to a minority seat as two Working Families Party candidates declared victory Tuesday night,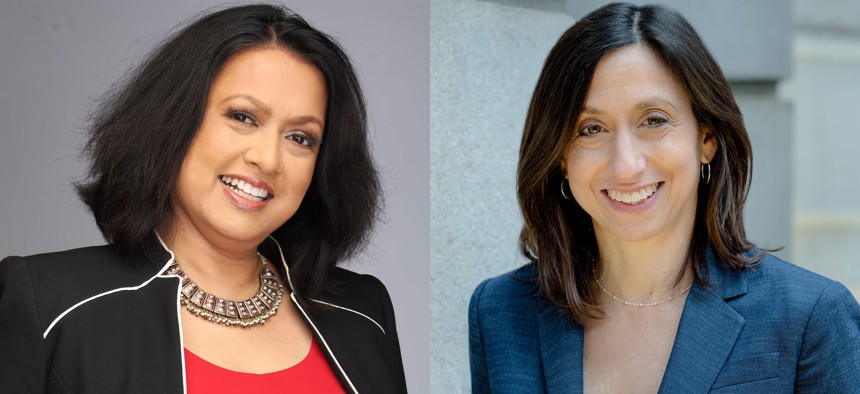 Philadelphia voters made history on several fronts Tuesday night, electing the city's first female mayor and shaking up City Council with ceiling-breaking and progressive candidates bound to reshape the city's legislative body. 
Five Democrats and two Working Families Party candidates are declaring victory in the City Council at-large races, which would oust Republicans from the non-majority seats and leave longtime incumbent Brian O'Neill – who handily defeated a well-funded challenger in labor leader Gary Masino – as the lone Republican on City Council. 
Democratic candidates Rue Landau and Nina Ahmad earned at-large wins alongside incumbents Isaiah Thomas, Katherine Gilmore Richardson and Jim Harrity. Landau will become City Council's first openly LGBTQ member and Ahmad will become its first South Asian member – and the first immigrant member of the chamber in recent memory.
Taking the stage Tuesday night at her watch party at Cockatoo, a bar in the area known as the Gayborhood, Landau said it was a "moment of immense pride and joy." 
"This victory belongs to every person in this room – every LGBTQ+ person and ally across the city, every trailblazer who came before us and every single one of us who's been waiting for a voice in City Hall," Landau said. "It's a testament to the decades-long struggle for LGBTQ visibility and representation (in elected office) here in Philadelphia."
At her victory party at the Marriott Old City, located in Philadelphia's oldest business district, Ahmad, one of the newest councilmembers, reflected on the culmination of her long political journey, which included a stint as a deputy mayor and failed campaigns for lieutenant governor and auditor general.
"You know, what this win means to me is that when you speak a little different, look a little different, if you connect with people and persevere, you can make a difference and you can arrive in places that were not meant for you," Ahmad said in a post-victory interview with City & State. "I have something to offer – and people have finally decided, 'Yes, let's give her a shot at it.' "
Democratic Gov. Josh Shapiro said Philadelphia should "take great pride" in Tuesday's historic election. 
"These firsts are important not just for the individuals who occupy those positions but for what it says to others in the city that they can be that. When a little Black girl sees Cherelle Parker, she now thinks she can be mayor, and when a young gay child sees Rue Landau, (they can) say, 'You know what, I belong there,'" Shapiro told City & State. "That's empowering to people and I'm excited for what that means for the city."
The two council seats saved for non-majority party members remained a pitched battle between Republicans and Working Families Party candidates at press time. Incumbent WFP candidate Kendra Brooks burst onto the political scene in 2019 with an upset win that took a non-majority seat away from Republicans. 
This time around, Brooks' running mate Nicolas O'Rourke was seeking the second non-majority seat, most recently vacated by Republican Councilmember-turned-mayoral candidate David Oh. Brooks, an incumbent with the support of Shapiro and U.S. Sen. John Fetterman, maintained her seat as expected. Despite the final at-large race remaining too close to call Tuesday night, O'Rourke declared victory as well. 
With about 95% of the divisions reporting, O'Rourke held 5.82% of the vote, just a few thousand votes ahead of Republicans Jim Hasher and Drew Murray. 
"We just left the Republican Party to the dustbin of history by running on a positive vision for Philadelphia," O'Rourke said in a statement. "Philly can be a city where everybody can get a good job, send their kids to a good school, and feel safe in their neighborhoods. Kendra and I are ready to fight for a city where everyone can thrive, not just the powerful or the privileged." 
Hasher, however, declined to concede Tuesday, telling the Philadelphia Inquirer he is waiting until all mail-in ballots are counted. 
"We're going to have to hope for the best and see where it goes, but as of right now, I congratulate Kendra and I congratulate Nic. They ran a hard race," Hasher said. "I don't think we're going to formally concede tonight because we need to look at what the mail-in ballot situation is, see how many are still out."