Campaigns & Elections
AG Days: Who's running for Pennsylvania attorney general?
City & State's up-to-the-minute guide to who's running for AG – and who's endorsing each candidate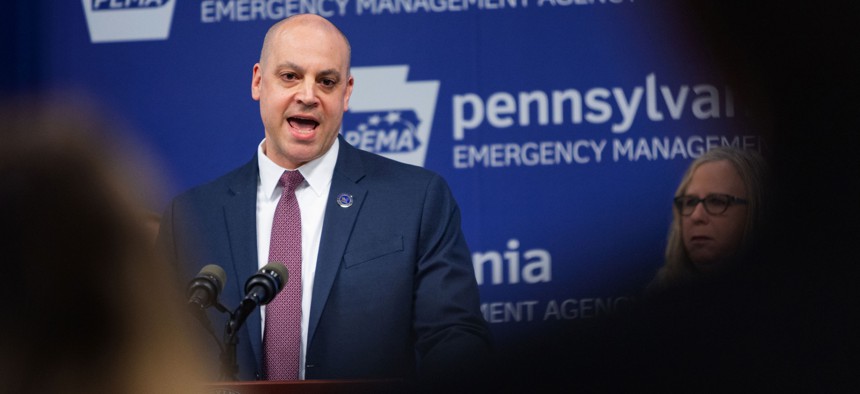 Keep an eye out for attorneys in the general election. And by that, we mean the race for Pennsylvania Attorney General is beginning to heat up as more candidates join a growing field. 
The commonwealth has a history of attorney generals making a name for themselves first as the state's leading prosecutor and then as governor, including the last two elected attorneys general in former Gov. Tom Corbett and current Gov. Josh Shapiro. 
In order to run for the position – which is currently held by Democrat Michelle Henry, who succeeded Gov. Josh Shapiro – a person must be at least 30 years old, have been a resident for at least seven years and be a member of the bar of the state Supreme Court. Thus far, each of the candidates – now including three Republicans and five Democrats – has a bevy of experience at the local, county and state levels.
And with Republicans in the commonwealth already debating the party's eventual endorsement, with a pick possibly coming next month, the race is more contentious than ever. Here is a running list of all those running, their endorsements, and a tally of who has been mentioned as a potential candidate: 
Running
Craig Williams
Republican state Rep. Craig Williams entered the race for AG on Nov. 28, saying in his announcement that Pennsylvania needs an attorney general who "focuses on prosecution not political posturing." Williams, a U.S. Marine Corps veteran, previously spent time as deputy legal counsel to the Chairman of the Joint Chiefs of Staff, and also served as a federal prosecutor with the U.S. Department of Justice. In a statement, Williams framed himself as someone who can triumph in a general election. "Prosecuting violent criminals, drug dealers, crooked politicians, and crimes against the vulnerable are my goals," Williams said. "I am a lifelong Republican who can win next November."
Jack Stollsteimer
Delaware County District Attorney Jack Stollsteimer announced on Nov. 27 that he is running for attorney general in 2024, joining a growing race of contenders seeking the Democratic nomination in next year's primary. According to Politics PA, Stollsteimer made public safety, environmental and economic justice, as well as protecting abortion rights key focal points in his announcement. Of all the Democrats running for AG, Stollsteimer is one of only two with experience as a prosecutor.
Katayoun "Kat" Copeland
The field of Republican candidates began to expand with the addition of Kat Copeland, a career prosecutor and former Delaware County district attorney, who formally entered the race last week. Copeland, who rose through the ranks to become Chief of the Criminal Division in the United States Attorney's Office in the Eastern District of Pennsylvania, was appointed district attorney in 2018 by the Delaware County Board of Judges to fill a vacancy but lost her 2019 bid for a full four-year term to Jack Stollsteimer – yet another candidate in this race.
Endorsements: Lehigh County District Attorney Jim Martin
Jared Solomon
Jared Solomon, a Democratic state Rep. from Northeast Philadelphia, became the fourth Democrat to enter the primary on Sept. 12 – joining the likes of attorney Keir Bradford-Gray, former Auditor General Eugene DePasquale and former Bucks County Solicitor Joe Khan. Solomon had the backing of 19 state lawmakers upon entering the race, including state House Majority Leader Matt Bradford, and he appears to be prioritizing public safety, violence prevention and anti-corruption initiatives early on.Solomon, a former JAG officer in the Army Reserve, currently chairs the House Veteran Affairs & Emergency Preparedness Committee. In 2019, Solomon introduced a measure seeking to give voters the ability to recall elected officials after then-Philadelphia City Council member Bobby Henon was hit with bribery, fraud and conspiracy charges. This session, Solomon has sponsored a proposal that would bring open primaries to Pennsylvania.
Endorsements: VoteVets PAC, State Sen. Christine Tartaglione and state Reps. Matt Bradford, Dan Miller, Joe Ciresi, Mary Jo Daley, Tina Davis, Nancy Guenst, Jim Haddock, Kristine Howard, Anita Kulik, Maureen Madden, Steve Malagari, Eddie Day Pashinski, Tarah Probst, Abigail Salisbury, Ben Sanchez, Christina Sappey, Ben Waxman, Joe Webster and Dan Williams
David Sunday
Sunday announced his run on June 10, becoming the first Republican to formally enter the race. The York County District Attorney has been in the position since 2018 after spending time as chief deputy prosecutor under his predecessor. Sunday, who often testifies in Harrisburg on legal and criminal issues, previously gained notoriety in the region for his appointment to be special assistant United States attorney for the Middle District of Pennsylvania to prosecute federal gang, gun and drug cases. He kicked off his campaign by touting his experience as a litigator and prosecutor, including his work fighting illegal drugs and his experience as a U.S. Navy veteran. 
Endorsements: State Treasurer Stacy Garrity, U.S. Reps. Dan Meuser and Lloyd Smucker, State Senate President Pro Tempore Kim Ward, State Sens. Mike Regan and Kristin Phillips Hill, the PA Sheriffs Association PAC and the Republican Attorneys General Association.  
Keir Bradford-Gray
Former Philadelphia Chief Public Defender Keir Bradford-Grey, currently a partner in Montgomery McCracken's litigation department, announced her campaign in June. She would be the first Black attorney general and the first attorney general with primarily public defender experience in the commonwealth's history. 
Bradford-Grey touted her connection to Gov. Josh Shapiro in her campaign launch. Shapiro recruited her as Montgomery County's chief public defender in 2012 prior to her time with the Defender Association of Philadelphia. She'll continue to highlight her commitment to enacting criminal justice reform, including creating programs to help keep defendants out of jail and fighting the use of cash bail for pre-trial detention.
Endorsements: EMILY's List, Teamsters Local 623, The Collective PAC, Higher Heights for America PAC, and a number of local officials including state Sen. Anthony Hardy Williams and Philadelphia City Councilmember Isaiah Thomas.
Note: Keir Bradford-Grey is a member of the City & State PA advisory board.
Eugene DePasquale
The first candidate to throw their hat in the ring is one whose name is known in the Harrisburg region. Eugene DePasquale, a former auditor general and three-term state representative, formally kicked off the race at the start of June when he announced his run. DePasquale served as the state's top watchdog and investigator for nearly eight years through most of then-Gov. Tom Wolf's administration. More recently, he unsuccessfully challenged U.S. Rep. Scott Perry for the 10th congressional seat back in 2020. 
DePasquale, a Pittsburgh native, boasts of his time in Harrisburg as a key selling point, but he does not have the extensive law enforcement background that other candidates possess. He said he's committed to addressing violent crime but that the office's reach should go beyond that and expand into areas like environmental and consumer protection. 
Endorsements: Various local and regional officials, including Adams County Commissioner Marty Qually, Allegheny County Executive Rich Fitzgerald, Allegheny County Controller Corey O'Connor, Cambria County Controller Ed Cernic, Jr., Pittsburgh City Councilmember Bobby Wilson, Lehigh County Controller Mark Pinsley and York Mayor Michael Helfrich. 
Joe Khan
Former Bucks County Solicitor Joe Khan resigned from his position in February to return to the private sector. A Democrat from Doylestown Borough, Khan, who remains a partner at Yardley's Curtin & Heefner LLP as a public sector attorney, became the second Democrat to join the race when he formally announced his run on June 7. Khan, whose father immigrated from Pakistan, has made a point of saying that the party needs an attorney general who is "engaged with immigrant communities" across the state. His brother, Tarik Khan, was elected to the state House last year to represent the 194th District in Philadelphia. 
Khan's experience includes time as a prosecutor in the Philadelphia District Attorney's Office and U.S. Attorney's Office, as well as a failed attempt to become Philadelphia District Attorney in 2017. During his tenure as Bucks County Solicitor, Khan defended the county ballots against former President Donald Trump's challenges and joined a national lawsuit against social media giants. 
Endorsements: State Sen. Nikil Saval; state Reps. Tim Brennan, Melissa Cerrato, Paul Friel, Joe Hohenstein, Mary Isaacson, Tarik Khan, Jennifer Mann, Brian Munroe, Chris Pielli, Peter Schweyer, Josh Siegel, and Ismail Smith-Wade-El; and various county and local officials including Lehigh County Executive Phil Armstrong, Whitehall Mayor Ed Hozza, Northampton County Executive Lamont McClure and Allentown Mayor Ray O'Connell. 
Potential candidates rumored to be in the mix
Former U.S. Attorney Scott Brady
Former U.S. Rep. Conor Lamb
Former U.S. Attorney Bill McSwain
State Rep. Natalie Mihalek
Westmoreland County District Attorney Nicole Ziccarelli