Events
Snapshots from City & State PA's Forty Under 40 awards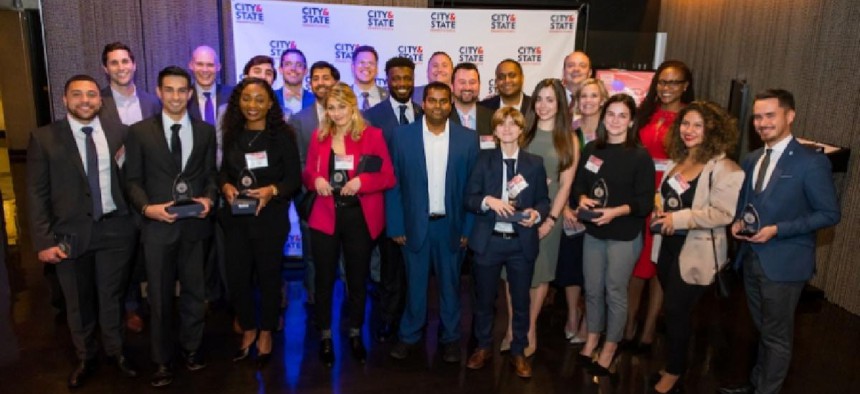 In a celebration of the state's rising stars in politics, business and government, a max-capacity room filled the Level 2 venue in downtown Harrisburg Tuesday night for City & State Pennsylvania's Forty Under 40 award event. 
The in-person event honored some of Pennsylvania's most accomplished young professionals and also commemorated the release of City & State PA's November print issue, which was published this week. The 2021 Pennsylvania Forty Under 40 highlights state lawmakers, political consultants, lobbyists, advocates and others – all under the age of 40 – who have set themselves apart in their respective lines of work. 
City & State's Forty Under 40 event was emceed by Bellevue Strategies Founder & CEO Mustafa Rashed, and featured speeches from Pennsylvania Lt. Gov. John Fetterman, State Reps. Patty Kim and Jason Ortitay, and Independence Blue Cross Executive Vice President of Public Affairs Stephen Fera. 
Fetterman, who offered introductory remarks, congratulated the Forty Under 40 honorees and said those in attendance represented an "enormous level of talent."
"What an amazing event filled with so many wonderful people that I have the privilege of working with in Harrisburg," Fetterman said. "It's wonderful to have this opportunity to salute each and every one of you."
Kim, who represents the city of Harrisburg, gave some advice to the Forty Under 40 honorees. "Since I'm closer to 50 instead of 40, I wanted to give two pieces of advice as your big sister. The way that I've survived in politics this long is that I have a short-term memory when it comes to compliments and when it comes to criticism," she said.
Kim joked that the night's honorees are "not child actors" and that everyone in attendance has not yet reached their ceiling. "You have a very bright future ahead of you. You have not peaked tonight," she said. 
Ortitay, a Forty Under 40 honoree himself, echoed Kim's sentiments. "All of you have done some really great work. There's a lot of great potential in this room," he said. "We can use a little more of that in the Capitol building. So if any of you have any more political ambitions, I'd love to see you over there as a colleague."
An award ceremony followed the night's speeches, with the Forty Under 40 honorees having the opportunity to pose for photos with friends, colleagues and family. 
Scroll down for photos from Tuesday night's Forty Under 40 event.