Power List
Mayoral wannabes from City Council chambers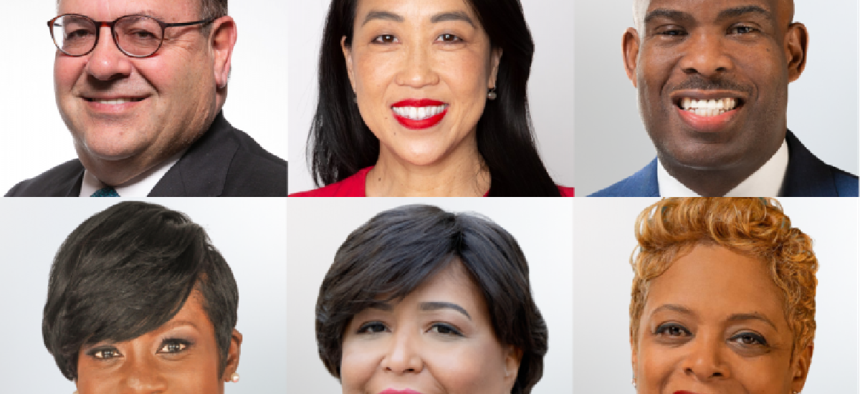 Who might it be in the mix? Any of these six?
There are a lot of things about being the Mayor of Philadelphia that require long and hard thought before you throw your hat in the ring. 
For most of the people running for mayor, keeping your job while running for office is within the realm of possibility. But, if you're a member of City Council and you want to run for mayor, Philadelphia's Home Rule Charter requires you to quit your job. 
The reason for this is, according to the charter, the elections for Council and mayor are held at the same time. It would create a conflict of interest for someone who is making the laws in Council to then be asked to ratify them as mayor.
The "Resign to Run" rule hasn't dissuaded anyone from Council who really wants the job of mayor, but you're taking a chance.
Here are six council members who are rumored to be thinking about taking that chance. 
Of all of the Council members considering a run for mayor, few are better positioned – at least financially – than Allan Domb. Every year, a school in Philadelphia gets a $130,000 donation from City Council that's over and above what it receives from the city to help with school necessities, financial literacy courses and mentoring and entrepreneurship opportunities. That's the equivalent of Domb's Council salary, which he's never taken in his two terms in office. Domb has spent much of his time in Council focused on ways to help the city reposition itself as no longer the poorest city of its size in the U.S. To that end, he has focused on legislation designed to increase job creation and business growth such as the Wage Tax Credit bill he passed in 2020 to help the city's lowest wage earners. He also established a working group to help the city's hospitality industry, particularly small businesses impacted by the COVID-19 pandemic.
When she ran for re-election in 2019, City Council member Helen Gym was the top vote getter among all Council members with 187,000 votes. That was just 26,000 short of Mayor Jim Kenney's total, and she won in 55 of the city's 66 wards. That's one of the reasons why when the subject of mayoral candidates comes up, Gym is among the first names mentioned.
Gym first came on the scene as a community organizer fighting the commonwealth's takeover of the School District of Philadelphia. Since joining City Council, she's continued her educational activism by successfully lobbying to restore nurses, counselors and other programs to the schools. She's also working with advocates on a school modernization push that would impact the district's oldest schools.
As the COVID-19 pandemic raged on, Gym took on the cause of evictions as residents whose jobs were impacted by the virus found themselves having to deal with possible homelessness. She established an eviction diversion program that is being replicated around the country. Gym is co-chair of Local Progress, a national organization of locally elected officials with the goal of advancing an agenda based on racial and economic justice throughout local government.
Before becoming a member of Council, Derek Green served as special counsel to former Councilmember Marian Tasco and counsel to the chair of the Philadelphia Gas Commission, a position that he still holds. He's chair of Council's committees on Finance and People with Disabilities and Special Needs, and that's where he's done his most prominent work. He has been championing the creation of a Public Bank for the city, something that he believes would help solve the city's problem with retaining minority-owned businesses by providing them with access to capital. 
Cherelle Parker, Council's majority leader, is also chair of the Delaware River Port Authority. During her time on Council, she has focused on making sure workers have retirement security, training for small business owners, and housing preservation loans that would allow current homeowners to repair and maintain their properties. Before getting elected to Council in 2015, Parker served as a state representative for the 200th district in Northwest Philadelphia. While in the state House, she served as chair of the Philadelphia delegation to the House and championed bills that fought off predatory lending and preserved paid sick leave. 
The first Latina to hold elected office in Philadelphia, Maria Quiñones Sánchez won her first term to City Council in 2007 and she's had to fight off primary challengers and the Democratic City Committee itself to stay in office. But she's managed to do it every time. Quiñones Sánchez chairs Council's committees on Appropriations and Education and co-chairs Council's Special Committee on Poverty Reduction & Prevention. As Appropriations chair, she played a big role in last year's budget negotiations and has advocated for progressive tax reform designed to help small businesses create jobs. She's also been on the front lines of the opioid crisis, advocating for reforms designed to expand access to drug treatment while keeping residents safe. 
Much of Council member Cindy Bass's focus has been on neighborhoods. From fighting to regulate bins designed for charity donations to holding businesses accountable for nuisance patrons, she has proven herself a fighter for the city's neighborhoods. Bass is in her third term in Council after spending time working in Congress and the state Senate. As chair of Council's Committee on Public Health and Human Services, Bass put forth legislation that called for hearings to examine the Philadelphia Department of Human Services' scorecard on the Community Umbrella Agencies that manage and house children under DHS care.