Power List
Philly's media maestros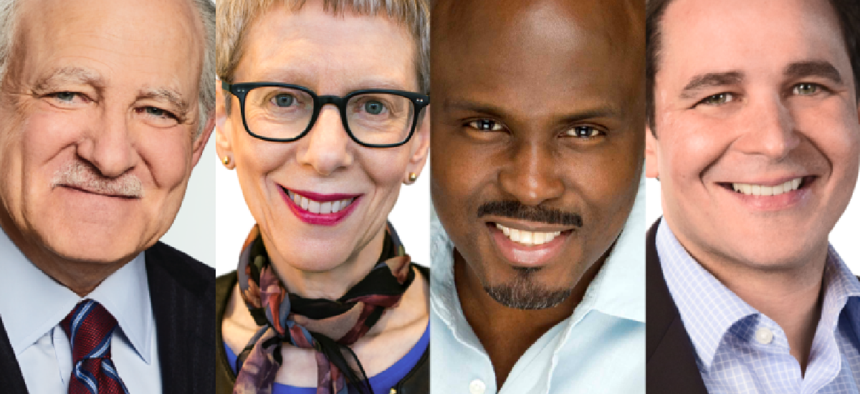 When they speak, the people listen.
Philadelphia is known as the birthplace of democracy – home to the Liberty Bell and where both the Constitution and the Declaration of Independence were drafted. 
It's also home to one of the largest media markets in the U.S., which holds its own unique influence in the minds of Philadelphians, Pennsylvanians and East Coast residents alike. That's due in part to the work of the city's most celebrated media figures who have established themselves as go-to sources of information and commentary on news impacting Philadelphia and beyond. 
Take Jim Gardner, for instance. The longtime 6abc newscaster announced this year that he will scale back his broadcasting schedule at the end of 2022 after a 40-year career. Gardner has been a mainstay on Philadelphia television sets, covering everything from fires and storms and protests to championship victories by the Philadelphia Phillies and Eagles and presidential elections. With Gardner's retirement announcement came an outpouring of support and nostalgia, cementing his status as one of the city's most beloved broadcasters. 
As the host and producer of WHYY's "Fresh Air," Terry Gross continues to grace airwaves across the U.S. with her inviting voice, polite demeanor, yet probing and interesting interviewing technique. Gross has a reputation for being one of the best-prepared interviewers in the business and has been honored for her work time and time again. In 2016, she received the National Humanities Medal. She has also received the Literarian Award. "Fresh Air" is distributed nationally to more than 650 radio stations across the nation and the show has won the George Foster Peabody Award, one of broadcasting's highest honors. In a measure of Gross's importance to pop culture, she even has portrayed herself on "The Simpsons." 
Solomon Jones has made his own mark on the Philadelphia media landscape. Jones is the current host of "Wake Up With WURD" on 900 AM and 96.1 FM, as well as the host of "Your Voice" on Classix 107.9 FM. As a columnist for The Inquirer, he frequently writes about racial justice and gun violence and he also blogs for WHYY, Philadelphia's NPR affiliate. Jones has authored more than 10 books, with his latest title, "Ten Lives, Ten Demands: Life and Death Stories and a Black Activist's Blueprint for Racial Justice," set to be published early next year. He is also the founder and executive director of ManUpPHL, a nonprofit focused on fighting gun violence in the city. 
Rich Zeoli has made a career out of advising political candidates and elected officials and his love for debate and dialogue ultimately led him to Talk Radio 1210 WPHT Philadelphia, where he hosts "The Rich Zeoli Show" from 6 to 10 a.m. He is also an author, having published "The 7 Principles of Public Speaking: Proven Methods of a PR Pro," and founder of RZC Impact Executive Communications Training. Zeoli is active with the Philadelphia Police FOP Lodge 5's Survivors Fund, as well as the Travis Manion Foundation.