Transportation
City & State's 2022 Pennsylvania Transportation Summit focuses on improving movement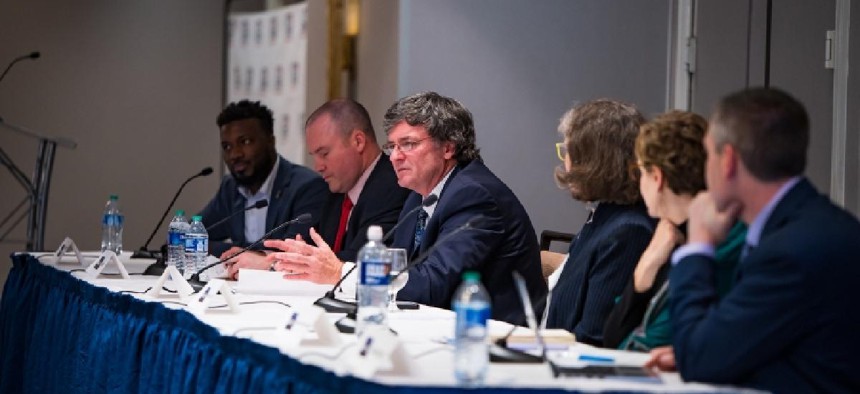 More than 120 attendees packed the Hilton Harrisburg on Wednesday for City & State's 2022 Pennsylvania Transportation Summit, which featured public officials, government affairs professionals, and advocates discussing the state of Pennsylvania's transportation systems and infrastructure – and how best to improve them. 
Pennsylvania Turnpike Commission CEO Mark Compton, the event's keynote speaker, provided those in attendance with an in-depth look at the commission's current funding obligations and projects that the commission will be focusing on in the future. 
---
---
Compton said that now that the commission has made its final, state-mandated $450 million payment to the Pennsylvania Department of Transportation under Act 44 of 2007, it can focus attention – and money – on other needs. 
"That is a huge component of what the turnpike needs to do to be sustainable moving forward," Compton said of the end of the Act 44 payments. He added that the turnpike is in the process of switching to a new tolling system that will toll drivers at highway speeds, which will open the door for new interchange designs and economic development projects. 
The event also featured a one-on-one interview with Southeastern Pennsylvania Transportation Authority General Manager Leslie Richards, who reflected on her first two years at SEPTA. 
The summit also included policy-focused panels on how to develop sustainable transportation systems, where to direct federal infrastructure funding, and how to ensure that the future of transportation is both innovative and safe. 
Numerous state lawmakers were on hand to opine on the likelihood of updating the state's transportation laws, including House Transportation Committee Chair Tim Hennessey, House Transportation Committee Minority Chair Mike Carroll and state Senate Transportation Committee Minority Chair Marty Flynn. 
On the topic of building environmentally sustainable transportation systems, Andy Taylor, the senior director of global strategy for Cubic Transportation Systems, said it all comes down to incentivizing travelers to use public transportation. 
"Switching (people) to electric vehicles and getting them to use public transportation is an issue – and getting them to use public transportation is what we really need to focus on," Taylor said. "Sometimes you have to incentivize people to use public transportation to make it easier for them, to take some of the friction and to move around the location."
Photos from the event can be viewed below.