Winners & Losers
This week's biggest Winners & Losers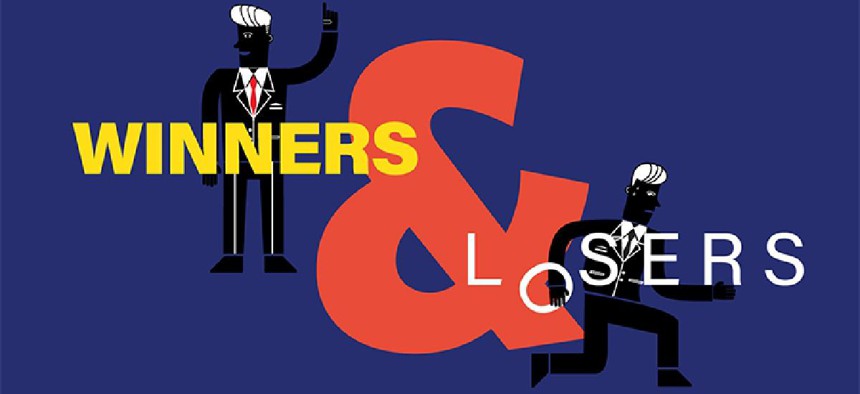 June is home to many things in Pennsylvania, including Pride Month, warmer weather, and a heated end to the legislative session. Amid budget negotiations this week, the state Senate confirmed a pair of acting secretaries. Noe Ortega, now Secretary of Education, and Jennifer Berrier, now Secretary of Labor & Industry, were confirmed by 44-6 and 45-5 votes, respectively. While those two department heads are officially in, the group responsible for putting together Philadelphia's LGBTQ+ pride events is officially out. Philly Pride Presents, which has organized the city's pride festival for nearly 30 years, disbanded this week after observers called a Facebook post the group made regarding the Stonewall Riots "transphobic." The post was deleted soon after, followed by the group's Facebook page, and then the group itself. An event originally planned to protest Philly Pride Presents on Friday will now serve as an opportunity for the community to begin reorganizing pride. 

Scroll down for more of this week's winners and losers!
WINNERS:
Glenn Thompson -
In recent months, U.S. Rep. Glenn Thompson has made headlines for his focus on … wait for it … climate change. The Republican congressman has introduced a series of bills aimed at addressing the climate crisis through "natural solutions." This week, he went a step further, as he and 49 other Republicans formed the Conservative Climate Caucus, a group dedicated to using "conservative solutions to lower emissions while enhancing economic prosperity." GT told Erie News Now earlier this year that the debate over whether or not climate change is occurring is over, and that lawmakers should instead be focused on solutions. It's an admirable mindset coming from a party that all too often fails to take climate change seriously. Props to GT.
Johnathan Hershey -
Stop us if you've heard this one before: A Pennsylvania man named Hershey wants to help kids. No, we're not talking about Milton S. Hershey, the famed chocolatier – we're talking about state Rep. Johnathan Hershey, who has been leading the charge to "Free The Lemonade Stands" in Pennsylvania. After hearing stories of lemonade stand shutdowns in the state due to a lack of a permit, Hershey introduced legislation that would allow lemonade stands to operate without needing approval from a municipality or homeowner's association. The bill passed both chambers of the General Assembly this week and is now on its way to the governor's desk. We'll drink (lemonade) to that.
Brandi Levy -
Students' free speech off campus got a victory this week thanks to the U.S. Supreme Court. Brandi Levy, a cheerleader from Schuylkill County, was suspended from cheerleading for a year back in 2017 after posting a vulgar Snapchat when she didn't make the varsity cheerleading team. The court ruled in her favor Wednesday, by a vote of 8-1, stating that students retain First Amendment rights as long as they don't cause a substantial disruption. Schools still maintain the right to regulate student speech off-campus if there is danger or a potential threat, but grumpy vice principals can't dictate what students do 24/7. A big middle finger to the likes of Mr. Vernon.
LOSERS:
Mike Regan -
State Sen. Mike Regan pleaded guilty this week to two summary offenses related to his motorcycle crash back in March. With an expired registration, he was caught driving an unregistered vehicle and driving at safe speed, which is a common violation when police can't determine the speed – but say they were traveling too fast for the road conditions. Regan claims he was not speeding, and plans on introducing legislation to remove that provision from the traffic offense code. Unfortunately for him, changing the rules after the fact won't take away his charges.
Chris Sainato -
An investigation from Spotlight PA revealed this week that state Rep. Chris Sainato has charged taxpayers for more than $1.8 million in mileage, meals, lodging and more since first being elected to the state House in 1994. Included in that figure is more than $600,000 in per diems, which are flat payments lawmakers can collect whenever they travel more than 50 miles outside their districts. According to Spotlight PA, Sainato has made great use of various provisions that allow lawmakers to expense various costs – which have been borne by Pennsylvania taxpayers. Who wouldn't love to have a blank check covered by taxpayers, right?
Mitchell Paul Vukich -
Vukich joined a growing list of Pennsylvanians this week, a list you don't want to be a part of. Vukich and two other men joined the 45 other people from the Keystone State who have been arrested in connection with the Jan. 6 riots at the U.S. Capitol. A New Brighton resident, Vukich was charged with stealing Congressional papers and several other charges. To top it off, it was found that Vukich tweeted "I was one of the first 15 people in the #Capitol" that afternoon. When your Twitter can be used as evidence against you, you know you're #busted.