Winners & Losers
This week's biggest Winners & Losers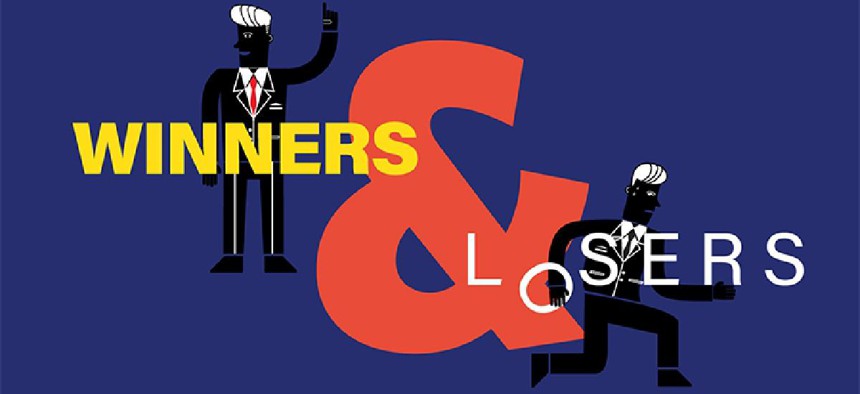 Even without the General Assembly in session, there was no shortage of political news in Pennsylvania this week. From the congressional delegation, Rep. Susan Wild got two key endorsements: one from Democrats Serve, a PAC supporting officials with service backgrounds, and the other from NARAL Pro-Choice America. In local news, Penn Hills Mayor Pauline Calabrese could have used more support from council members, as her effort to get Police Chief Howard Burton to resign failed by a vote of 3-2. But news on voting and criminal justice doesn't stop there. 

Scroll down for more of this week's winners and losers!
WINNERS:
Kevin O'Toole -
Pennsylvania hit the jackpot this past year in gaming. Kevin O'Toole, executive director of the Pennsylvania Gaming Control Board, must be happy after revenue numbers this week revealed record-breaking growth across every wagering category. The Commonwealth reported nearly $3.9 billion in revenue, beating the previous high by about 17%. With Pennsylvania working its way to becoming one of the nation's largest gambling states, the odds are good that O'Toole's numbers will only go up.
David Cohen -
President Joe Biden is once again drawing on his Philadelphia ties for political appointments, nominating Comcast executive David Cohen as his next ambassador to Canada. Cohen, a longtime political fundraiser, got his nomination just weeks after Biden chose University of Pennsylvania President Amy Gutmann as the ambassador to Germany. With political roots stemming back to his time as chief of staff for Philadelphia Mayor Ed Rendell, Cohen takes his political prowess to our neighbors up north. Pretty nice, eh?
Kenneth Polite -
Kenneth Polite is another Philadelphia name leaving for greener pastures. A partner at Morgan Lewis law firm, he was confirmed by the U.S. Senate this week as assistant attorney general to lead the Department of Justice's Criminal Division. Polite, who served on the firm's racial justice task force, has ample experience in internal investigations and corporate compliance.
LOSERS:
Stuart Ulsh -
Following GOP-led efforts to conduct a forensic audit of the 2020 election, news broke this week that Fulton County officials allowed their voting machines to be inspected by the same IT company behind Arizona's election audit. Acting Secretary of State Veronica Degraffenreid said the company, Wake TSI, has "no knowledge or expertise in election technology," and as a result, the Department of State has decertified the county's voting machines. Ulsh, chair of the Fulton County Election Board, will have some questions to answer as the county looks to replace its equipment.
Robert Forish -
Latrobe city council member and former firefighter Robert Forish was one of two men arrested Tuesday after allegedly using fire department funds to pay for a federal lawsuit against the fire company. The missing funds were discovered during an audit, and the investigation led to the two men – Forish and Fabian Giovannagelo, being charged with theft, theft by deception and misapplication of entrusted property. Now, it's safe to say they're in the hot seat.
Robert Simon Mathews -
The doctor is no longer in. Dr. Robert Simon Mathews, a Lancaster County orthopedic surgeon, has been charged with 14 felony counts of unlawful prescription of controlled substances. Pennsylvania Attorney General Josh Shapiro said Mathews allegedly illegally prescribed medications such as Xanax, Adderall, and Subutex outside of the office and failed to follow treatment principles. Mathews won't be running what former patients called his "pill mill" anymore.